A baby bump can be your ticket to an awesome costume this year.
When it comes to Halloween costumes, one of the cutest accessories you can have is a sweet baby bump. This should be your year to really shine by putting your awesome DIY skills to use.
Let's face it, once that baby comes, you might be putting your creativity on hold in order to focus on your little one. So why not take this chance to save a little money and score points for creativity? Get some inspiration from our top picks.
The Easy Button
Not only is this costume simple, it also lends itself very well to an ultra-easy couples costume with your partner. All you need is a couple pieces of felt and a glue gun. You can even print the word 'easy' out to trace.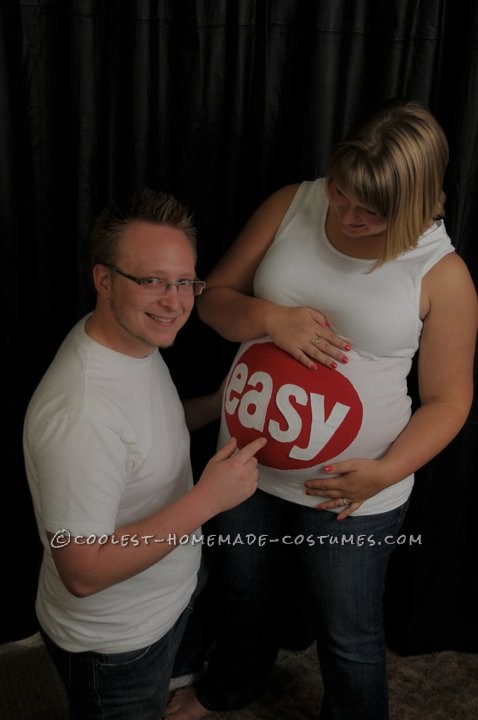 Kangaroo with Her Joey
This costume is a little more intense but is a good costume to cover up in colder temperatures. Simply pair a brown sweater dress with a pair of leggings. Use felt to create your 'pouch' and attach with either a glue gun (if you don't plan on wearing it again) or hand sew with large stitches that are easily removed. Use a headband, pipe cleaners and more felt to create the ears.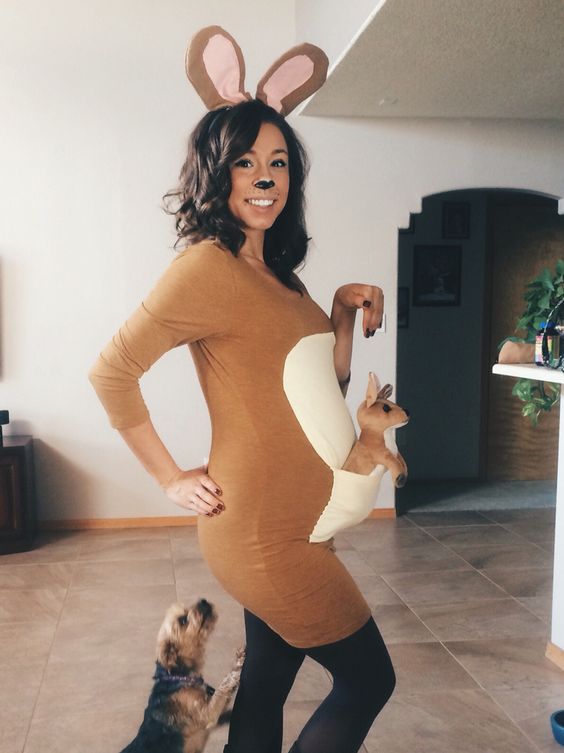 Via Instagram
Bubble Gum Machine
This is an awesome costume because it looks really complicated but actually isn't. All you really need is some pom poms and a glue gun (the best craft accessory)! Add a little cardboard and paint, and you are truly winning Halloween!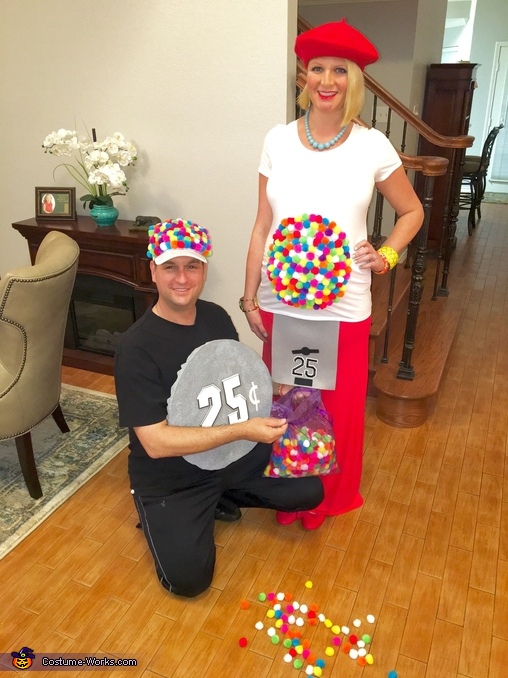 Via Pinterest
Juno
The most important item in this costume is definitely the iconic orange striped shirt. Luckily we found this one on Amazon. If you can find yourself the right top, all you need is a hoodie and to throw a skirt over a pair of jeans and bam—you are 16 again.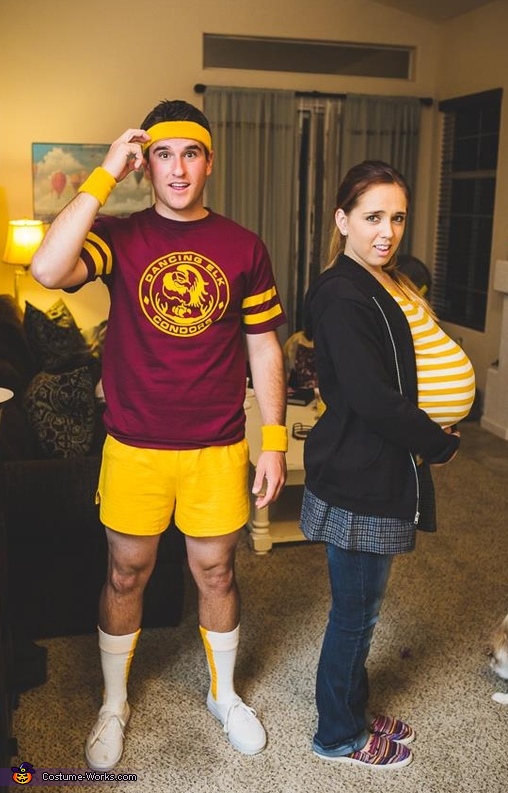 Via Instagram
Avocado
It doesn't get any simpler than this avocado costume. It's the perfect option if you are either short on time or money this Halloween. All you need is some cardboard and string and you are good to go.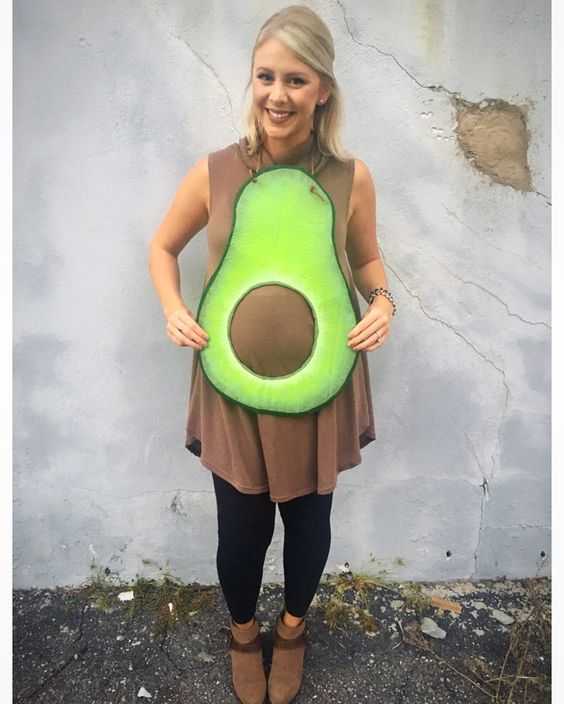 Via Pinterest
Bun in the oven
You can do a lot of different versions of this costume idea but this one is simple and sweet. This shirt would be a simple DIY if you could find a chef's hat. Pair with a baker, and you have a perfect couple's costume.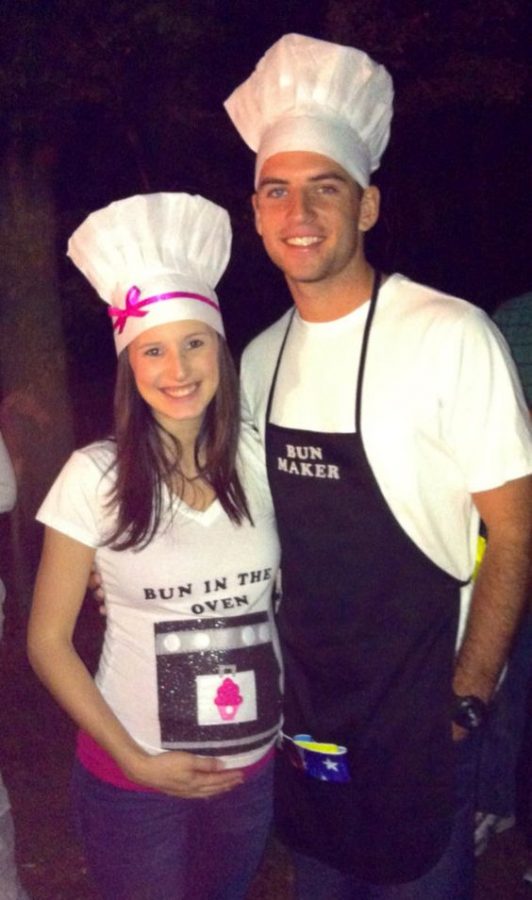 Via Pinterest
Baseball
When it comes to doing Halloween preggo style, many women opt to go the sports route. It's a great option for any sports fan. This costume is great because your jersey is tied up with a white shirt underneath. So your jersey is safe for further uses.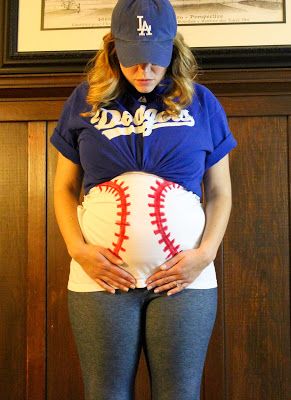 Beachball
While not the most practical choice if you are taking little ones out trick or treating, this costume is a cute choice for parties as well as to keep under your hat for any future summer pregnancy photo shoots.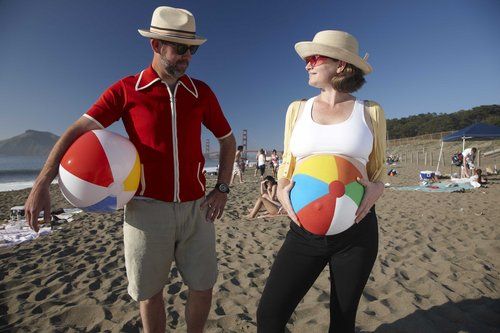 Via Pinterest
Let me Out!
There are many different ways to do this concept but this is by far the sweetest. Simply hit up your local thrift store for an old doll and grab some markers and a pumpkin basket, and you are ready to hit the streets.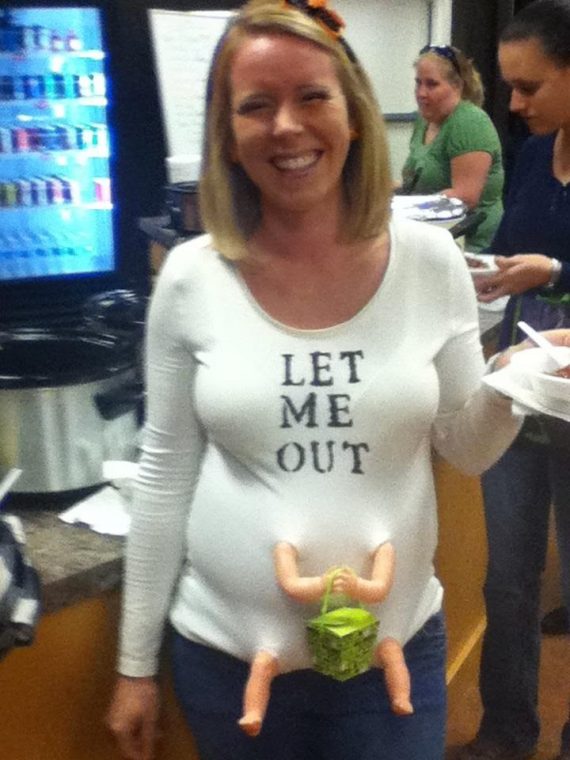 Via Stella Maternity
Santa
Why not take advantage of stores putting out their Christmas items in October by dressing up as the guy in red? Take advantage of your new figure and wear what will possibly be the most comfortable costume of your life.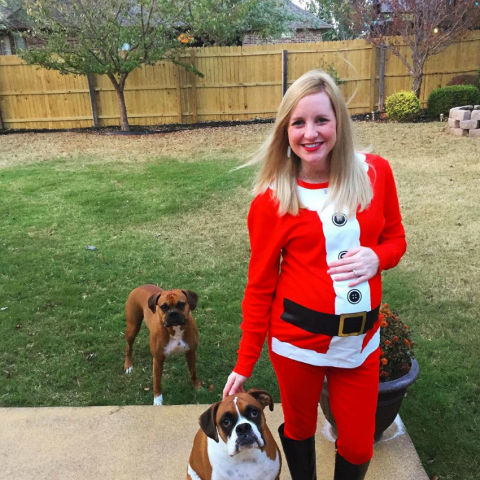 Via Mary Kate Flesch
Magic 8 Ball
Just another option for those who want to DIY without spending a lot of time or money. This is a super simple and easy way for you to be the hit of the party all night long.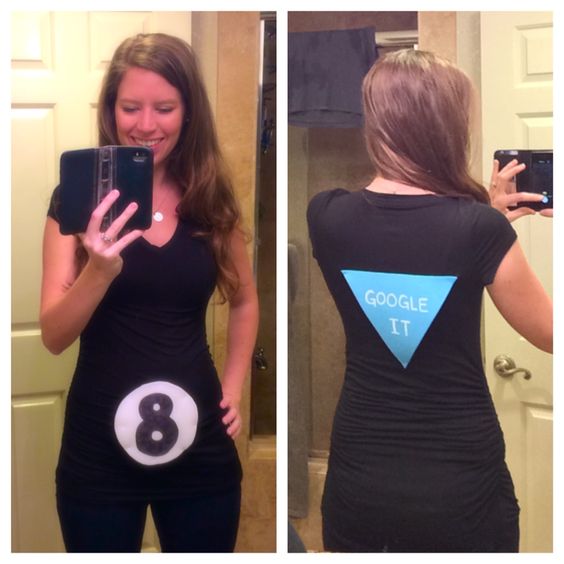 Via Pinterest
Over to you PLNers! Have any other fab ideas for Halloween costumes for expecting ladies?