Choosing your next family vehicle is a big deal. There are so many factors to consider, including how it will grow with your growing family. At PLN we are real people with real kids — i.e., parents — just like you! So when we were asked what we thought of the 2021 Nissan Rogue as a family vehicle, we took the question to our in-house experts to see what they had to say. We asked staff members at different stages of family life why they think the 2021 Nissan Rogue is a good choice for their next family vehicle. Here's what they said:
Pete is about to become a dad. His first baby is on the way!
I'm gonna be a Dad soon! When I found out my wife was pregnant with our first baby, I started driving differently — especially when she's in the car with me. I'm far more cautious, and I use every tool at my disposal to be aware of my surroundings and keep our precious new cargo as safe as possible. But I've started to feel as though my current vehicle's safety tools aren't up to my new high standards, and that's why the new Nissan Rogue is a great choice for our next vehicle. The Rogue's safety systems help me feel more confident on the road, and mitigate risks I didn't even know I was taking before. For the first time in my life, my vehicle's safety features are the primary focus. Fortunately, I don't have to compromise on style and power either – the Rogue's new design will turn heads and with 181 horsepower and Intelligent All Wheel Drive, I'll have no problem getting to our new family members' grandparents cottage!
Laura has a growing family. She's about to add baby #2 to her brood
I've had my itty-bitty sedan since University and I've been trying to make it work for my family, but alas, I'm now ready to throw in the vehicular towel. With my husband, 2-year-old daughter, our dog Lando and a baby on the way, we officially need to upgrade. When I looked up the features of the all-new Nissan Rogue it was like (*choir of angels singing "Hallelujah" blares as Laura looks up to the sky smiling*). Ample cargo space, keyless entry, Door-to-Door navigation, oh my! This thing is made for parent life. It's car seat-ready, has rear sunshades to block those rays from baby's eyes, and the rear doors open almost 90°– no more struggling to get the little ones in and out. And most importantly, the list of safety and driver-assist features is the most extensive I've seen. This mama will take any help parallel parking she can get!
Alanna has three school-age kiddos
Ooh, look at that cargo space. It practically cries out for groceries, flat-pack furniture, and kids' bikes! But seriously: safety remains a priority for me and my family, and with three kids in the car it's easy to get distracted, so the Intelligent Driving and Driver Assist features really appeal to me. Plus the multi-view parking cameras, which make driveways and parking lots less stressful. The kids don't care about those things though; they're just interested in a fun and comfortable ride. Fortunately, the Tri-Zone Climate Control, rear pull-up sunshades, Bose Premium Audio System with Wireless Apple CarPlay, and a spacious interior make for happy kids!
Shannon, mom to kids entering their tween at teen years
The glorious teenage and tween years are upon us at our house, and they come with a sweet combination of both sass and size. Long gone are the carseats, replaced by bigger backpacks, sports gear, and of course the question "can I bring a friend?". With roomy seating for five, I can be sure that my growing boy-child has ample leg room for his gangly limbs and there will be zero complaints from my daughter about proximity to brother. Speaking of 'zero' these seats are all 'Zero Gravity' meaning they alleviate fatigue by furnishing the ideal posture to make long drives more pleasant. I love the Divide and Hide feature as a way to tuck away all those extra things we many need on an adventure, like my full-size first aid kit and that extra set of cleats. Wireless charging for Mom (centre pedestal) and two rear-seat USB plugs mean that nobody leaves without me being sure that "low battery" is not an excuse for forgetting to text.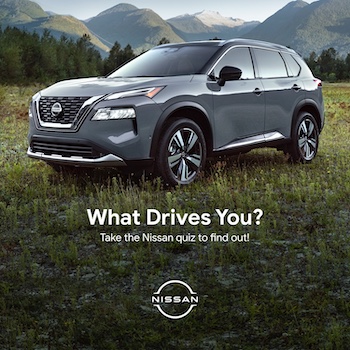 What drives you?
Chance to win $2,500.