Unsure what to get your fave mom-to-be for her upcoming baby shower? Determined to find something she'll really find special? Never fear, help is here!
I love baby showers. I realize some might find that hard to believe, but it's true. While others cringe at the sight of another invite in their mailbox (or inbox), I squeal with joy. Honestly. I love the finger foods, I love the cheesy games, I even love watching the glowing mama unwrapping each and every single present and holding the tiny hats and booties up high for all to see. But my favourite part is choosing that perfect gift for the little bun in the oven. It's so much fun for me to reflect on those baby items I've tried and loved as a parent, and to share some of those with another family. It's also exciting to discover amazing new products that I wish I'd had when my children first arrived.
But my favourite part is choosing that perfect gift for the little bun in the oven.
So you think I'm crazy? Not the type of person who finds joy in baby shopping? Feeling completely clueless as to what to buy besides another box of diapers? Relax. Grab yourself a hot cup of coffee, head on over to Indigo and pick up one of these 6 sweet baby shower gifts:
A hilarious onesie
Mama-to-be is most definitely going to receive a tonne of boring clothes in plain old pink or blue. Shirts with tiny flowers and teddy bears. Sleepers bathed in lambs and puppies. Set yourself apart and give her something she'll actually love and want to put on her child, like this delightful Britney Spears throwback onesie by IndigoBaby. It may be blue, but it's also funny and super cute. In fact, Indigo carries all sorts of hilarious onesies for babies, all of them adorable and any one a sure crowd-pleaser.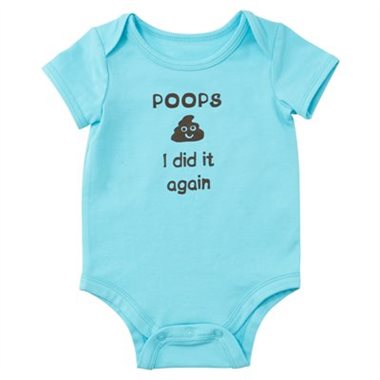 A set of natural baby products
Natural baby products might be a trend right now, but this is a trend that I hope sticks around for good. Harmful chemicals on my new baby's sensitive skin? No thanks! Give Mom a gift she'll feel good about using on her little one. The Honest Company Baby Basics Gift Set comes with everything new parents need to get started caring for their baby: diapers, wipes, body wash, lotion and an all-purpose balm. Not only is this super helpful to have on hand once baby arrives, but it gives parents the opportunity to try out new products without being committed. Although, after trying Honest baby products, with their funky designs and yummy toxin-free scents, they'll wish they had more!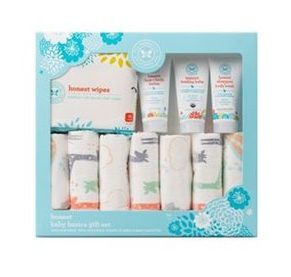 A lovey
What's a lovey, you ask? Good question. You know how you sometimes see children carrying around filthy stuffed animals with tattered ears? And you know how they seem to lose their minds when said stuffed animals are touched by anyone else or (knock on wood) go missing? That's a lovey–a sweet, cuddly, stuffed toy that the new baby will love and cherish and carry around everywhere. That special lovey could be from you! But don't just pick up any old toy. A lovey should be super soft and durable, like this Bashful Bunny by Jellycat. Pair it with the classic board book Guess How Much I Love You by Sam McBratney and you've got yourself the perfect shower gift. Feeling really generous? Pick Mama up two identical bunnies. This way, she'll always have a backup in case one goes missing, or desperately needs a trip to the washing machine. Which it will.
That's a lovey–a sweet, cuddly, stuffed toy that the new baby will love and cherish and carry around everywhere.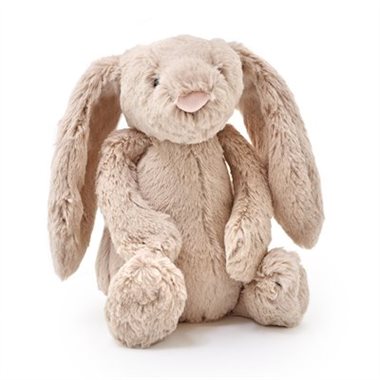 A natural teething toy
There's that word again: natural. But seriously, who wants their child mouthing plastic toys filled with harmful toxins? The Sophie La Girafe teething toy is very popular for good reason. Made with natural rubber and safe paint, this toy is completely non-toxic. Parents can rest easy watching their little one gnaw on Sophie's head without having to worry about what terrible side effects will result. The giraffe's shape is perfect for baby's hands with its long neck and legs for easy grasping. Both of my daughters loved this toy, but it's a splurge that some parents are hesitant to make. Believe me, Mama is really hoping someone picks this up for her. You can also purchase one of many Sophie board books to compliment the teether. Our favourite is Peekaboo Sophie! with is large, sturdy flaps and touch-and-feel pages.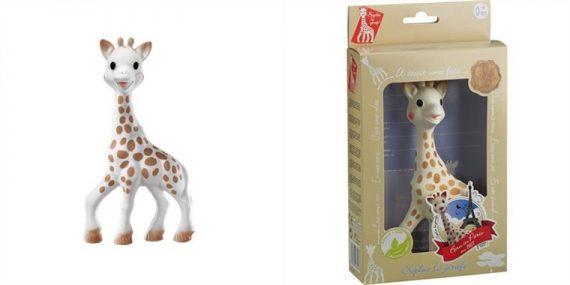 A stylish activity gym
Baby gear tends to be bulky and take up a lot of space, so my favourite purchases are those that can be used in more ways than one. The Skip Hop Camping Cubs Activity Gym can be used as a soft blanket to lay your infant down on hard floors or a hanging gym for curious babies to practice reaching and swatting toys. Make tummy-time fun and comfortable by attaching the toys lower on the gym and propping baby up on the comfy pillow that comes included. Or, for older babies who can sit unassisted, attach the toys higher up and allow babies to explore. Like all Skip Hop gear, this activity gym is super cute with its outdoor forest friend theme. This would have looked so sweet in my daughter's forest-themed nursery. Sigh.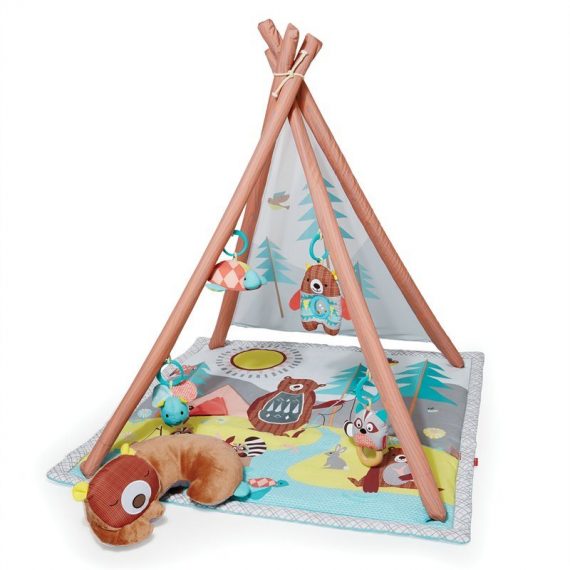 A board book (or two…)
A new baby shower trend is to gift a book in lieu of a greeting card. This, in my opinion, is the greatest idea ever. It is the perfect way to build baby's library and allows loved ones to share their favourite childhood books with the baby. Even if it's not specifically requested, I highly recommend forgoing the card, and purchasing a board book with a special message written inside. In fact, a book usually only costs a few dollars more than a card! My favourite for new babies is Welcome, Baby by beloved Canadian author, Barbara Reid. I give it to everyone. Another great Canadian find is Sweetest Kulu by Celina Neonakis. This gorgeous poem is paired with the most incredible illustrations and would make a fantastic addition to any library. I also love to share one of my childhood favourites, The Monster at the End of this Book by Jon Stone–it's really funny and will be enjoyed well past the toddler years.
If you're still stuck for gift ideas, the answer is simply more books. The answer is always more books. Even as a self-proclaimed minimalist, I don't think you can ever have too many quality books for your children. So get baby a pile of awesome board books and call it a day!
Chance to Win a $1,200 Prize Bundle from Indigo—Contest Closed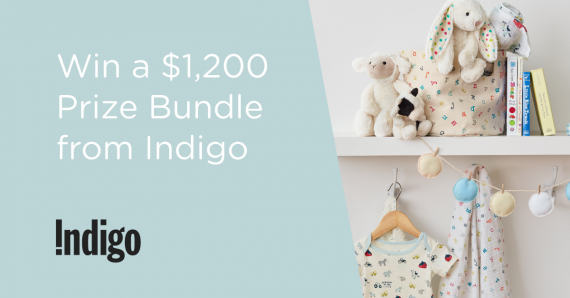 Congratulations to Adrienne M. of Saskatoon, SK. for winning our IndigoKids Baby Giveaway!