Canada's Luckiest Baby 6 has hit the road running with an amazing $50,000 prize bundle that will make one lucky baby, and the family that loves it, BIG WINNERS.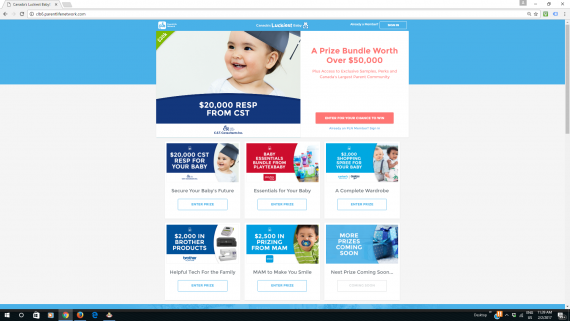 Let's talk about the elephant in the room, the PRIZES! CST is back for another year making sure that the winning child can reach for the stars education-wise with a $20,000 RESP.
Our friends at Playtex Baby have you covered from feeding time to taming the smells of all the stinky diapers with a bundle of goodies. Carter's | OshKosh have swept in with $2,000 for a wardrobe fit for a princess (or prince) letting you focus on having the best-dressed kid at playgroup. Baby brand MAM is giving our lucky winner a $2,500 prize bundle, including a professional photo shoot AND a bundle including everything from pacifiers, to bottles & cups, and even teething goodies to save you in those days when your baby is popping teeth left, right, and center.
We got something for you, too, mom and dad! A tech bundle from Brother worth $2,000 that will satisfy the tech-lover in all of us. That is just a sample of what is to come in the month's ahead.
Sign In, Sign Up, Come Check us Out
All these prizes sound amazing, right? Well, you can't win if you do not enter so what are you waiting for? Head on over to Canada's Luckiest Baby to sign up for CLB6. If you have never entered before, create an account. If you already have an account, simply sign in and get going! Has the lack of sleep made you forget your password? Don't worry, we have you covered with our "reset my password" button.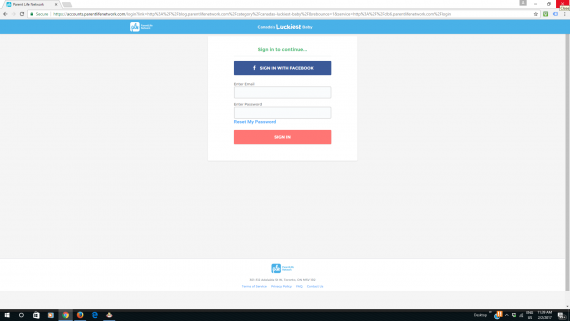 Start Adding Prizes
Prizes will come up one at a time. Simply opt-in to them and move on, it's that easy! You may even become a 'Prize Master' like I did. In order to win them all, you have to opt into them all. We work tirelessly adding more partners to CLB6 and the grand prize keeps on growing (just like our kids). If the winner of CLB6 does not opt into all of the prizes, we will draw winners for the other prizes. The prizes have to be given out and it's up to you to claim them all!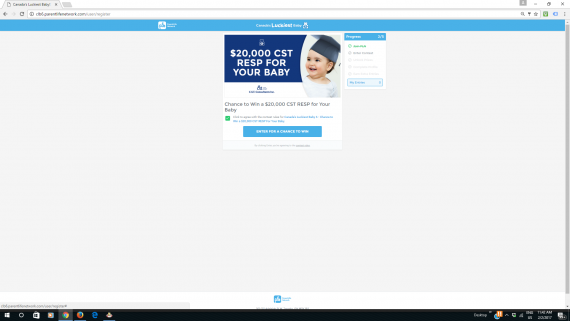 Fill Out That Profile
Now it's time to either fill in your profile for the first time or update your information from previous years. We ask for you full name, postal code and baby's due date or birth year so we can send you tailored emails with special offers, like the Regional Prizes. We work hard on those so you don't want to miss out. We may even ask you for your extended information if you qualify. You can skip at any time if you don't want to share, we won't get mad I promise.

Extra Entries are Key
We know that you want your name on as many ballots as possible when it comes time to drawing the CLB6 winner. We reward you for doing things you are already doing and loving, like following us on Instagram, Facebook, Twitter, Pinterest and reading our blog. Take the surveys, download the Play the Future app ($1,000 winner each month), and join our online deals and savings group on Facebook where we do the searching for you to save money. All these things add up to give you a better chance at winning CLB6. You can always find these extra entries conveniently in your feed so check in often. Put it in your planner, write a note, set a reminder on your phone; however you do it, come back often to check-in.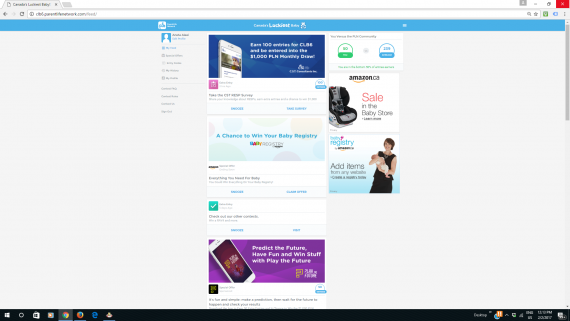 Be a Detective (Parents are the BEST Detectives)
Read our emails, check our social media posts, read our blog. We will be hiding codes anywhere and everywhere (like under the car seat next to that pile of lost Cheerios) but you have to search them out. Consider it practice for the teenage years when your kids stop talking to you and you have to expertly sleuth your way into their lives. Once you have found the codes head on over to our "Entry Codes Page" to claim them. Scared you may have missed a few? Don't worry about it. There are some really amazing PLNers who will share their knowledge on our PLN Facebook page.
Now that we have given you the rundown of Canada's Luckiest Baby 6 we want you to head on over and enter. If you have any question you can check out our FAQ page for more common questions or email us anytime at contact@parentlifenetwork.com. We're always here to help.
Good luck to you all!