Save time making food and spend it with your family
You know that feeling, when you've been worked to the bone all day long, finally make it home and the first thing you hear is "what's for dinner?" Cooking used to be fun, but nowadays, it often feels like a chore. There's no way you can come up with those five-star meals you did before you had kids but you can't just have boxed mac and cheese every night (even if that's what they want).
At this point, you'd do anything to know the secrets to making a quick and delicious dinner, that gives you a break and lets you have time to do the things you really want. Rest easy, we have just the tips for you.
PLAN AHEAD
Sometimes a fridge full of food can seem like a cruel taunt. Do you want salad, steak, pasta, maybe even ice cream?! There's nothing worse than staring blankly at the fridge, not knowing what to make as the day keeps ticking away. Take a few minutes on the weekend to plan out your meals for the week and your exhausted Wednesday self will thank you for it.
EVERYBODY LOVES PIZZA
Let someone else do the hard stuff for you, you deserve it. Whether it's a grab-and-go meal or an indulgent feast, Giuseppe Pizzeria Deep Dish Mini Pizzas are the perfect size for kids. Give that authentic Italian feel to your family in mere minutes and stop wasting time on dishes they don't even want. Bring the pizza parlour experience to your home by popping some delicious Pepperoni or 4 Cheese in the oven right now. There's really nothing easier.
GET THE KIDS INVOLVED
Many hands make light work, and since you don't have a personal chef to do it for you, your little guys could just be the assistants you need. While your pizzas are cooking, have them help you toss together a quick salad or chop some fresh veggies (for those of you with LOs who follow the "raw veggies only" movement). Get them involved in the cooking and make some memories together in the kitchen (you can even give them the worst jobs – we won't tell). Not only will you get to spend time with them, it'll make dinner even easier, and you might just be grooming a future chef.
DON'T FORGET DESSERT
Dinner's wrapped up, the dishes are done, and before you can even blink, it's "we want dessert!" Didn't we just do all this?! Save yourself the headache and check out Ristorante Cioccolato, the definition of indulgence. That's right, pizza for dessert (your kids' brains probably can't even handle that). It's covered in chocolate sauce with dark chocolate chips, milk chocolate chips, and white chocolate chunks, and all you have to do is pop it in the oven, that's it! If only everything else was that easy (and full of chocolate).
LET'S GET COOKING
Your time is precious and between picking them up from school, making dinner, packing lunches, and putting them to bed, there's not a lot of it to go around. Those days can be long but they shouldn't mean you have to miss those special moments along the way. Don't waste your time making a meal you're not sure about. Make that time count, and maybe even get an authentic Italian meal while you're at it.
HOW ABOUT A YEAR OF PIZZA?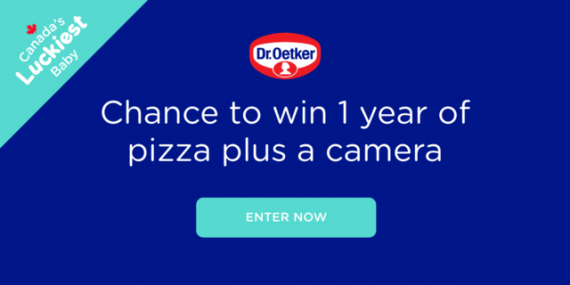 And if one pizza dinner sounds like a lifesaver, imagine what you could do with a whole year's worth. Dr. Oetker is a proud partner of Canada's Luckiest Baby, so check out the incredible prize package they've put together, along with all of the other goodies up for grabs that could completely change your everyday life.