Who's your favourite steam engine from Thomas & Friends™ ? I suspect if you ask most kids, they'll say Thomas. He's easy to root for: a bit of an underdog, but he always pulls through. Classic. Mine was Gordon, whom I suspected was a good ten years older than the rest of the trains, and who probably had a good dozen IQ points on them, too. (Hm. I'm just realising I must have been an insufferably snobby kid.) This was back in the olden days, of course, when there were only a handful of trains to choose from in the first place, and I'm pretty sure they were all boy trains anyway.
The modern Thomas the Tank Engine has so many friends I can barely keep track of them all. They've really diversified (not just trains! Not just boys! Not just characters from English-speaking countries!). Kids growing up these days are bound to see themselves in the characters in a positive and inclusive way, and they're bound to enjoy the ability to collect different characters and arrange tracks to create their own little world.
Thomas is for everyone. And that's why everyone's invited to the Day Out With Thomas™ event at Uxbridge train station, August 12, 13, 14, 19, 20 & 21. Day Out With Thomas™ offers an opportunity for children and their families to ride a real-life Thomas the Tank Engine™, meet Sir Topham Hatt™, the Controller of the Railway, and visit the Imagination Station for tons of Thomas-themed activities including stamps, temporary tattoos, and face painting, as well as a Thomas storytelling and video viewing area.  York-Durham Heritage Railway will also present live entertainment, a petting zoo, ride-on motorbike scooters, hay maze, jumping castles and more! It's basically everything our inner and outer children love. Not to mention: FOOD. Grab a bite in between activities to keep your engine running.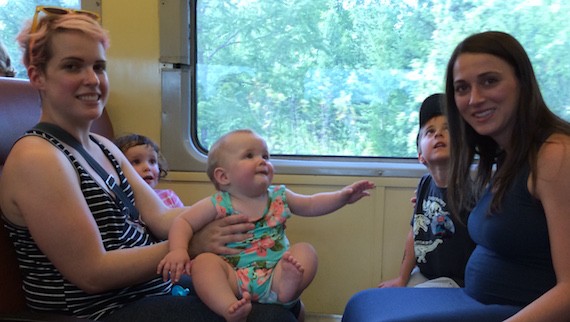 Jessi McAlpine and I visited the Day Out With Thomas on a very (VERY) hot Friday afternoon with three kidlets and one growing baby bump. We're pretty sure Henry had the most fun, but Emily enjoyed the train ride and Panda enjoyed thoroughly covering herself in chocolate ice cream.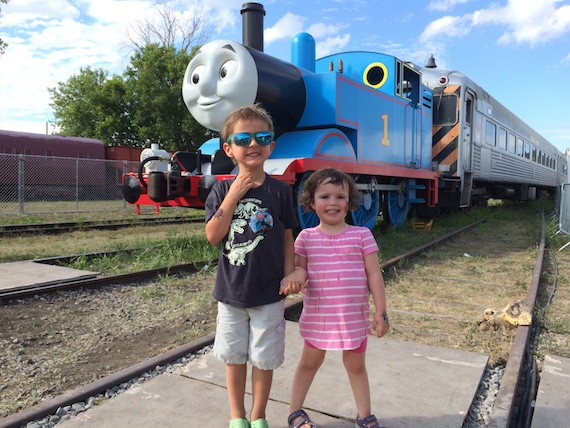 There's only one question left: how can YOU win free tickets? Enter the PLN flash giveaway below for your chance at 4 tickets to the August 20th 3:45pm ride. (Tickets get you admission for the entire day on August 20th, and there's plenty to do in addition to the train ride!)