When it comes to saving money, I am willing to try just about anything, even going on a cooking binge. After all, I am already trying to balance motherhood, a marriage, and a career, why not add financial planning to that list?
As my family has grown over the years, so has our grocery bill. While I first tried to trim the excess fat with couponing, I decided to take it one step further and try to make freezer meals. The thought of cooking for a few days and saving time and money all winter is super attractive but is it too good to be true?
While making meals stretch and freezing leftovers are certainly common practice in our home, we have never attempted any make-ahead meals. The idea of marrying convenience and saving money is just too good not to try.
The first thing I did was research some freezer meals online to find some recipes that would work well for our family. I am not interested in wasting my time chopping ingredients and preparing meals that won't get eaten. Once I narrowed it down to a few meals, I decided to price match and coupon, to save as much money as possible.
Day 1
For my own sanity, I found it best to split my cooking over two days, one in which my husband was home to take care of our kids. The first day was fairly light. I prepared two chickens to be roasted in our electric roast pan while cooking 1.5 kg of roast beef. Once the chickens were fully cooked, I deboned the carcasses and separated the meat into three portions to be used for three meals. The carcasses were put in a slow cooker with water, garlic, and onions with skin to be cooked on low and become soup broth.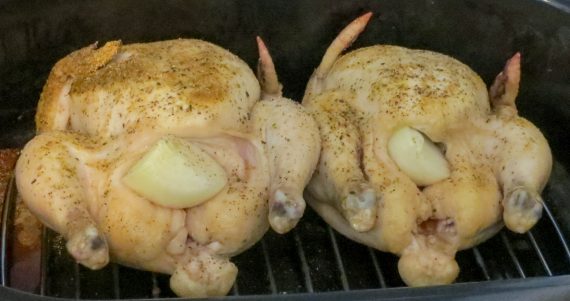 The ground beef was cooked until no longer pink and then combined with a jar of salsa and a packet of taco seasoning. This will also be divided into two large portions and one small portion. One large portion was frozen ready to be added to plain tomato sauce for a future spaghetti dinner, the other was combined with beans, tomatoes and tomato sauce and made into a large portion of chili.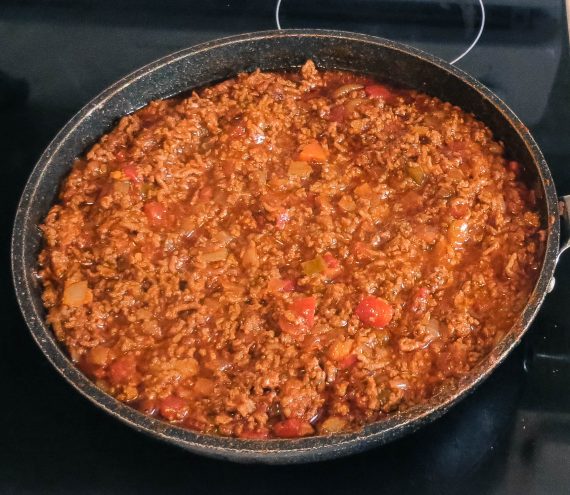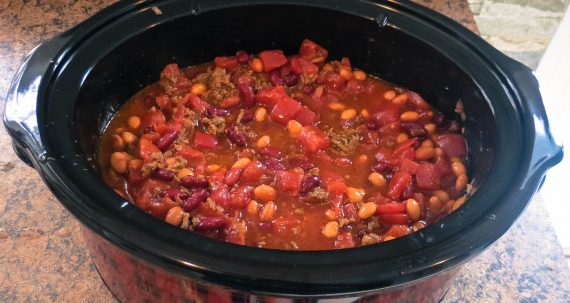 The third smaller amount of seasoned beef was frozen for a future taco meal.
Next, I fried a small white onion over medium heat with coconut oil. While the onion was softening, I rinsed and drained two cans of pinto beans. I then added them to the onion mixture and mashed with a potato masher. Once the beans and onion were combined I added a brick of cream cheese and a packet of taco seasoning. I added the combined mixture into 20 seven inch whole wheat wraps for an easy vegetarian meal on the go.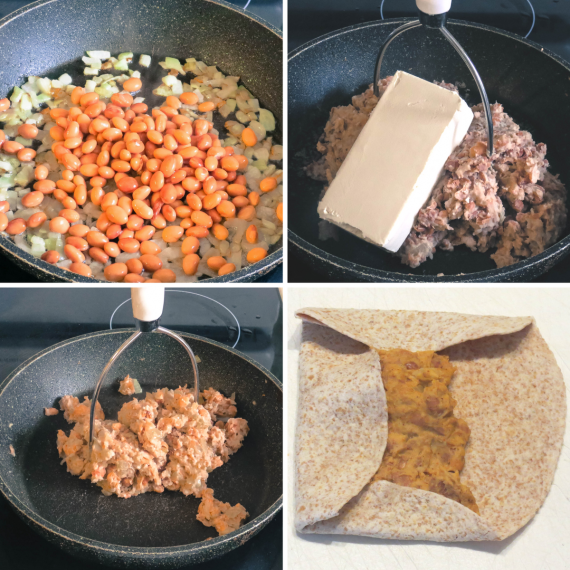 Day 2
After some rest, I was back at it. I took my chicken portions and made Taquitos and Slow cooker pasta. The third portion was put aside to be added to my broth for soup along with carrot, onion, potatoes, celery, and peas.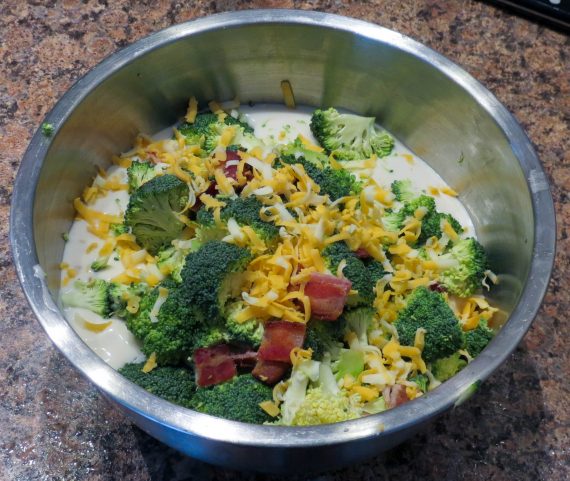 Next, I got started on my breakfast dishes. Luckily I had this fun little helper to make my eggs into the perfect shape for breakfast sandwiches. I made sure to toast all my english muffins and remove all excess grease from the bacon before assembling my sandwiches to keep them from getting soggy. I was able to make 18 sandwiches perfect for breakfast or lunch on the go for less than $1 each. Delicious and super cheap!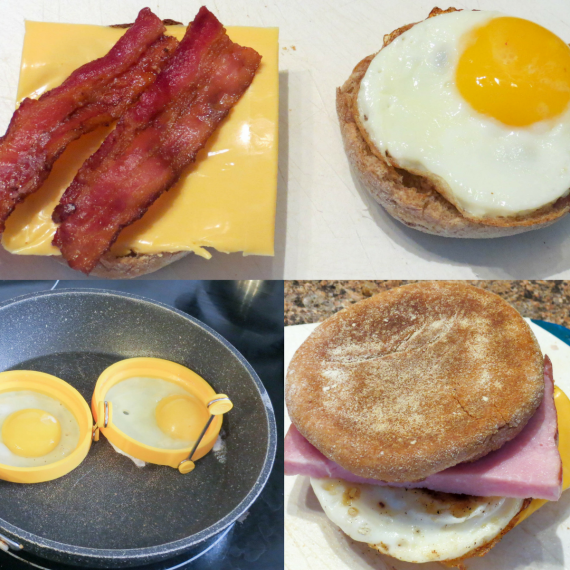 Next, I put my baking skills to the test and made these super yummy bagel bombs. Since my counter was already covered in flour anyway, I threw in 12 of these pizza pockets. While I know you can often buy pizza cheaper than homemade, it just never tastes quite as good. I baked these savouries before cooling and then freezing and they smelled amazing.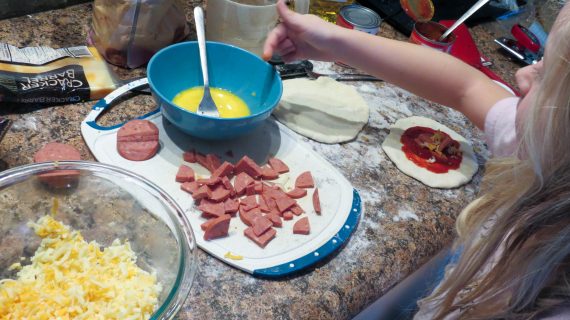 Next, I took a box of pancake mix and some coconut oil and made some freezer ready pancakes for an easy breakfast on the go for my littles.
Now all that was left to do was get everything ready for the freezer. After so much hard work cooking, I didn't want any of my results to get freezer burnt! I wrapped many items individually and then placed in a container or freezer bag. Luckily, my husband and I invested in a small chest freezer which I have managed to fill to the brim.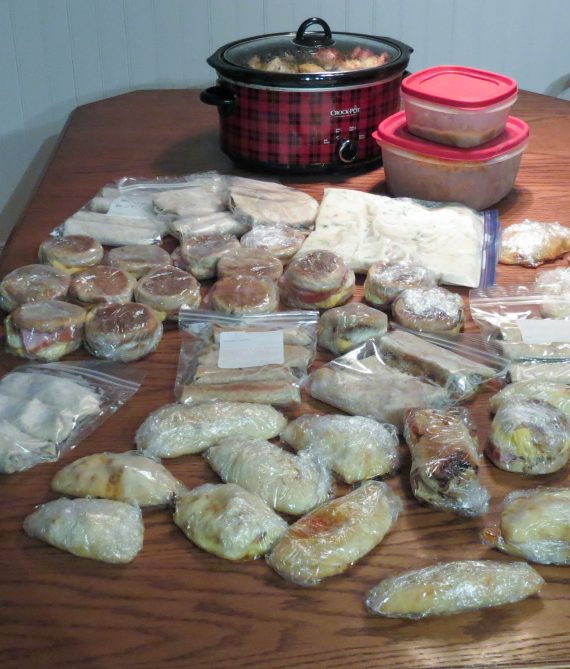 So was all the hard work worth it in the end? While my husband and I always pack our children lunch, we can often forget to prepare for our own meals away from home. Having easy grab and go options will save our bottom line while we are trying to recover from the holidays. One downside is that after spending so much time cooking all that food, the last thing I ever want to do is eat any of it. The real test will come as time marches on to see if we find ourselves reaching for our pre-made meals or resorting to old habits.
Have you ever tried making freezer meals? Let us know in the comments and make sure to give these awesome recipes a try! Here's to saving money in 2018!