Stuck for a gift idea for a babe in your life who's about to turn one? Read on.
When I turned one, my family celebrated my first year of life in my grandparents' unfinished basement. Guests included my immediate family, my grandparents, and my aunt and uncle. We ate cake, and I opened a single present. Please note that we made the hour drive to Toronto to visit my grandparents every Sunday, so we weren't even really there for me. It was just an ordinary Sunday–but with cake. And that was the extent of the celebration.
First birthdays can be a pretty big deal.
Fast-forward to today, and parents are spending months preparing for their child's big day. Event halls are booked, Pinterest boards are created and DIY decorations are mulled over. First birthdays can be a pretty big deal. So you've received an invite to one–now comes the big question: What are you going to get the little nugget? And while we're on the subject, what could a one year old possibly need? What does a child whose favourite toys include tissues and hair elastics even want?
What does a child whose favourite toys include tissues and hair elastics even want?
Deep breaths! We've got you covered. Well, Canada's Baby Store has you covered. With an incredible selection of name-brand toys and gifts for babies and toddlers, you can easily score that perfect birthday gift while shopping from the comfort of your couch. Another bonus? Shipping is free with purchases over $50! Perfect.
Before we get into specifics, I'll mention that as the mother of two young children, I've attended my fair share of first birthday bashes. When searching for that perfect gift, I try to meet one of the following three criteria:
1. Does it serve more than one purpose?
A toy that allows the child to practice different skills, play in different ways and use their imagination will get more play time, please parents and give you more value for your money.
2. Will this gift grow with the child?
A sure sign of a great gift is one that can grow with the child and provide years of play.
3. Is this gift practical?
Don't feel like giving this kid more stuff to be tossed and forgotten in the playroom? Get them something useful (think: toothbrush or natural sunscreen). Really, they won't know the difference either way and parents will thank you.
So here goes. The following is a list of my favourite gifts for one year olds. And by that, I mean it's a list of what I wish people got my daughter when she turned one in February.
A storage bin
Kids own lots of things. Add a birthday party to the mix, and parents are itching for storage solutions to contain it all. Why not help them out with a fun bin to organize the chaos? The Skip Hop Zoo Storage Bin is the perfect size and looks great in a bedroom, playroom or even the family room. Throw in a board book and some egg shakers and you're set!
A walker
The average child begins taking their first steps around twelve months of age. What better time than now to gift them a walker! These toys allow babies to hone their walking skills with a little support and kids are drawn to them. They offer a Farm Activity Walker on the Canada's Baby Store site and it is awesome; not only is it wooden and made with non-toxic materials, but it also doubles as an activity centre! Two toys in one–score!
A set of blocks
Wooden blocks are probably the single most versatile gift you can give a kid. At a year old, kids can learn shapes and colours, and begin to stack the blocks. By two years, they can potentially order the numbers, and by three, they're building complex structures. Someone else got them blocks, too? No problem. The more blocks, the greater the possibilities for building.
A fun bath towel
I have been drooling over Zoocchini bath towels for months. Pair them with some natural baby soap or fun bath toys and you've got yourself a pretty adorable (and practical) gift. My personal favourite is the crab but they come in tons of lovable animals. I want them all.
A backpack
A backpack? For a one year old? Yes, you read that right. In fact, this is exactly what I got my older daughter when she turned one. I stuffed it with homemade magnetic letters and she loved it. She still loves it three years later. In the beginning she would just fill it and empty it all day long, but it eventually became a staple during her elaborate pretend play sessions. Once kids are potty trained and diaper bags become less of a necessity, they're perfect for carrying snacks, water bottles and a few toys during short trips. And if they haven't worn it out by the time they start school, they have one less thing to buy for Kindergarten! An Apple Park Bat Backpack is the perfect size and is the cutest thing I've ever seen.
Feeding tools
At a year old, toddlers are just starting to take food seriously. They're no longer just smashing every bit of it into their hair, but are actually starting to swallow some. And if they're not quite ready to use tableware, they will be very soon. Canada's Baby Store carries some fantastic brands for mealtime necessities. We use Oxo Tot sippy cups and love how their products grow with kids. Pick one up along with a plate, bowl and some cutlery and you're good to go.
A balance bike
Looking to spend a bit more on the birthday kiddo? Want to claim the spot of best aunt/uncle/grandparent/family friend ever? Pick up a balance bike. The little one won't be able to really use it until around 18 months, but this gift will be a favourite for a while. And it is super stylish. But don't forget to pick up a helmet, too!
A learning tower
If you're planning on going in on a gift with a group, or if your budget allows for a more extravagant gift, a learning tower is a fantastic option for you. Learning towers allow kids around 18 months of age to safely reach the kitchen counter and participate in cooking, baking and art activities. The height of this sturdy tower is adjustable so kids can use it for years before passing it on to siblings.
This is just a small sampling of the amazing gifts you can find at Canada's Baby Store. They have tons to choose from and the site is super easy to navigate. And if, after all this, you're still unsure of what to get, just pick up a gift card and let their parents pick something fun.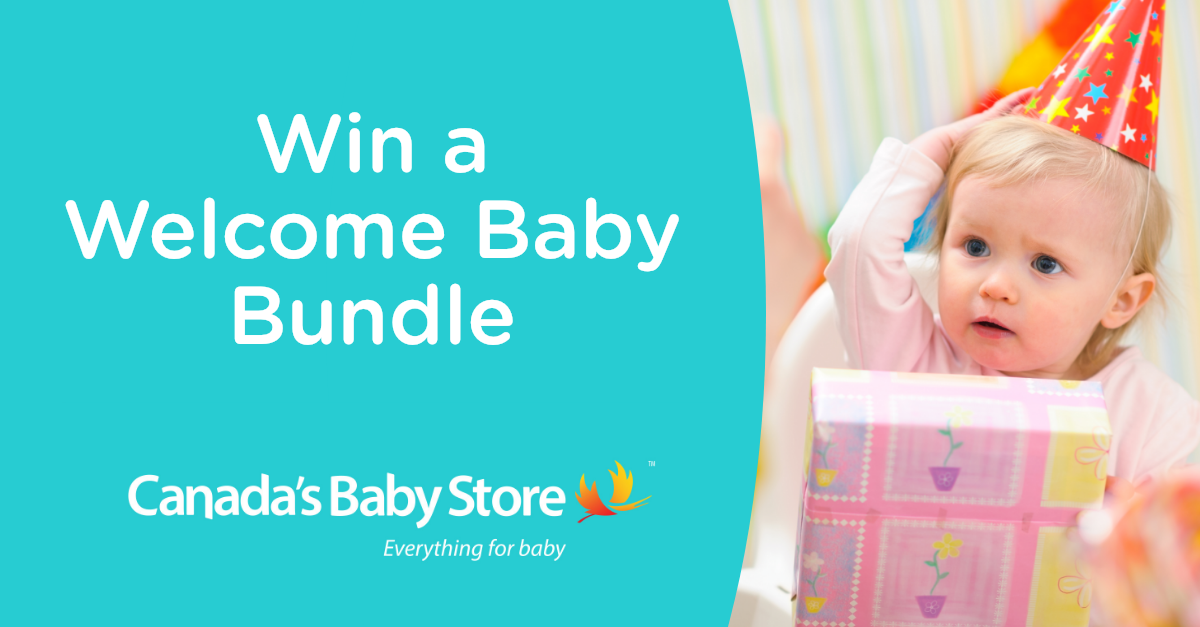 Canada's Baby Store has provided an amazing Welcome Baby Bundle for us to give away, valued at over $1,000! If you're expecting, this is THE prize package to cover all your bases and get you ready for your baby's arrival.
Congratulations to Wendy G. Of Whitby, ON. for winning.