For all the parents dreading Back-to-School shopping—here are our picks for good kid backpacks you can shop for from your couch.
With the start of the new school year just around the corner, I recently went out with my kids to pick new backpacks for them. Normally, I'm a planned shopper. I scope out what I want online ahead of time, take note of deals and off I go. But this time I just went out without doing my usual ritual because I wanted to give my kids the freedom to choose for themselves. You know where this is going right?
My daughter liked every backpack she saw and it took nearly an hour for her to pick just one. And my son was incredibly indecisive and dragged me all over the mall. Two days and a dozen stores later, he finally made his choice. In the end, I could have simply sat down with them in the comfort of our home, browsed online and had the exact same bags sent directly to our door. Lesson learned for next time! If you are still in need of a new backpack for your kids in time for back-to-school, I've rounded up the best children's backpacks you can buy online.
Toddlers and Pre-Schoolers
If you have a child in daycare or preschool, these adorable bags from Skip Hop are great! The compact size is perfect for little ones yet still has enough space to carry snacks, spare clothes and a water bottle. Plus, check out all of the fun animal themes and bright colours they come in!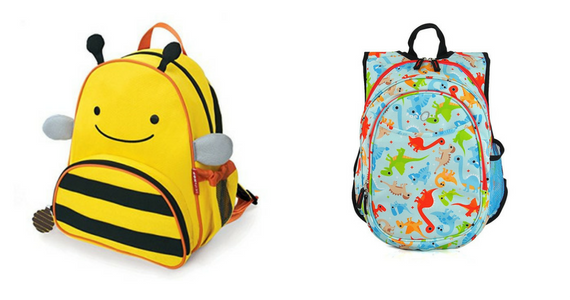 This all-in-one backpack with a built-in cooler is a great first bag for your preschooler or child starting kindergarten. It has an insulated front pocket perfect for snacks and lunch, a side mesh pocket for a water bottle and large main compartment with pockets on the inside. It also comes in many colours and patterns suitable for boy and girl.
School-Aged Children
Another cute bag for your child in kindergarten is this backpack on wheels. It comes in blue with a fun shark design and in pink with a cute owl design.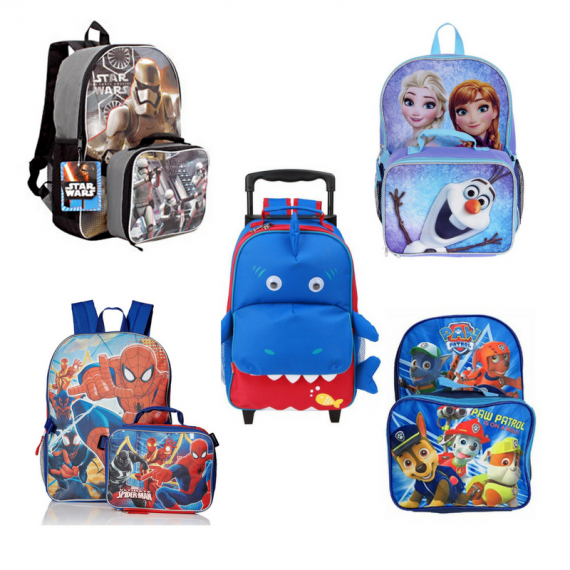 If you are looking to buy a backpack and lunch bag together, there are some great options to choose from. There are different character varieties of this backpack and lunch bag combo, including Frozen, Marvel, Paw Patrol, Star Wars and more! A great feature about this set is that there are velcro straps that allow your child to easily attach the lunch bag on the front of the backpack. No more stuffing lunch bags in backpacks and struggling with zippers every morning!
High School Students
For parents shopping for high school, college or university students, there are also some sets more suitable for older kids. This three-piece set comes with a backpack, shoulder bag and pencil case and is available in different colours and patterns. If your older student needs to carry around a laptop or tablet, this bookbag set is big enough to fit up to a 15.6" laptop, comes with a separate pouch to hold a charger and a pencil case.
If you're not looking for a set and simply need a school backpack, this water-resistant bag has many compartments, fits up to a 16" laptop and comes in many different colours. Great for a student or for travel!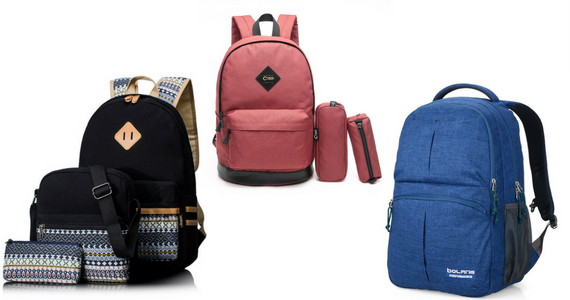 Before you go shopping my best advice to you is this: keep in mind how your child will use the bag and what they will be carrying daily. You want to make sure their backpack will meet those needs and fit all those things. But most of all, save yourself the trouble of being dragged from store to store, grab yourself a cup of coffee and find a comfy spot with your computer. Your child's new backpack could be just a click away!
The Parent Life Network is a participant in the Amazon Services LLC Associates Program, an affiliate advertising program designed to provide a means for sites to earn advertising fees by advertising and linking to amazon.ca. We only recommend products we actually like—how else would we sleep at night? When you purchase through our links, you're helping support our awesome free content, at no extra cost to you.