You guys, after months of adding prizes, finding babies of the day, anxiously opening emails, and so much more, it's finally happening! One lucky PLN baby and their family are about to win Canada's Luckiest Baby. Keep reading for all the exciting details.
Finally, the day we've been waiting for is almost here. Here at PLN, we're gearing up for our favourite part of Canada's Luckiest Baby—the big reveal.
Except, the reveal day isn't actually here just yet. Over the years, we've gotten pretty good at the art of the surprise winner reveal and that's why we're taking our time this year to make sure we outdo ourselves. Don't worry, you won't have to wait too long to find out if you and your baby won. Just stay posted to this blog post and our social media for updates about how the planning is going (and maybe even a few hints about the winner) leading up the the big day.
If you've got burning questions about how this all works or you're dying for hints to see if the winner just might be you, this is the page you want to bookmark for all your CLB winner news.
And remember, while you wait on the CLB grand prize, there's lots of other goodies to be won. Check out our giveaways page to see which other incredible prizes are available (hint: there's a lot of cash and gift cards up for grabs from some amazing sponsors). And always keep your eyes peeled on your inbox because you never know when we might be emailing you a brand new offer.
So without further ado, here's what you need to know about the epic, unbelievable, life-changing Canada's Luckiest Baby reveal.
Has the grand prize winner been drawn?
Yes! Michael drew our lucky winner. He's keeping the name a complete secret and won't even give anyone else a hint about who the luckiest baby is. Until he's ready to reveal it, he's keeping the name locked up in a safe guarded by a family of ninjas and their pet crocodile. Alright, so maybe that last bit is made up, but the winner has really been drawn.
Have we revealed the winner yet?
YES!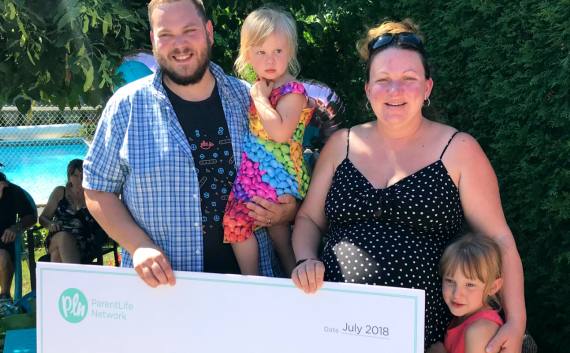 Congratulations to Amy Cantin from Sault Ste. Marie, Ontario – the winner of Canada's Luckiest Baby 8. She has won over 50K in prizes including an RESP worth $20K from CST Consultants , $2500 of Fisher-Price® toys and gear, $2500 in prizing from Indigo, a baby essentials bundle from Playtex® Baby, an eat well sleep well bundle from Philips Avent , a Diono car seat and stroller, Pampers diapers for a year, and a year of Enfamil formula and diapers. Wow.
Thank you to all of our brand partners and thank you to everyone who played! The next round launches in less than two weeks! Stay tuned for more details and the reveal video.
What else have we shared?
(updated June 27, 2018)
The PLN reveal team is checking flight prices to go surprise the winner.
Someone the winner knows is keeping a secret from them.
There's too many prizes to fit on a small plane, so looks like we're driving. If we start early, we should make it by dinner.
We've had pregnant CLB winners. We've had winners with children. But we've never had a pregnant winner with children. Until now 🙂
When does the next round of Canada's Luckiest Baby start?
We're just as excited as you to start Canada's Luckiest Baby 9. We just need quick second to catch our breath from CLB8, first. We can't reveal the exact date just yet, but it's looking like you might see a very exciting announcement coming in July.
What else can I win in the meantime?
We love giveaways at PLN and CLB isn't our only wonderful prize. You could win your entire baby registry from Amazon, play some fun trivia for a chance at $1,000, check out some toys on our Play More, Dream Big Facebook posts for a chance at a $5,000 RESP, and so much more. Have you entered them all?