Every parent knows how chaotic mornings can be. Taking just one thing off your parenting plate can make all the difference (you could even have time for coffee!) Check out our writer's make-ahead pancake bites that are easily customized to suit every taste.
Easy for any chef
I was never one to love cooking, in fact, I used to shy away from the kitchen altogether. While growing up, the kitchen was off limits for us kids and so once I had a kitchen of my own, I was completely and utterly lost.
It wasn't until recently that cooking has become fun. Now, there is nothing that I love more than having healthy home cooked meals on the table for the family and healthy snacks ready for little hands to grab.
A huge crowd pleaser and a kid-approved breakfast recipe that I make often is pancake bites.
Not only are they quick, easy and lots of fun for the kids, they are also great for any occasion or meal and can easily be made ahead of time.
From weekend treat to easy morning meal
When I make pancake bites for the kids on the weekends, I often double, sometimes triple the recipe so that I can freeze some, which definitely makes those busy school mornings so much more effortless.
You can easily pull a few out of the freezer in the morning, warm them up quickly in the microwave or toaster oven and then, of course, smother them with yummy maple syrup or any other topping that you prefer.
By making them ahead and having them readily available, I know that my kids are able to have a yummy, filling, homemade breakfast before they start their busy days!
I originally found the recipe for Pancake Bites on Pinterest (my go-to for recipes) but it was originally posted on cindyshopper.com.
The recipe is simple enough and if you're feeling creative, you can easily tweak it to make it your own.
PANCAKE BITES:
Ingredients:
1 cup of flour (I use whole wheat flour)

1tsp of Baking Powder

2tsp sugar (I use brown sugar)

1/2tsh vanilla

2tbsp butter (sometimes I use oil but butter tastes better)

1/2cup milk (I use almond milk)

1 egg

Optional: blueberries, mini chocolate chips, cocoa powder, food coloring, sprinkles.
Directions:
Preheat the oven to 375 degrees

Using mini-muffin trays, spray prior to avoid sticking and fill roughly 2/3 full (they do rise slightly)

Bake for 10-12 minutes and serve warm with your favorite pancake toppings and ENJOY!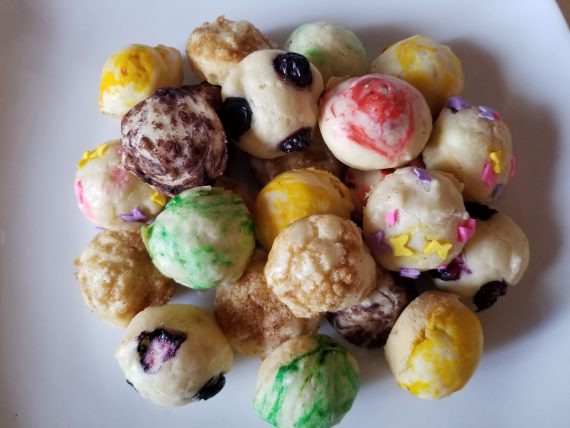 This recipe makes approximately 24 Pancake Bites (two mini-muffin trays) and if you have hungry little eaters first thing in the morning like I do, one batch really won't leave you with many left over.
If you are planning on using this recipe as a make-ahead breakfast/snack option, I would suggest to at least double the recipe initially to make your life a little bit easier and to be able to have a good amount to freeze and enjoy at a later time.
I love this recipe because the kids can help. Since the recipe itself is enough for two trays, I give one tray to each child and they can have fun decorating and adding their own favorite toppings!
I hope you enjoy them as much as we do!
Have you tried this recipe? Let us know in the comments!