Tired of taking down strangers with your bulky stroller?  Nuna has just the thing for you.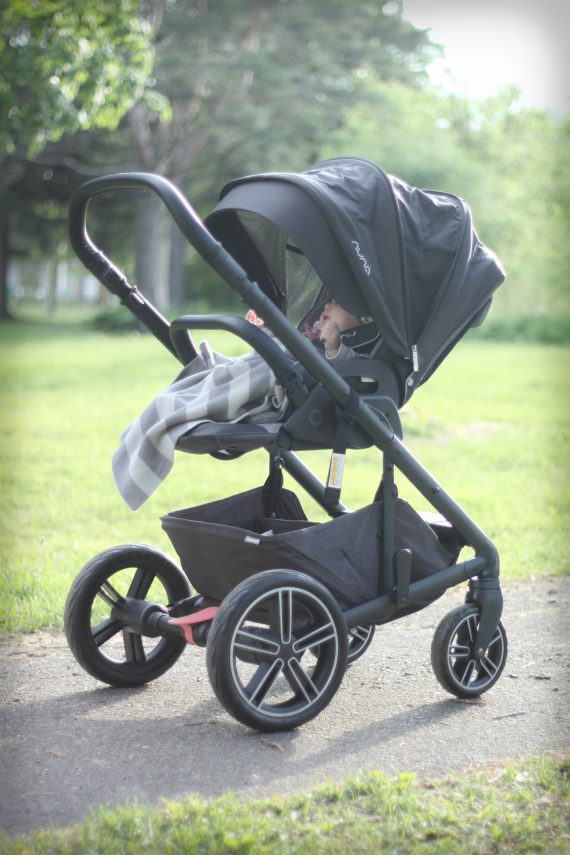 I have the world's widest stroller. Trips to the mall are met with extreme frustration and embarrassment as I try to navigate what my husband and I have named "the beast" through narrow aisles, taking down displays and crushing strangers' feet along the way. On more than one occasion, I've skipped a store completely for fear of getting wedged in and living out my days stuck between greeting cards and porcelain figurines.
So when I was asked to review the Nuna Mixx2 Stroller, I wept uncontrollably with joy. Okay, that's an exaggeration, but I was excited. Like, really excited. We own and love our Nuna Sena playard and have come to expect sturdy, stylish and slim design from the company.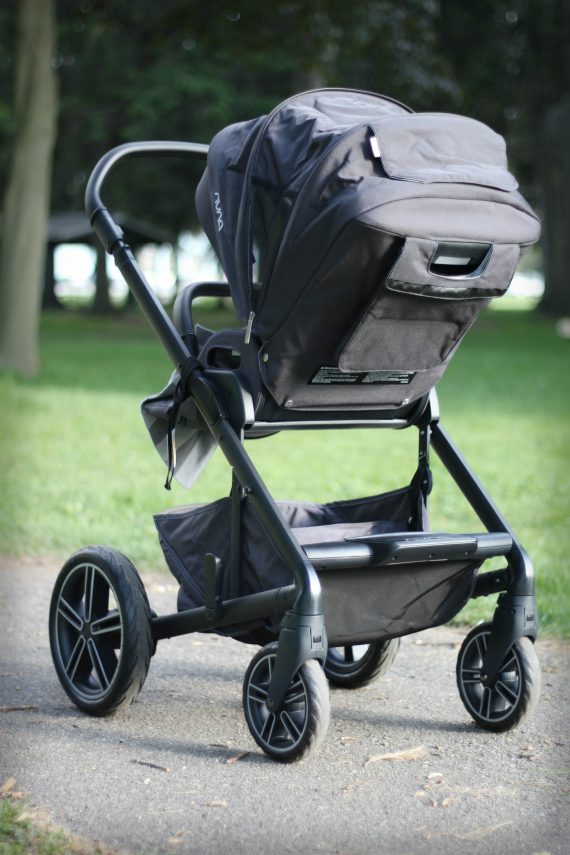 When the stroller arrived, I was not disappointed. The Nuna Mixx2 is a thing of beauty with its sleek black frame, faux-leather handle and luscious cushions.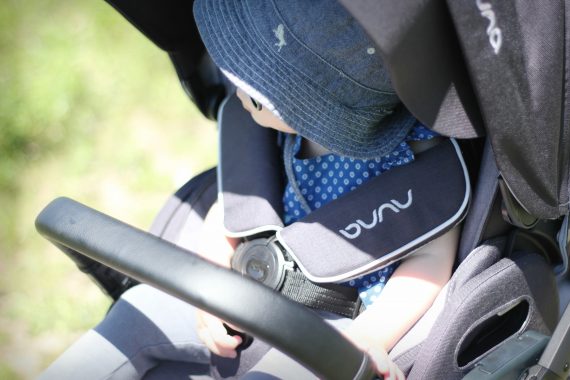 It's gorgeous. I put it together in 5 minutes with the help of my four-year-old, who immediately hopped in and asked for a ride around the living room. We wasted no time gathering some snacks and heading out for a trip to the park. Although upset that she wouldn't be the one riding in it, my preschooler was content to take turns pushing her little sister down the street. She had no problems managing this lightweight stroller with its adjustable handle.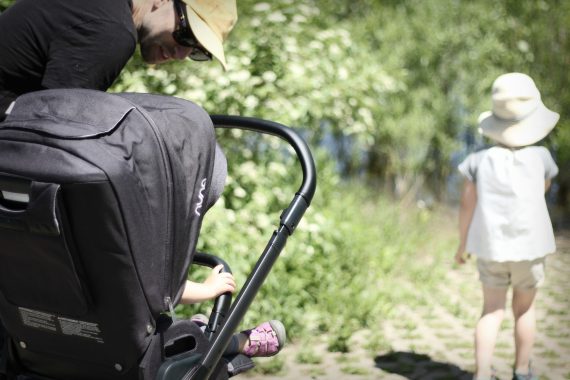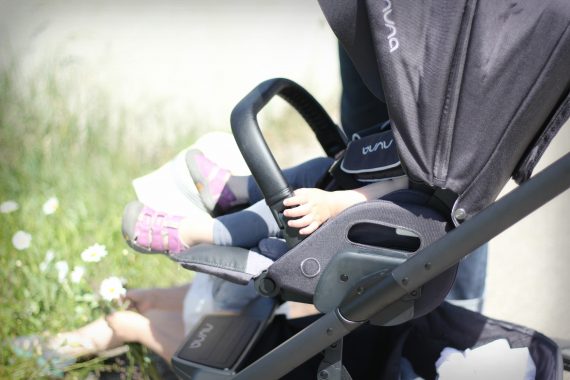 Like the Nuna Sena, the Mixx2 is super simple to open and close with one hand.  It folds flat for storage, and fits easily in our trunk. The seat is removable and can be attached facing forward or backward so you can watch your baby as you push.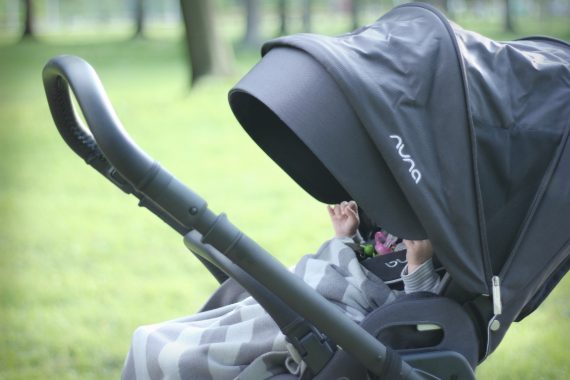 My toddler is currently going through a "Mommy" phase where she won't let me out of her sight. The backwards position allows her to rest easy while keeping a close eye on me. The nice thing is that it folds flat in either position—you don't have to return it to the forward position when you're ready to pack up! The stroller features an extra large sun shade which both my children (who seem to hate the sun) appreciate, with a magnetic peekaboo window so you can quickly check on your sleeping baby without waking her. The seat reclines completely flat so baby can get a good rest while cruising, and can be set in five different positions to suit any tot's needs. Um, can I get one of these for myself? I could definitely use some rest…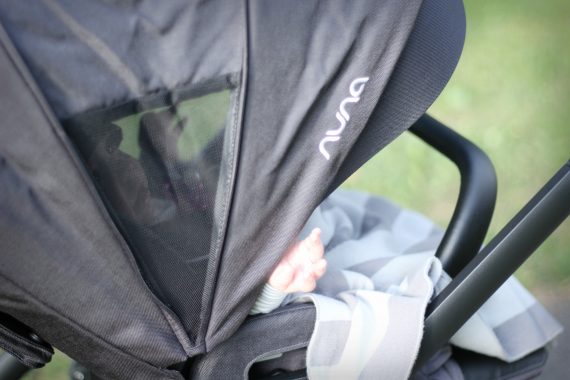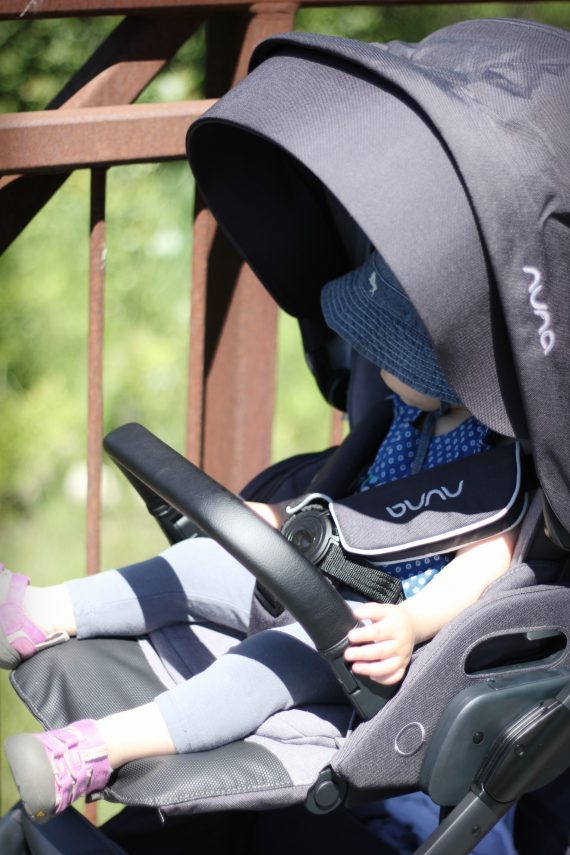 Another great thing about the Nuna Mixx2 is the huge storage basket with a collapsible divider. Unlike my old stroller, which essentially has a mesh bag for storage, this basket is structured, sturdy and holds an unbelievable amount of gear. I literally stashed a small load of groceries in that thing without a problem. I also love that the Mixx2 comes standard with a rain cover and footmuff for wintertime. The folks at Nuna have really thought of everything.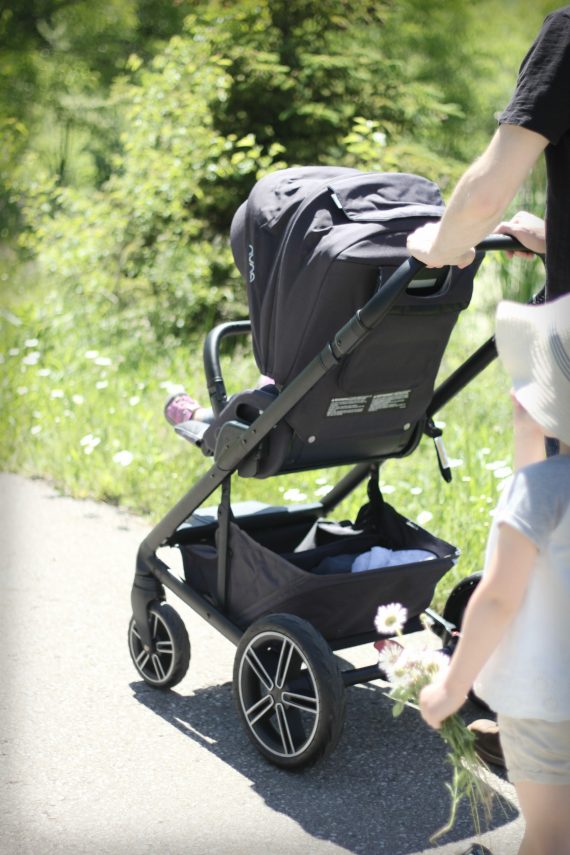 But I have to be honest, my very favourite feature of this stroller is its slim design and good looks. No more avoiding angry stares as we ping pong our way through stores. No more taking out the toes of passersby. Just a good-looking, quality stroll around the town. We love the Nuna Mixx2 and you will too!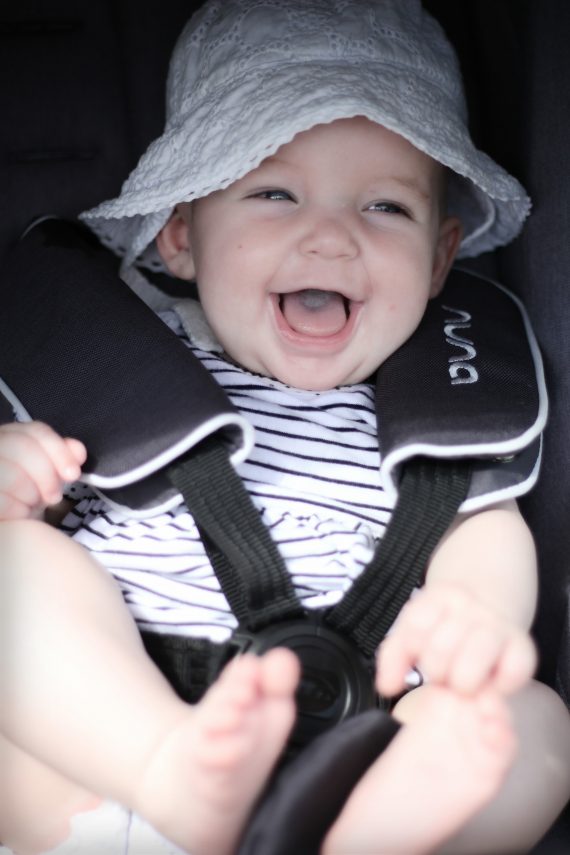 Wondering where you can buy a Nuna Mixx2 of your very own? Shop local here.
Nuna Mixx2 JETT Stroller Giveaway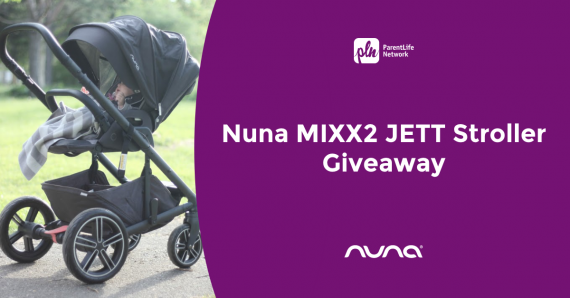 Never dread a narrow aisle again—enter to win the gorgeous Mixx2. It's quick and easy! Click the button below, sign in or sign up and follow the directions to be entered.