Most children's daily routines are built around school. But with schools being closed due to COVID-19, and parents having to step in to help with education at home, it can be hard to maintain a consistent daily schedule with your child.
Now, several weeks into social distancing, most of us have managed to right our ships and create a new normal, but without an external social structure to rely on for support, it's easy to drift off course or crumble when family friction occurs.
What do the experts say?
Experts in Denmark have recommended (among other things) that while in COVID-19 isolation, families should:
Keep regular morning and evening routines.
Try to schedule homeschooling hours at the same time every day.
Make sure that everyone takes regular breaks from school and that these breaks include movement and creative activities.
Be flexible and adaptable.
Obviously, this is all easier said than done. Especially considering that the workday, school day, and early childcare all now happen under the same roof. Add in all the extra pressure on parents that this pandemic has created (whether emotional, financial, grief or health-related), and these seemingly-simple tasks can become downright impossible. (Shoutout to the parents who are unable to be home with kids and are still heading out to work these days: medical professionals, cleaners, waste management workers, transit employees, grocers: thank you for taking care of all of us!).
So, how can you create a reliable school schedule that works in COVID-19 isolation? In short, our tips for creating positive family routines and structure during COVID-19 isolation measures are:
Prioritize your family's mental and physical health, not just productivity.
Create a routine together that everyone understands.
Use visuals to represent activities, so kids who are more visual can process what's up next.
If your child needs more active support, try the Tiimo app so they can follow along with their schedule in real-time.
Your family's health is #1 right now — mental and physical. It overrides all the usual expectations, and that means it's okay if you don't meet your usual goals. Be gentle with yourself — this is a pandemic, after all.
That being said, structure and routine can actually reduce stress, especially for people with ADHD and/or autism. Planning a schedule in advance, aligning expectations within your family (ie. making sure everyone understands what the schedule means), and creating a visual roadmap of the day that everyone can follow along with can help ensure that everyone's needs are met.
This is where Tiimo can help. It's a digital support tool that was designed for use between parents and their kids with ADHD and/or autism, to provide structure and visual support. Families (like yours) can use it to plan a weekly schedule by creating activities that are represented visually in a web calendar.
After you've created a day's worth of activities, you can move on to saving routines. It's a good idea to create a morning, evening, and weekday routine (that includes work and/or school related activities). The web tool is completely free and you can create up to five calendars. Here's what your child's weekly schedule could look like: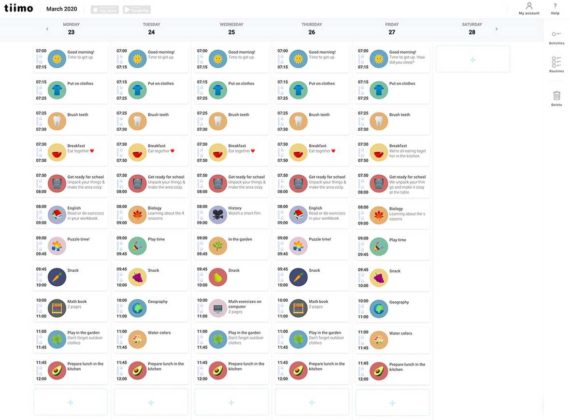 If you or one of your kids wants more active support, the Tiimo app (available for all iOS and Android devices) allows you to follow along with whatever activity is happening at that particular moment, complete with a visual timeline and the opportunity for a short note. When an activity changes, you're notified via a notification and a vibration or a sound. Anyone can try out Tiimo for thirty days for free!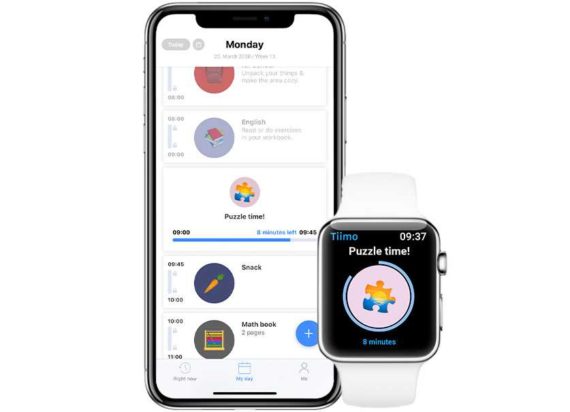 Jade from The Autism Page, one of Tiimo's partners, has put together a wonderful guide on managing her family's life under COVID-19 isolation measures, and how the Tiimo calendar helps her build routines for her kids.
Tiimo also asked members of their community to share their weekly schedules in order to give you all some inspiration. Head to the Tiimo Facebook page to see their ideas, and please feel free to share your family's schedule or tips there.
These are difficult times, but we know that helping each other out is going to make it easier.