Sometimes I feel like the mom in the black-and-white "there must be a better way!" part of an infomercial. We live in the future, right? Where's my robot butler and all the rest of that futuristic tech too?  All our home electronics, lighting, audio, thermostat, security – how do I get all that how I want it, without having to nag my family about it?
I consulted a tech expert from The Source to find out which products will actually save me (and my various holiday gift recipients) time and energy, and which fun and exciting products are on everyone's wish list this year. I mean, does anyone need a motorized tie rack? Probably not. But voice-activated lights? Pretty handy when you come in the door with an armload of groceries. Or presents!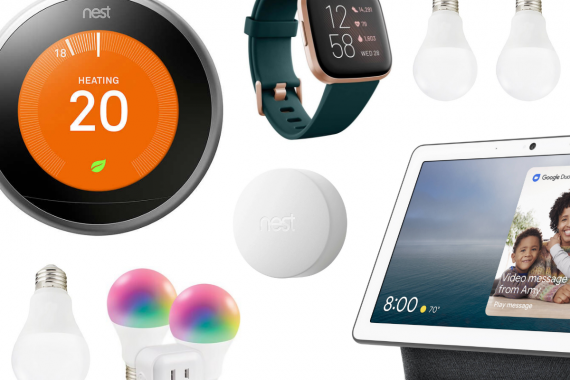 Q: I've been hearing a lot about 'making your home smart' and I feel like it's the perfect time to start…especially if it's going to make this holiday season run smoother. What should I be considering or looking for when getting into smart home products?
A: You're right, the great thing about smart home products is that they are designed to make your life easier, more efficient, and provide a feeling of security or added visibility to your home – which you might not have thought about until you hear exactly what the products can do!
A great place to start is lighting. You install our smart bulbs like any regular bulb but now have the ability to control your lighting from your phone through wifi. For example, you can automate your Christmas lights so you don't leave them on all night.
If you love the idea of being able to control all your smart home tech from one place, The Nest Hub Max can act as the brain and integrate smart home products from various brands in one place, so you can control it from your phone or by voice assistant, while you're inevitably busy running around the house multitasking. It allows you to do so much more than just play music or pull up entertainment. It can guide you through recipes, build a shopping list while you rhyme off items missing in your fridge, or control your other smart devices so your temperature, lighting, cameras and doorbells can all be monitored from one place! It might sound like a lot but it's actually super user-friendly.
Just visit a Source store near you and our tech experts can give you all the insights on how to take advantage of its full capabilities.
Q: Can my integrated smart home system include a video baby monitor? … And maybe a big-kid monitor for the rest of the house?
A: Of course! With packages arriving frequently and more company coming over, you can connect the Nest Outdoor security camera for added home security (can't put a price on peace of mind!). You can also use an indoor camera to function as a baby monitor for your little one's room, or monitor high-traffic areas of the house. Plus, there's the Google Nest Hello Video Doorbell, which is a great security option for kids who are old enough to stay home by themselves, but young enough that you feel more comfortable knowing who's coming to the door.
Q: I want to be able to crank the heat first thing on a winter morning, but I'm always afraid I'll forget to turn it back down and the baby will be too hot at nap time. Are there any products that will help control the temperature, even when I forget?
A: You can connect a Nest Thermostat to your Nest Hub. This will allow you to control the temperature of your home in an instant and modify schedules to save energy. You can also use room sensors which connect to your thermostat to set and maintain different temperatures in particular rooms of the house, so you can feel comfortable knowing your baby's room is the ideal temperature, even if "somebody" makes changes to the rest of the house.
Q: I've got a lot of "somebodies" to buy for this year, but the trickiest is always my husband. He enjoys listening to music but finds most earphones uncomfortable. Any new solutions?
A: How about the new Bose Frames? You can't even tell they're wearable tech from the outside. Bose Frames are smart sunglasses with miniature Bose speakers built into the frames – just connect through Bluetooth to your smartphone and get calls, music and directions directly to your ear! The best part is you can ask your voice assistant to pull up these features so you aren't fumbling for your phone in the cold weather.
Or for sound that will keep up with your whole family, there's the Sonos Move. It's a portable speaker that's dust and drop resistant for music on the go. Use Google and Amazon Alexa while at home and connect to WiFi while away.
Q: The older kids in my family have mentioned a few things they'd like for Christmas, but … I sometimes don't even know what they're talking about when it comes to new tech. I guess this one is more of a complaint than a question.
A: I get it, there is always something new coming out! Fortunately, keeping up with the latest innovations in tech is our job. Our associates are here to help you decipher complicated wish lists. We'll walk you through key features and benefits of any product in the store, to make sure you leave with a gift you're proud of.
Q: Well then, maybe you can help me with a 2020 goal…I'd like to make it my year to get in shape. 2019 was my year to try bangs, and I don't want another fashion fail on my hands. I've been thinking about getting a smartwatch, but I want to make sure it's still stylish and something I'll want to wear all the time.
A: If you want to really stand out and achieve your wellness goals you can find the beautiful new Fitbit Versa 2 in Emerald/Copper Rose here at The Source. You won't find this band anywhere else. With Amazon Alexa built-in, you can now use your voice to set workout timers, alarms, check the weather, and create a list. And with updated sleep tracking, you can be sure to schedule in enough sleep time this holiday. Sweet dreams!