When you look good, you feel good. Celebrate your motherhood with styles to fit every stage of your pregnancy.
There is nothing as exciting as that first positive pregnancy test. The feeling of pure excitement knowing that your life is about to change in such an amazing way. Of course, while you are working hard to nurture your little miracle, it is important to also celebrate your pregnancy with clothes that are comfortable, stylish and make you feel great inside and out.
While a growing belly is a sign of a healthy little one, it can also mean that moms-to-be can no longer zip up their pants. The thought of shopping for maternity clothes can seem overwhelming, but luckily Thyme Maternity has a starter kit that is a perfect introduction to your maternity wardrobe.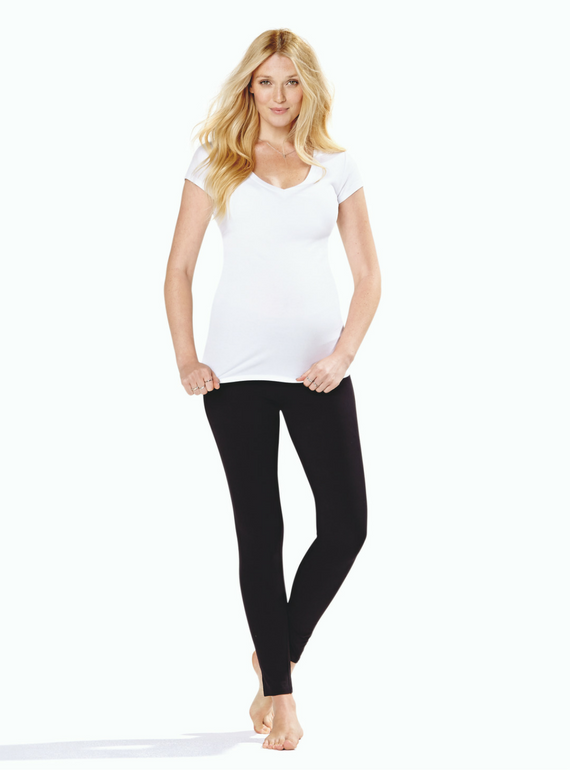 Each kit contains four staple pieces for every maternity wardrobe:
The Belly Band—this piece is perfect for when you just can't seem to get your favourite pants done up. The band goes over your pants to allow you to close any waistband. It can also be used as a layering piece so you can wear your favourite shirts a little longer while keeping your bump covered.
The  Stretch Tee–With its extra length and flattering cut, this shirt is a must for every bump.
The Legging—A super versatile style with a fold over waistband for ultimate comfort.
The Cami—Perfect on its own or under a blazer, this cami is a piece you will want to wear long after you give birth.
Now that you have the basics down, it's time to fill in your pregnancy wardrobe with some really cute pieces. Fortunately, Thyme Maternity offers more than just style, they also offer practicality with their Now and After line. This collection includes pieces that are designed to do double duty. The same pieces can be worn comfortably through your pregnancy and then once your baby arrives, they have all the features of nursing wear, keeping you cozy and stylish while nursing.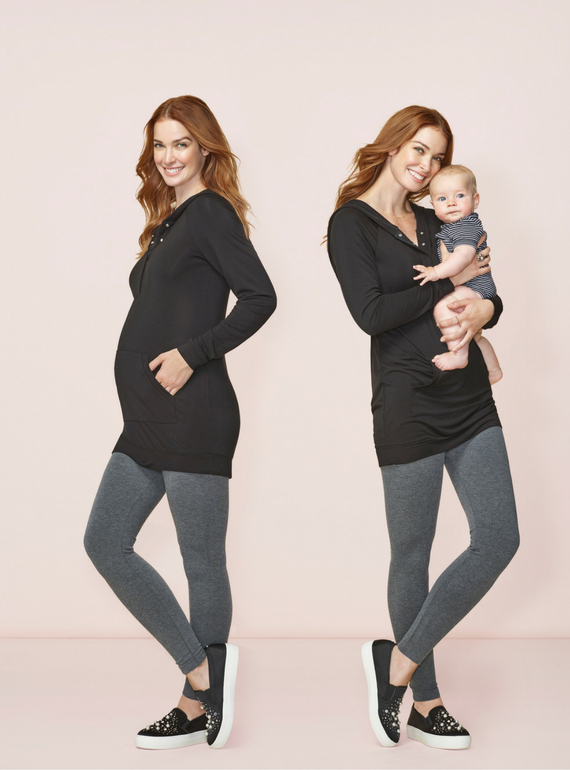 One staple in every wardrobe is a great pair of jeans and this is true through pregnancy too! Thyme Maternity has a large selection of denim in a wide variety of fits, styles and washes to suit every taste. Comfort is also on the menu with extra stretch and built in belly panels for the ultimate in comfort. Available up to size 4x (available in select stores and online).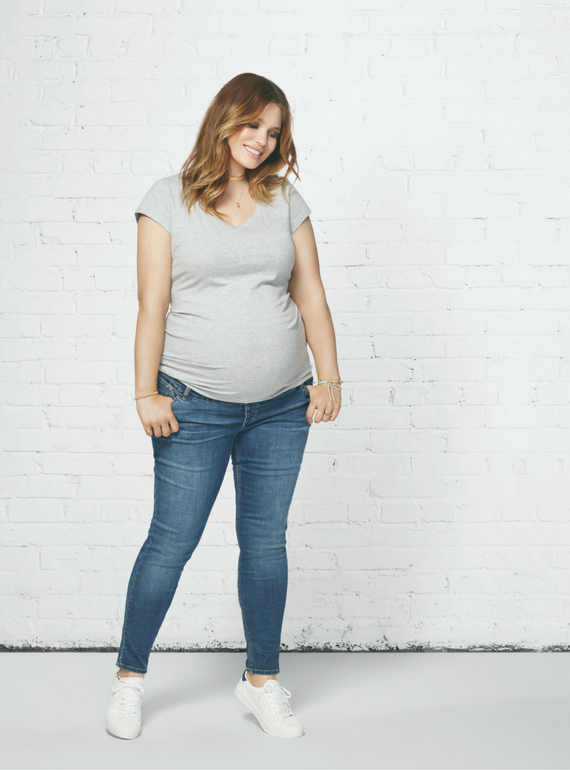 Just because you have a baby on board doesn't mean you have to sacrifice your style.
With the holiday season fast approaching, it's time to get those bumps picture perfect. Dresses are the perfect go-to for any occasion. From an office party to your family get togethers, Thyme Maternity has a wide selection of the latest styles to wrap you in comfort.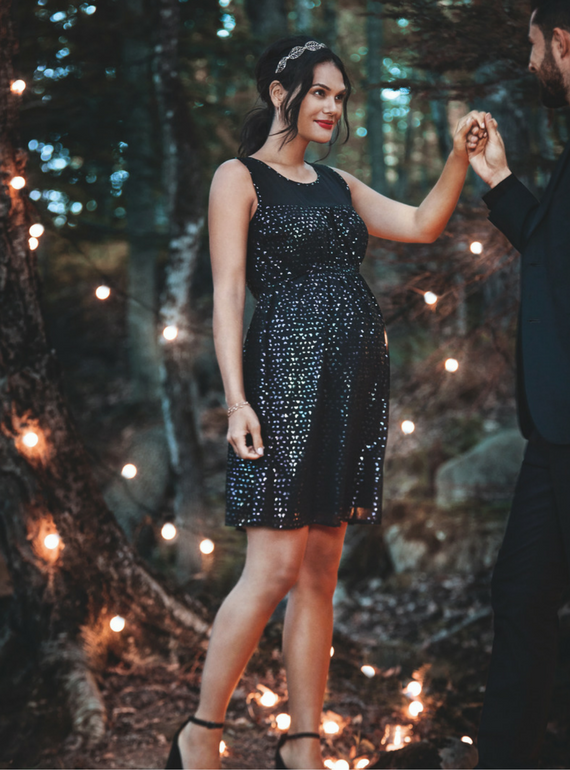 To say learning to breastfeed is a challenge is to put it mildly. Luckily, Thyme Maternity also has everything you need to make that transition as smooth as possible. Their nursing bras are expertly designed for your changing body with features like drop-down clips and easy access that make them ideal for breastfeeding. They are available in sizes up to 42H and 44DDD. Now is a great time to treat your girls right, because when you buy one nursing bra you can get a second 30 per cent off!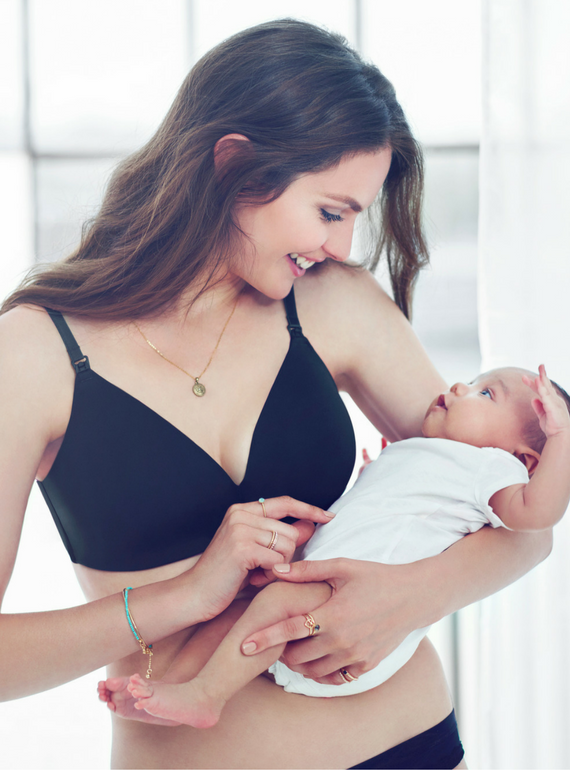 While having the right bra can make nursing less of a challenge, having the right clothes can also make a world of a difference, especially when you are nursing in public. Thyme's nursing kit contains eight key pieces which allow you to feed your baby while still maintaining your privacy. Each piece is equipped with nursing friendly features for a new mom. From nursing shirts and camis to a beautiful scarf that doubles as a nursing cover, this is truly an essential collection of flattering styles for any new mom.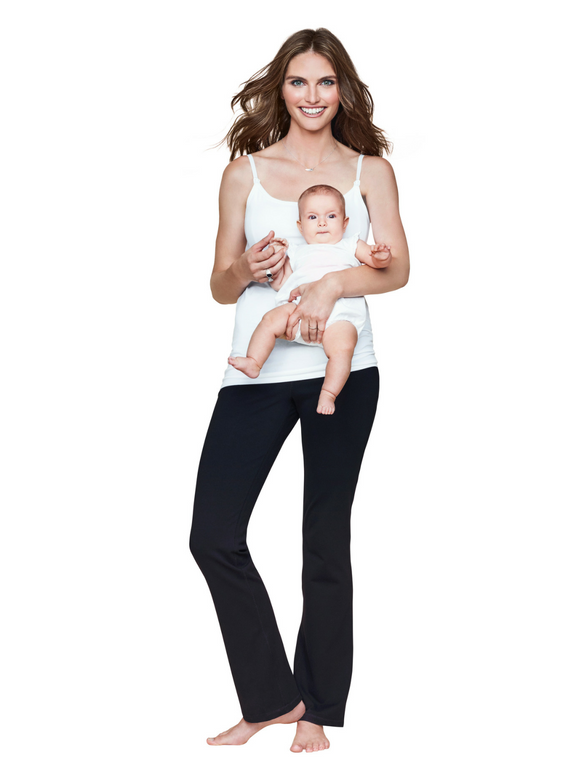 Are you ready to start shopping yet? Well there is even better news! Thyme Maternity is having some amazing sales in store and online! How does a $1,500 shopping spree at Thyme Maternity sound? Amazing right? If you haven't already, make sure to add the Thyme Maternity prize to your Canada's Luckiest Baby bundle today and you and your bump will be stylin'!