Here's proof that we're living in the future: at a play date the other day, a mom-friend of mine checked her phone and chuckled, "I just got a text from my Roomba." (Even cuter, the text said, "Please clean my brush.") So many aspects of your life are "smartening up" these days—your phone, your TV, your home security system, your thermostat, and apparently, even your small appliances. Why should your baby's nursery be any different?
The Motorola Smart Nursery is a full suite of products, available at Best Buy Canada, that work alone or together to keep you connected with your baby's sleeping environment:
The Smart Nursery 7 Portable Wi-Fi® Video Baby Monitor has a 7-inch touchscreen tablet with pre-loaded baby care apps and loads of smart features that show you what your baby's up to and also displays things like the temperature and humidity of the room. The monitor camera can pan, tilt and zoom remotely and is portable with a rechargeable battery with up to 3 hours battery life. The camera can be used without the tablet via the Hubble app on your phone, and features two-way communication so you can talk to your baby.
If the humidity needs adjusting, your Smart Nursery Humidifier + can be programmed and controlled via the app as well.
To help your little one doze off, the Smart Nursery Dream Machine (which also connects to the app) plays white noise and lullabies, projects a magical light show, and provides a soft, night-light glow. It also acts as an audio monitor with two-way communication.
The Smart Nursery Alert Sensors are a clever way to let you know if a door or window in your baby's room has been opened—just attach the two parts to the edge of the door or window, and your Hubble app will alert you if they separate.
The Smart Nursery Baby & Me Scale is an easy tool for tracking your baby's growth; step on to calibrate it, and then step on again holding your baby. The scale will automatically calculate and display the baby's weight (rather than the combined weight) and save this information to a growth chart accessible via the app. You can create a profile for each family member.
The entire line of Motorola Smart Nursery components is available at Best Buy Canada, along with an impressively wide array of other baby products. (Seriously, you can get diaper bags, car seats, nursery furniture, baby monitors and tonnes more from Best Buy online—and at awesome prices, too.) And while you're here, you might like to know that we're giving away three Motorola Smart Nursery prize packs, with a total value of $1,200!
Win 1 of 3 Best Buy Canada Prize Packs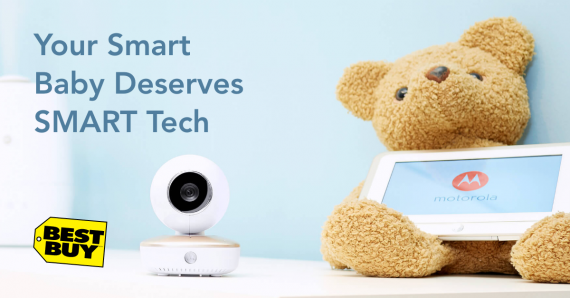 1st Prize—Motorola Smart Nursery Baby Monitor + Tablet and the Alert Sensors ($606.97 value)
2nd Prize—Motorola Standalone Baby Monitor and Humidifier ($409.98 value)
3rd Prize—Motorola Scale and Dream Machine ($239.98 value)
Welcome to the future. Click below to enter today!