The pregnancy cravings, the late-night nursing, the terrible twos, the back-to-work balancing act… as a first-time parent, you've met and mastered a lot of challenges. Now that you're expecting (or have recently welcomed) baby number two, you're basically a pro, right?
Well, yes and no.
While your experience with your first child will no doubt serve you well (you've got the "pack twice as many diapers as you think you'll need" rule down pat), it's fair to say that no two babies are alike. Plus, your new baby has a special title, which your first-born didn't (unless you're royalty): little brother or sister.
With new family dynamics at play, many parents decide to take a second look at all aspects of their finances, from monthly budgeting and school costs to mortgage and life insurance needs.
"Adding another person to your family is always very exciting. It's also an important time to look at your finances and set your growing family up for success," says Sarb Sangha, Wealth Management Specialist at Prospera Credit Union. "It's best to seek financial advice from a specialist—that's what we're here for."
Here are some things to look out for as your family grows.
Sibling Rivalry
After all that anticipation about the new baby, your first child may display a range of emotions— including, but not limited to, jealousy and resentment. Toddlers often regress; you might see behaviour like thumb-sucking, wanting to drink from a bottle, or mysteriously forgetting how to use the potty. Older children may misbehave, throw tantrums, or refuse to eat.
Try to involve your firstborn from the get-go, talking to them about pregnancy and letting them participate in buying items for the new baby and setting up their crib or room. Once the baby has arrived, ensure you set aside one-on-one time with the older sibling doing something they love to do. That way, it's not all about the baby.
Budgeting for Two Kids
Having another mouth to feed means more than just buying extra food and stocking more baby wipes (tip: start buying in bulk). Plan for clothing (hand-me-downs from baby number one can help), entertainment, daycare costs, and special classes or sports. Consider meeting with a financial planner before baby number two arrives and create a personalized plan that's tailored to your family's needs.
"When it comes to budgeting as a family, planning is key," says Sangha. "While you have young children to care for and life is busy, it's easy to fall into that vicious cycle of consumer debt. Make sure you know where your money is going and how you're spending it."
Opening up a Registered Education Savings Plan (RESP) when your little ones are still in diapers will take some of the stress of saving off your shoulders. You can even involve the children in family budgeting — it's never too early for them to learn the value of a dollar.
"As your kids get older, start thinking about opening up bank accounts for them to learn the value of money. This is a great way to get the whole family involved in budgeting. It's something I suggest and have done for my kids as well," he adds.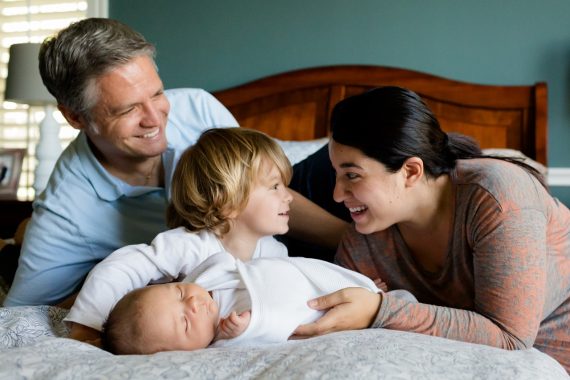 Growing Pains
You have enough room in your heart for a second child, but do you have enough room in your home? Now may be the time to upsize to a larger home or repurpose what you've got with a renovation. There are a lot of things to consider, especially in the current housing market (which, unless you have a time machine, is the one you will be dealing with).
"It's important to look at your home from a long-term perspective," says Sangha. "How long will you be in the house? Will you be adding more children? Will you want to renovate? Review these types of questions with a Certified Financial Planner and make the best decision for your family."
Consider flexible space solutions. For example, a secondary suite might be a smart investment and can last generations, serving as a mortgage helper when the kids are small, and a recreation area when they're teens (you'll thank yourself later), a separate space if and when they go to college or begin working, and then as an office or rental again once the nest is empty.
Invest in Yourself
Long before you were a parent, you were you—so don't forget about "me" time. Make sure there's room in the family budget (both time and money) for hobbies, date nights, shopping, and even a vacation once in a while. Whether it's working on yourself, nurturing your romantic relationship, or connecting with your friends, setting aside time benefits both you and your family.
"Set up a regular savings plan to help plan for your family vacation or extracurricular activities," says Sangha. "A good way to do this is with an automatic savings plan coinciding with your paycheque. Putting money aside for yourself and your family to have some fun together is a great way to stay on budget. Using a budgeting tool like our Prosperity Tracker will keep you on track while still enjoying life."
Having another child may seem overwhelming at first. That's because it is! But if you put a strong foundation in place (with a little help budgeting and planning for your future), you might find you can actually relax and enjoy being a parent of two.
Until they wake up from their nap, anyway.