It's that exciting time of year—who's the winner of Canada's Luckiest Baby and over $50,000 in prizes?!
"We can't take the suspense!" you scream.
Well, we created this blog as a place to keep everyone 100% up-to-date on all things WHO-WON-CANADA'S-LUCKIEST-BABY! As we find out important details, we will relay them back to you here. Plus, we have more winners than ever before with Regional Winners in CLB5. That means we will have 5 additional winners from across Canada that also get massive prize packs. What can we say, we're into spreading the love—and prizes!
LAST UPDATED: DEC. 21, 2016 / 5 PM
Have you revealed the winner of Canada's Luckiest Baby?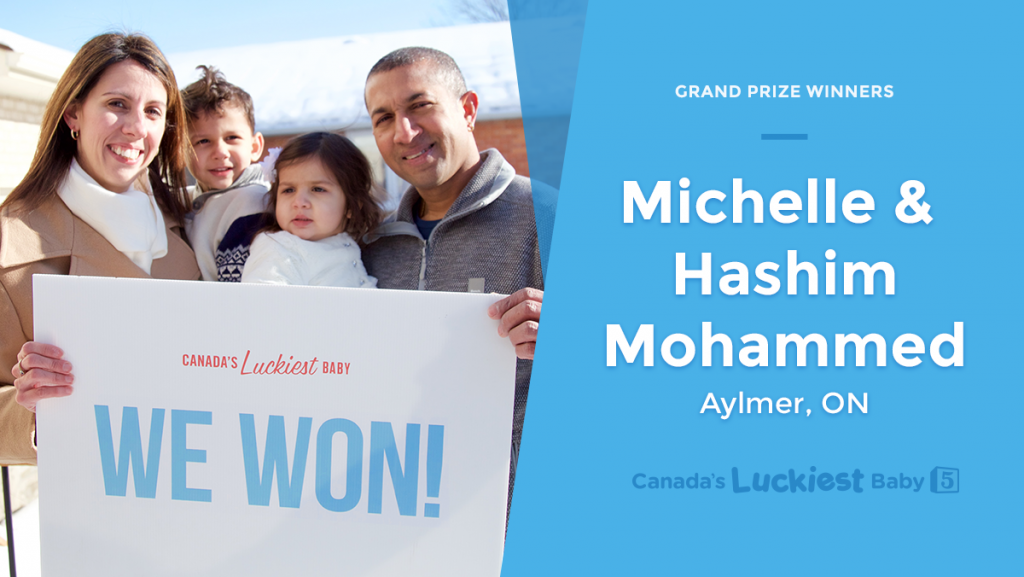 We have! Everyone, please congratulate Michelle & Hashim Mohammed of Alymer, ON.—the winners of Canada's Luckiest Baby 5!
Have the Regional Prize Winners been drawn yet?
Yes! Congratulations to Renee Duthie of Elkford, British Columbia; Jacqueline Guy-Santos of Calgary, Alberta, Samantha McGill Daley of Bradford, Ontario, Kristina Elliott of Port-du-Fortage, Quebec and Shanna Fitzgerald of Conception Bay South, Newfoundland, winners of our five regional prizes.
Have the Bonus Contest Winners been drawn yet?
Yes.
Sharmaine Sears from Blackrock, NS won $1,000 from Opinion Outpost.
Kristen Neuman from Chelmsford, ON won a Croozer Bicycle Trailer.
Cassandra Hall from Hinton, AB won $1,000 from Harris Poll.
Jessica Campbell from Regina, SK won a Dr. Seuss book collection from Early Moments.
Zoe Graves from Windsor, NS won $1,000 from VIP Voice.
Georgia Mowat from Cambridge, ON won a Nuna Tavo Stroller.
Leslie Crosbie from Winnipeg, MB won $1,000 from Cells for Life.
Amanda Nadeau-Hebert from St-Lazare, QC, Dewi Setiawati from Etobicoke, ON, Jasmine Laroche from Cow Bay, NS and Sabrina Binnie from Springwater, ON won a Mabel's Labels prize pack.
The $5,000 UGO contest, Playtex Baby Bundle, CST Survey, and Ebates Giveaway winners have not yet been announced.   The the $5,000 Play the Future contest is still open and accepting entries.
When does the next round of Canada's Luckiest Baby start?
Great question. Everything is looking like mid-January will be the birth of CLB6. Stay tuned.
What else is going on in the meantime? I need something to keep my mind off of CLB5.
Another stellar question. We actually put this whole other blog together of our many current giveaways. We're also going to keep that blog updated as new giveaways are added, so make sure you bookmark it!