Hosting a baby shower can be a big job. Hosting a great one can be even harder.
Besides organizing party staples like invitations and food, you also have to plan fun games to keep guests entertained, and ensure that the guest of honour feels rested and pampered. Keeping track of all of the details can be tough, but there are some ways you can simplify the process whilst still ensuring you're showering that mama-to-be with everything she'll need to welcome her new bundle of joy. Don't be afraid to call on all of your family and friends to delegate tasks and make this party happen together.
A trend I've noticed in recent years is that baby showers are getting more and more elaborate and unnecessarily extravagant. Invitations now look a lot like those designed for weddings and five-course meals are served in banquet halls. Personally, I prefer an intimate gathering that has everyone talking and laughing, celebrates the parents-to-be and focuses on making their transition to parenthood a little easier. Here are some tips to plan an awesome baby shower that won't break the bank, and won't have you up all hours of the night prepping.
Don't be afraid to call on all of your family and friends to delegate tasks and make this party happen together.
Invitations
It's 2018. Skip the paper invites and save yourself a ton of time and money by sending an e-vite. If you're tech-savvy, you can design the cards yourself. If not, there are tons of free websites that allow you to customize a really great invitation from a selection of templates. Many will also keep track of your guests' responses and allow you to stay in touch with everyone in the days before the event; you can send out reminders or update guests on any last-minute changes. Don't forget to include any gift registry information in the invitation. To keep everything in one place, you can even register the guest of honour on the Amazon Baby Registry!
Another great idea is to request that guests bring along a box of diapers with their gift. When I hosted my best friend's shower last year, I asked everyone to bring a box of my favourite Pampers Swaddlers diapers in newborn sizes, that I knew the mama-to-be would love just as much as I did. This is a great way to help new parents build their stash of this number one new baby essential.
Keep decorations simple, sophisticated and practical by choosing items that can be reused once the shower is over.
Decorations
Keep decorations simple, sophisticated and practical by choosing items that can be reused once the shower is over. Fill mason jars with fresh flowers to brighten up the tables; once the party is over, clean and fill the jars with granola, nuts and other healthy goodies that the new mama can snack on once baby arrives. Pick up some simple white frames to display game instructions, food menus or maternity pictures; afterwards, pass them on to the new parents to show off sweet new-baby photos. Commission a creative friend to construct a diaper cake that can be used later to, well, diaper the new baby. Guests will appreciate the sweetness and simplicity of this décor, that will also serve a purpose long after baby arrives.
Games
In keeping with the theme of supporting the guest of honour as much as possible, plan for games that allow you to gather more supplies for mom-to-be while simultaneously showing your guests a good time. Here are some great ideas to get you started:
"Guess the Price"
Purchase 10-15 small items that most new parents will use in the first few months (think: wipes, diaper-rash cream, washcloths, etc.). Have guests guess how much each item costs by either filling out a form or calling out guesses auction-style. The person who guesses closest to the actual price is the winner.
"Diaper Raffle"
Create an awesome gift basket for a raffle and have guests bring boxes of diapers or wipes which they can exchange for raffle tickets. The more diapers or wipes they bring, the more raffle tickets they get. This one is great because it is really simple to organize and facilitate on the day of.
"Dress the Baby-Blindfolded"
I've seen this game in action and it is hilarious. You'll need two dolls, two diapers, two newborn sleepers, two baby hats, and two scarves to blindfold guests with. Once their eyes are covered, players must dress the baby dolls as quickly as they can. First person to correctly dress baby while blindfolded is the winner. This one will have everyone in fits of laughter.
Pamper Your Baby Giveaway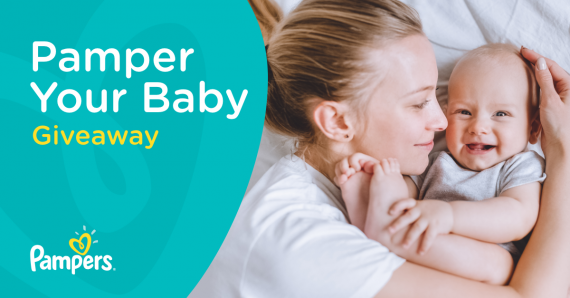 We've partnered with Pampers to give one lucky winner a $250 Amazon gift card for something fun to enjoy with your baby! Click on the button below, sign up and enter for your chance to win!