When your kids enjoy the water as much as mine do, their bathing suits can wear out pretty quickly. Here's a quick guide to finding swimsuits perfect for swimming lessons and sweet end-of-season steals.
Saying that my kids love to swim is an understatement. They would go to a pool every day if they could, although we already spend most of the summer at my in-laws' pool or at our local splash pad. So it's safe to say that they've worn their fair share of bathing suits.
Now that we're back into fall, they'll be heading back to the pool for weekly swimming lessons. One problem: their swimsuits are looking pretty tired from a summer in chlorine and sun. I did some browsing online and found some really great deals that I thought I'd pass along. Here are my top 10 choice—five for my fashionista daughter and five for my very slender son. And while the cute factor certainly weighs in, I also considered UV protection, quality and affordability.
These were my favourites for my stylish little girl. (It was difficult to narrow down because there were so many cute ones to choose from!)
For great coverage and UV protection, I really liked these two-piece sets. The first one comes in pink or blue and has the choice of picking either a long-sleeve shirt and pant combo or a short-sleeve shirt and shorts combo. The second one is an adorable navy blue and white long-sleeve top paired with a navy and red polka dots bottom.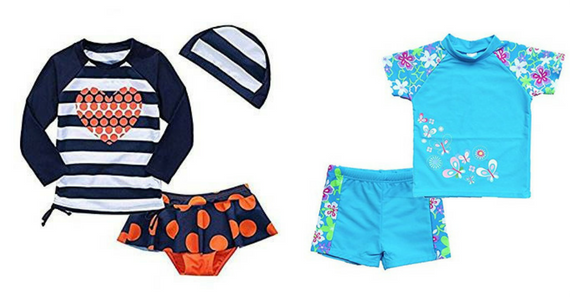 There were also some one-piece options that I absolutely adored. This white and yellow duck patterned one is so cute with the little yellow ruffles and a matching hat! I also really liked this bird one that has the options of parrots, flamingos and swans to choose from and comes with a matching swim cap. My final choice was this surfer-style zippered one-piece. I loved the bright colours and Hawaiian flower pattern.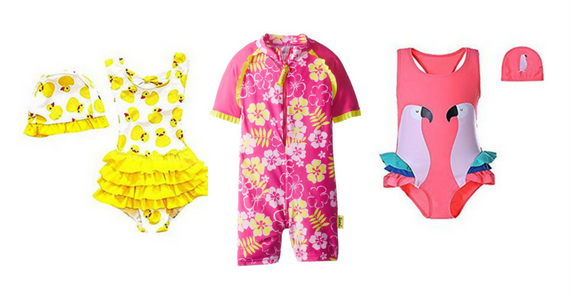 Shopping for my son is a bit more challenging. He's on the skinnier side, and finding swimwear with a waist that's not too big has proven difficult to find. Getting a pair with an adjustable waist is ideal, but most of the time the drawstring at the waist is just decorative. Why do they do that? You have no idea how happy I was when I finally found swimming trunks for him with a drawstring that actually worked! I found some nice sets and swim trunks. And the bonus? Adjustable waist!
These three shirts and shorts sets would be perfect for my boy. This blue and orange camouflage patterned one was the most affordable and also comes in grey and neon green. This long-sleeved surfer-style set has a hood and comes in blue or red. And while this nautical-themed one was a bit more pricey, I really liked the style and the fact that it has a drawstring is why I added it to my list.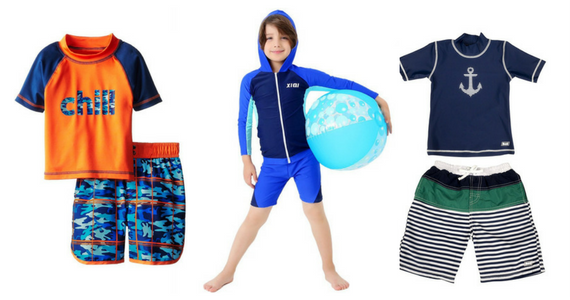 Finding swim trunks that not only came with an adjustable waist, but were also affordable was a bit tricky, but I did find two that I really liked. This blue shark print one would match a swim shirt my son already owns. But my absolute favourite was these Hawaiian-themed board shorts. They come in many patterns, such as dolphins, turtles, palm trees and flowers.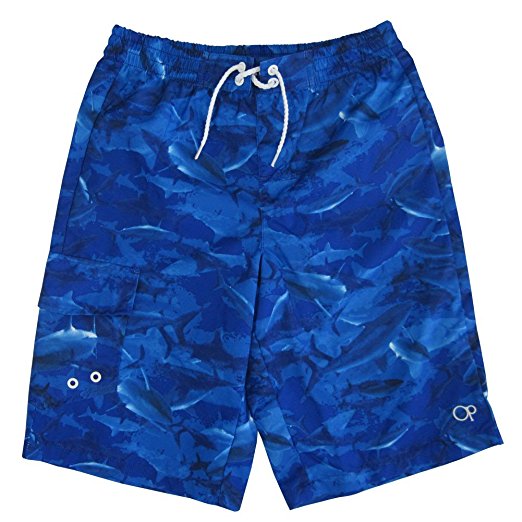 With such a large array of cute bathing suits to choose from, it's going to be difficult to pick just one. Luckily I'm the kind of mom who really enjoys shopping for my kids. Now if only picking a swimsuit for myself was this fun!
The Parent Life Network is a participant in the Amazon Services LLC Associates Program, an affiliate advertising program designed to provide a means for sites to earn advertising fees by advertising and linking to amazon.ca. We only recommend products we actually like—how else would we sleep at night? When you purchase through our links, you're helping support our awesome free content, at no extra cost to you.