Need some ideas for designing a timeless nursery you and your baby will love? We've got the latest in sophisticated styles from Indigo Baby.
Getting your baby's room ready is a delightful rite of passage for any expecting parent. Choosing your nursery theme can feel seemingly akin to choosing baby's name or whether or not to discover the gender before birth. Today's parents have choices beyond pink or blue? Trains or teddy bears? Nursery trends going into 2018 give parents a wide array of colour, texture and options to create a room that your child can easily grow into without having to update quickly. Of course, your baby doesn't need a fancy nursery to feel loved, but a couple cute pieces can make a room you will probably be spending a lot of time in feel warm and welcoming (maybe even at 2am).
Of course, your baby doesn't need a fancy nursery to feel loved, but a couple cute pieces can make a room you will probably be spending a lot of time in feel warm and welcoming
Whether you choose to find out your child's gender or not, a muted grey can be a perfect palate upon which to add a splash of bold colour. Whether it is paired with yellow, green, pink or purple it creates a peaceful canvas for both baby and parents. Indigo carries a beautiful grey quatrefoil peel and stick wallpaper that adds both texture and sophistication with its soothing colour palette. Although this decor can easily be removed, with its soft geometric design and hue, it will suit your child's room for years to come. Want to try a bolder pattern in your baby's boudoir? Check out this chevron pattern! To add a whimsical touch, why not add some easily removable wall art? Who could resist this beautiful My Cherie Tree Super Wall Art Kit or this Twinkle, Twinkle Little Star Wall Wishes?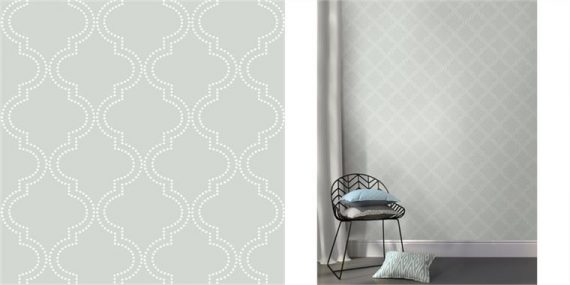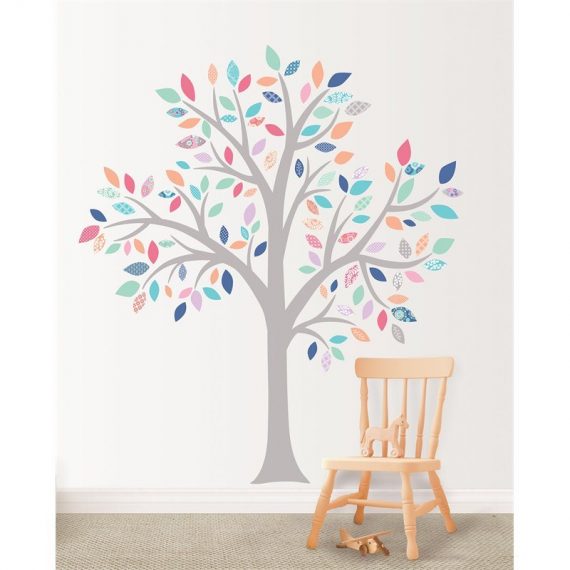 Of course one of the sweetest ways to create a timeless space is to share the books you loved growing up with your own child. These are the books to invest in and read over and over. Why not add a sweet message for your baby as a keepsake? Here are some of our top picks:
Oh, the Places You'll Go—Classic Dr. Seuss tale that is perfect for reading over and over (especially great at getting parents to cry buckets before the first day of kindergarten, high school graduation etc.)
The Giving Tree—A tearjerker that actually teaches a beautiful life lesson. Make your partner read this one if you are a total softie.
Love You Forever—This is classic Robert Munsch. Although also one that will get you misty eyed, the sweet sentiments and awesome illustrations make this a family favourite.
What nursery would be complete without the curious little monkey who always finds himself in some sticky situations? A Treasury of Curious George is sure to become a favourite for both you and your child.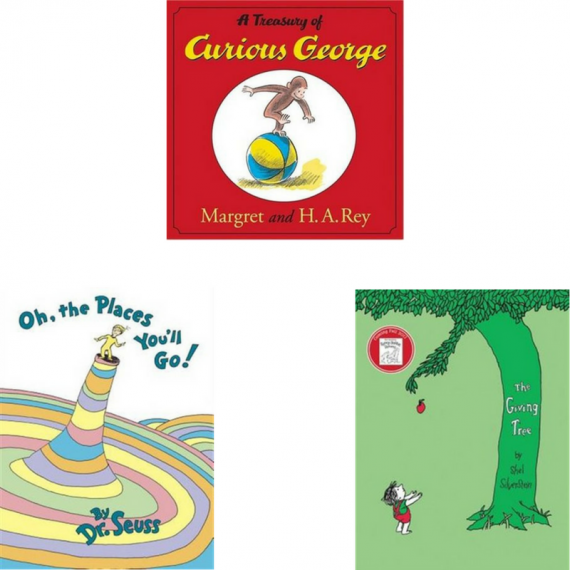 When it comes snuggling up with a good book on the nursery floor, wood is a popular choice for hygiene, but it's not the most comfortable for baby. Luckily Indigo understands the need for rugs that are both fashion-forward and machine washable. Let's face it, we want our baby's room to look good, and that won't happen with a dirty rug. Indigo's new collection of nursery rugs are so cute, you are going to want to steal them for your own room. Teach your baby their ABCs in comfort with the washable ABC black and ivory rug. Or choose sophistication with the Lorena Canal's washable rug collection. Some stealable styles include: Grey Biscuit, White Lace and Pearl Grey Braids.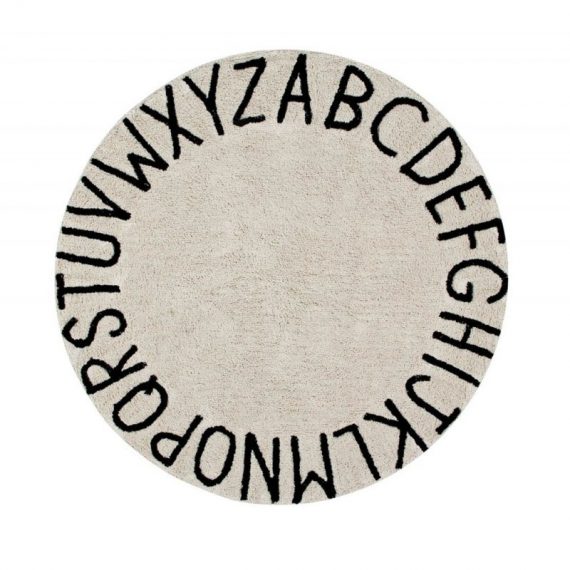 Speaking of #stylegoals, this nursery spindle lamp base is so timeless it could easily go from nursery to teen territory with a simple shade update. Why not buy extra to make your master bedroom a beautiful retreat? Or you could always just have the coolest nursery ever with this trendy pineapple lamp.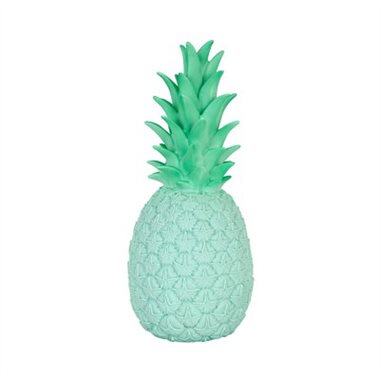 Mobiles aren't just for baby when they are this adorable. These Merry Go Round mobiles will stand the test of time. If you give these cool styles a spin, they can easily go from crib to big kid room.
One thing that never goes out of style is good storage solutions.
One thing that never goes out of style is good storage solutions. Luckily Indigo carries a large line of stylish storage solutions from Three Sprouts. This sweet elephant toy chest can easily go from nursery to playroom. Laundry is a breeze with this cute swan laundry hamper and this sheep storage box is perfect for those little hands. We also can't resist this adorable Old MacDonald hamper by IndigoBaby x Petit Pehr Designs that could easily transition with your child into the toddler and pre-school years.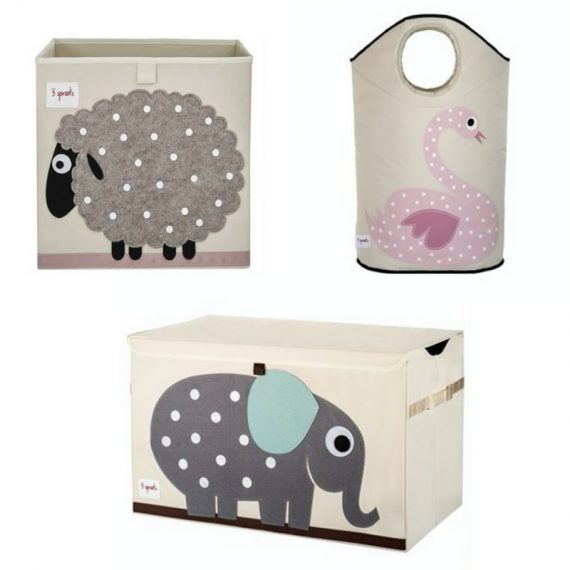 When it comes to tying your nursery together, look no further than high quality baby bedding. Indigo carries top quality brands like Little Unicorn and Aden and Anais featuring lines of sophisticated and beautiful styles you'll want to keep for years to come. From the Aden and Anais Silky Soft Dream Blanket featuring four layers of viscose made from bamboo for amazing softness to Little Unicorn's trendy but timeless prints like their Summer Poppy fitted sheet and quilt and their amazing muslin swaddle blankets. Indigo also offers this always-in-style ABC crib sheet for mamas who want to encourage their babes to start learning in their dreams!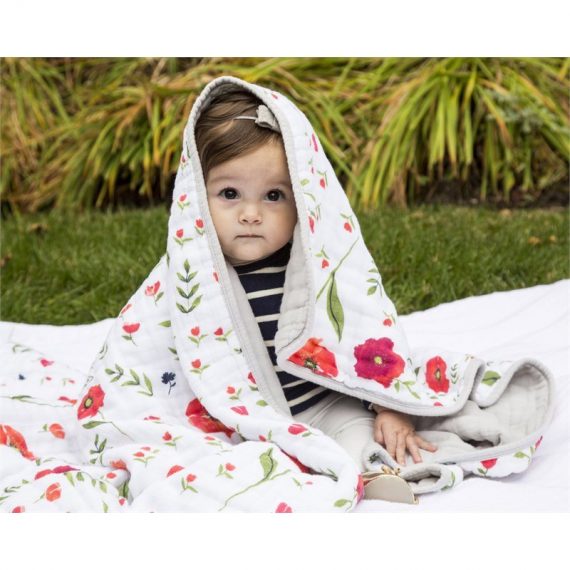 Swoon-worthy, right? Investing in timeless pieces can mean you spend less later. Let's be honest, even with very little, your baby is going have everything they need—you. But if you're enjoying the designing nursery adventure, give your bump a rub and get ready to create decor that can last years to come. Grab your keys or better yet, put up those feet and get started online.
Chance to Win a $1,200 Prize Bundle from Indigo—Contest Closed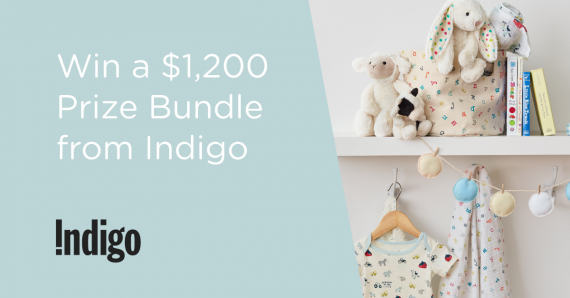 Congratulations to Adrienne M. of Saskatoon, SK. for winning our IndigoKids Baby Giveaway!