Busy bodies. Those are my kids. Ruby (3) and Sam (1) keep this daddy on his feet all day. Literally. Since my SO went back to work after Sam's first birthday I officially opened "Daddy Daycare" and have loved every minute of it. Well maybe not every minute. Most minutes.
Living in Toronto, our family of 4 has had to learn how to live a compact lifestyle. In lieu of big toys we ask family members for memberships, and in lieu of big bulky strollers we #wearallthebabies. As the activity coordinator for my busy bodies, we have at least one weekly outing to the zoo, Science Centre, farm, play centres or anywhere else where my kids can run and burn off some steam. Since every day with two kids under 4 is an adventure, we live our lives by two words – "flexible" and "adaptable".
My kids repeat it to me when we have to change plans. When my daughter cries that we can't go to the play centre because her little brother is running a fever, I reminder her "what are we?". In the tiniest cutest disgruntled voice "flexible and adaptable".
To go along with our lifestyle, we need our baby gear to be equally flexible and adaptable. So let me introduce you to my latest addition – the Onya baby carrier. When my daughter Ruby was young she loved riding in a carrier, but her brother Sam is a different story. We've tried slings, wraps and numerous carriers before finally finding a match with our Onya. Here's why we love it:
Versatility – the Onya offers two carrying positions to switch from front carry to back.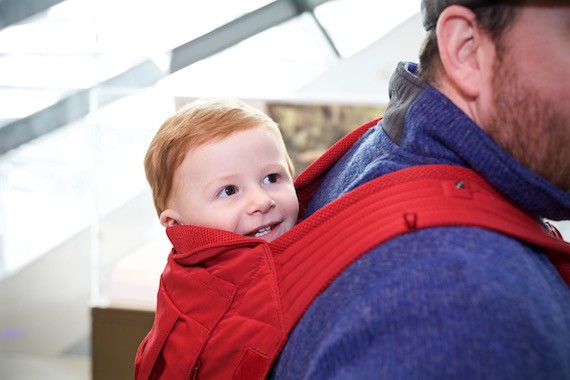 Hood – it seems so simple, yet so brilliant. The Onya carrier is equipped with a pouch hood that shields your LO's head in the case of inclement weather, or what is more often in my case, that pesky light when they fall asleep on you.
High Chair – I'm already a human pack mule. Carrying toys, snacks, changes of clothes, snacks, diapers, snacks and everything else under the sun weighs you down. When I saw that the Onya carrier doubles as a high chair I knew we were a match made in heaven. Simply strap the carrier to any chair with a back and voila! Unlike the traditional restaurant/cafeteria highchairs that can barely hold my little animal in place for more than a few minutes, the Onya securely straps him in place comfortably so that everyone gets to enjoy their snacks. And lunch. And then snacks.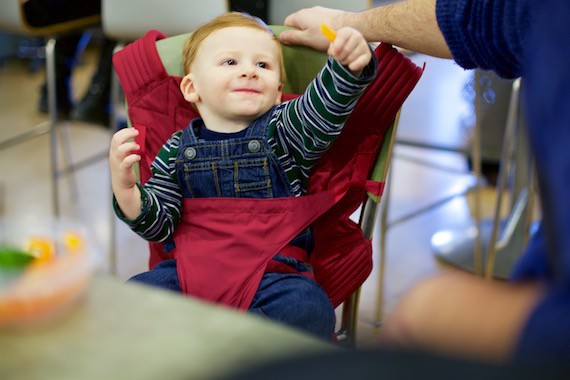 Get Noticed – guys wearing babies often get stopped by people just wanting to see the baby. I can't tell you how many people have stopped me to ask what the carrier is I'm wearing. If you're the type who likes to stand out in a crowd, the bright colours of the Onya have you covered.
I'm no lightweight when it comes to baby wearing. I've been known to wear both kids at once in order to catch a bus or not miss our train. I'm also positive I'm the only man in Canada who's got a custom personalized baby wearing jacket (thanks to my amazing seamstress MIL – thanks Grammie!) that she cleverly named the "Daddy-Go".  I love to wear my kids anywhere, and my pick for any dad (or mom) out there is the Onya.
So keep calm and #wearthemOnya!
Congratulations to Véronique Sauvé of Laval, QC!
She has won an Onya Baby Carrier.