Spring has officially arrived!
Well, sort of. But even though it may not feel like spring for much of the country quite yet, the promise of warmer temperatures and sunny days arriving soon (I hope) have me itching to refresh my home. I'm eager to pack away and clear out the winter gear and make sure my family is prepared for the season ahead.
Last weekend, I tackled my son's closet. I pulled out his warmer weather duds, bribed my 4-year-old with mini-eggs (hey if it works, I consider it a parenting win!) to try things on so I could see what still fit and what we'll need to replace this spring.
And after a winter of wearing snow boots, I got him to try on his shoes as well (which he did with glee, no bribes required — a kid after my own heart). The kid is constantly outgrowing his shoes. I can hardly keep up. My husband laughs every time I order a new pair of shoes for the kid — he thinks it's because I love buying shoes but he really needs them, I swear!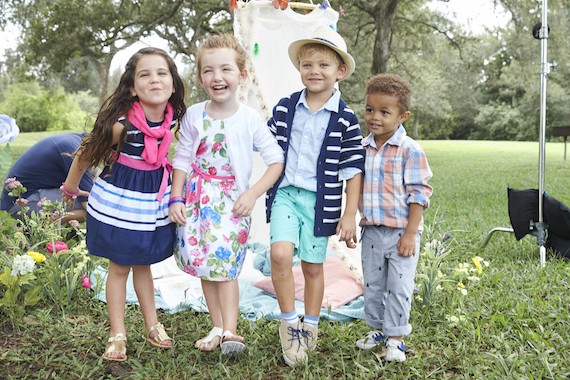 My kid is hard on his clothes. I feel like that's a statement that parents can universally unite behind. Between mystery daycare stains and the fact that my son uses his sleeves as napkins, his clothes see the inside of the washing machine pretty often, so I try to shop for quality items that can stand up to his tornado-like wear and tear.
Much of his spring wardrobe comes from Carter's | OshKosh and I find it holds up well after multiple spins through the laundry. Their cute and stylish outfits, shoes and rain gear will last him through spring and into the summer (and maybe we'll even get in a bonus half-season next year). I like Carter's | Oshkosh because I feel like I get a lot of value for my money. My son likes them because he can usually find something green to buy (that's my kid — all green, all the time).
If you're sorting through your kids closets, now is a great time to hop over to Carter's | OshKosh. I'll be heading there this weekend armed with my list and my debit card.
Love Carter's | OshKosh as much as we do? Wish you could go on a crazy shopping spree and #buyallthecuteclothes for your kiddos? Now is your chance: enter PLN's latest Flash Giveaway for and chance to win a $200 Carter's | OshKosh gift card!