We're all looking for easy, healthy snacks to have on hand. Mott's Fruitsations is one of my kids' favourite pantry staples, and it's perfect to pack in their lunches or reach for after school when they get hungry.
In Canada, one in every four children may not have breakfast before school each morning.
We all know the importance of proper nutrition in the morning, so Mott's Fruitsations* is bringing their smart snacking choices to even more kids! This year, they are continuing their partnership with Breakfast Club of Canada, a not-for-profit organization that helps feed 243,000+ students every morning before school.
No child should go hungry, and Breakfast Club of Canada's efforts work to serve nutritious breakfasts daily in 1,809 schools to ensure every child has an equal chance of success in their studies. For every cup purchased, Canada Dry Mott's Inc. will be donating a cup, up to 500,000, to give all kids a chance to start their day right. † A snack that feeds your kids and supports humanitarian initiatives? Now that's a snack-time solution!
† For every cup of Mott's Fruitsations sold, Canada Dry Mott's Inc. will donate a cup of Mott's Fruitsations Unsweetened Apple Sauce, for the schools designated by Breakfast Club of Canada up to 500,000 cups.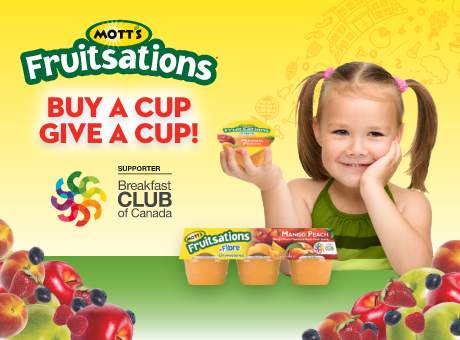 Help a child in need with Mott's Fruitsations.