By fly we mean trudge through snow during a horrible storm. By south we mean a block south of the Parent Life Network office to the Rogers Centre.  We took our gloves (winter and baseball) to Toronto Blue Jays™ Winter Fest to find out why it's a home run for fans and families.
OK! (ok)
BLUE JAYS! (Blue Jays)
LET'S…
transform the entire Rogers Centre into an awesome winter wonderland and invite fans to play games, meet players, tour the ballpark and take swings at the many baseball-related activities.
That's what Winter Fest presented by TD is all about.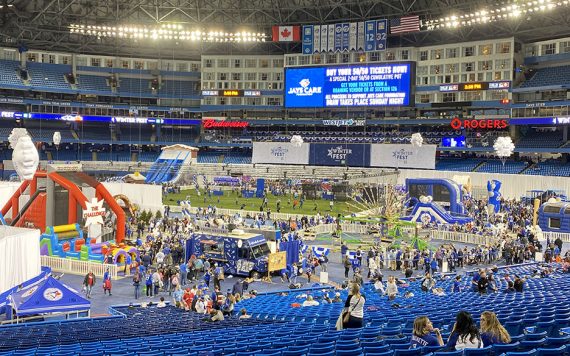 Humble Swag Brag
We hit things off on a high note: Free toques!
How Canadian is that? Almost everyone there was rockin Jays swag. It was awesome to see so many excited fans flock together during the off season to support their local heroes.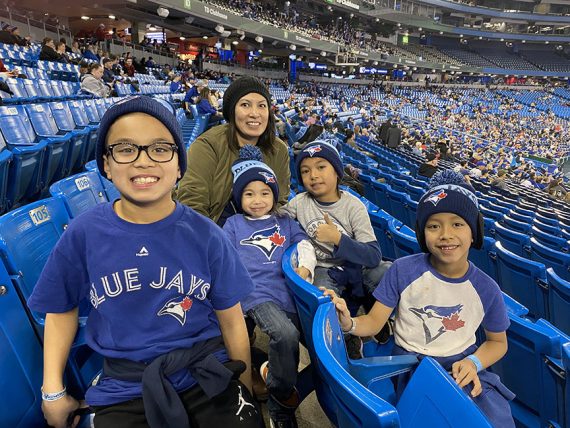 Check out some of our highlights from Day 1:

The Boys of Summer
Current players and alumni hit the stage for trivia games and some stayed behind to sign autographs for lucky fans.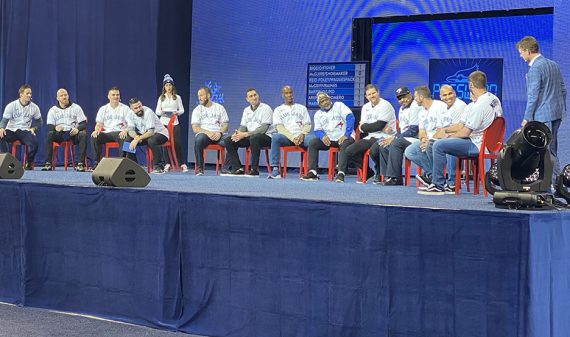 Hot Diggity Dog!
Let's be real–you can't go to the ballpark without getting a giant hot dog. It's science.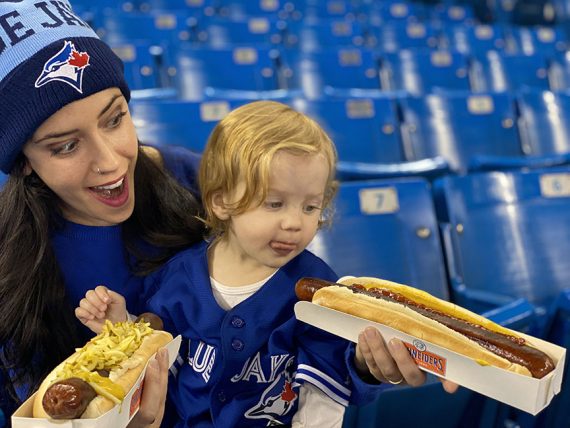 Flying into Spring
Toronto opens the 2020 season at home on March 26 with a four-game series against the Red Sox. Here are some exciting things to look forward to:
The Kids are Alright – The lineup is full of exciting young players like Vladimir Guerrero Jr., Bo Bichette, and Cavan Biggio. Expect a lot of runs and some high scores. If things go right, they might even help carry us to the playoffs.
Awesome New Players – The Blue Jays have signed a few big free agents this year, most notably South Korean pitcher Hyun-Jin Ryu, who had the lowest ERA in baseball last year!
The Best Pitching Prospect in Baseball – Remember the name Nate Pearson. He might be the best pitching prospect in all of baseball, routinely throwing 100 miles per hour (that's really fast). If things go right, we might see him on the team as soon as this summer.
So Many Giveaways – While we love watching the game, there's nothing like a freebie. Last year, fans scored bobbleheads, replica jerseys, and more. We're eagerly waiting to find out the kind of promotional swag we can get for going to games in 2020.
For now, we'll continue rockin our Blue Jays toques and count down the days to next year's Winter Fest. There's likely another snow storm just around the corner. Sigh.