Hi, we're Parent Life Network. We're a real company, with a real office in beautiful downtown Toronto, Canada. We have a few dozen employees who work in said office and a few dozen more who work from home (like me, writing this). In both cases, many of us are real Canadian parents, just like you.
We get the question "Is Canada's Luckiest Baby/Canada's Luckiest Family legit?" a lot, and we don't really blame anyone for asking—the prize packages are pretty incredible. Almost too good to be true. But let us put your mind at ease.
We work with some of the biggest baby brands, companies, and financial organizations in Canada: CIBC, CST, Fisher-Price, Huggies, and so many more. The prizes they supply for our amazing contests are all in a day's work for them. It's a key part of their business model and the foundation of ours. We let them know about new potential customers who might love what they offer (anyone who signs up for Canada's Luckiest Baby/Canada's Luckiest Family), and in return, we get to award real Canadian families with life-changing prizes, over and over again. It's the definition of a win-win. With a few extra wins.
So the prizes are real? Someone really wins?
Yes, someone really wins all the prizes. That's the whole point! When we started this company over 10 years ago, we knew we were working with a great idea. But we didn't know just how many lucky Canadian families we'd be able to reward with massive prize bundles. We've given away hundreds of thousands of dollars worth of RESPs, vehicles, gas and groceries, diapers, formula, and baby supplies. And it never gets any less enjoyable!
Here are some of our past winners (we love a good reveal video)!
You can even see recent Canada's Luckiest Baby winner, Melia, at the top of this article and recent Canada's Luckiest Family winners, the Forsbergs, below.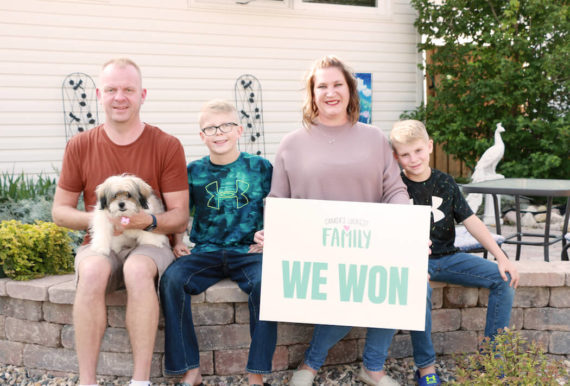 Will I win?
Good question. To quote Wayne Gretzky, "You miss 100% of the shots you don't take." (Or was that Michael Scott?) We at PLN do not know in advance of the contest draw who will win, so we're just as surprised as the winner (albeit in a different way). We could get all metaphorical and ask you whether you believe in destiny, but the truth is, all we know is that you can only win if you play. And since it's all free, why not give it a shot?
Are you sure Canada's Luckiest Baby is not just a giant scam for PLN to try to sell me something?
We're sure. PLN doesn't produce or manufacture anything … except winners! Haha. But seriously. We're in the opportunity business. Canada is a land of tremendous opportunity, and with a little bit of luck and a lot of help from our partner brands, we've made it our job to reward Canadian families with the kind of prizes that legitimately change their lives. We work with brands we know parents trust and dream up prizes we know parents will love. And we know exactly how much it means to our winners because we're parents too.
To put it simply: We're real, and we're spectacular.
Enter the current round of Canada's Luckiest Family today.