Earn money and gift cards for free with the new Canada's Luckiest Baby Referral Rewards. Here's everything you need to know to get started.
Have you heard about our brand new referral program? All you have to do is spread the word about Canada's Luckiest Baby using your unique referral link. Everyone who signs up using it helps you earn rewards like cash and gift cards. To start participating, all you have to do is enter the current round of Canada's Luckiest Baby.
If you've already entered, we've put together a how-to strategy guide to help you potentially earn thousands of dollars simply by sharing a link. This is our best advice on how to successfully share your code and get interested parents to use it.
IMPORTANT: Everyone you refer has to be a new member of the Parent Life Network to count towards your referrals. You can check your dashboard at any time to see your progress or wait to be updated in each week's newsletter on Sunday.
You can read the full FAQ right here.
1. Perfect Your Messaging
Before you start getting the word out, it's important to present Canada's Luckiest Baby in a way that excites and entices other parents, rather than simply sending out your link with no context. For example, you could highlight how life-changing of an opportunity this is by getting others to imagine how great it would be if their baby won.
Some things you might consider mentioning: the prize value (over $70,000 in prizes!), the notable brand sponsors supporting the contest, and the exclusivity to Canadians. And don't forget about the power of flashy keywords and popular hashtags.
2. Share Everywhere and Tell Everyone
Get the word out however you can. Whether it's online or in-person, consider email, WhatsApp groups, iMessage, Snapchat, social media, parent groups, neighbourhood groups, clubs, anything!
Remember that Canada's Luckiest Baby isn't only for parents. Grandparents, godparents, aunts, uncles, family friends, and more can all enter on behalf of a special baby in their lives. Why not start with these people in your own life first? That way you could boost your own baby's odds of being the luckiest AND start earning referrals.
Just make sure to always be respectful and not spam anyone.
3. Create Engaging Social Content
If you've got a decent following already, this can be as simple as making a post or story sharing your link. You can also try a few different types of posts to see what performs well. If you find that something really works, we've even heard of parents putting a small amount of money behind posts and running them as ads to reach more people that you don't know.
4. Outsource the Work
Work smart, not hard—right? So, cut people in on your referrals. Offer part of the $5 you'll earn for each referral to get others to help you share your link. This also works if you want to have someone help you design a great image to use on social or find groups for you to reach out to. You don't have to do all the heavy lifting alone.
PRO TIP: If someone's on the fence about sharing your link, make them a deal. Offer them a cut of the money you earn from the referrals from their group.
5. Get Creative
The more time and effort you put in, the more rewards you're likely to earn. Not all of these strategies will work for you, so it's important to shoot your shot and move on. If you're serious, it's worth trying out different ideas until you find something that really clicks. Then, double down and lean into that approach. Maybe whatever strategy you come up with will feature in our next strategy guide.
Ready to earn money and rewards? Head to your referral dashboard in Canada's Luckiest Baby to find your custom link and see what you can start earning. Good luck!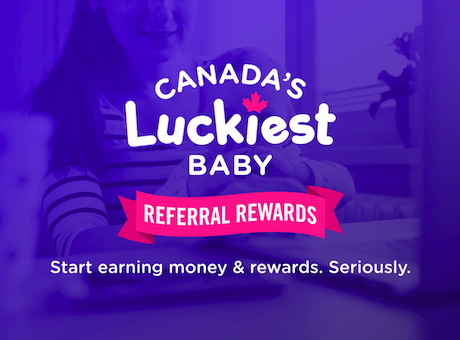 Canada's Luckiest Baby Referral Rewards
Share the contest. Earn rewards.