There's something about the look of awe and amazement on your children's faces when they experience magic and the beauty of artwork that stays with you long after that moment. We recently visited Drive Thru Fun Co. presents Snow Magic, a drive thru art exhibit, with our family in Toronto and it truly was a magical experience for both our children and us, their parents. The art installations captured our six, five and three-year-old's attention, drawing them into this mythical adventure, while it sparked many interesting and fun conversations between my husband and I about the overall themes of each piece and the intricate details that went into each installation.
As the days get shorter, we all crave a little more light, something to brighten our spirits and lighten our hearts as we move into the holiday season. Snow Magic is an illuminated art experience inspired by fire, ice and light geared to all ages. Snow Magic asks us to suspend our disbelief for a little while as we immerse ourselves in the different worlds of ice, light, and whimsical artworks. Snow Magic invites us to slow down and savour the moment when the world is asking us to speed up. Magic truly is an experience like no other, featuring awe-inspiring art installations that light up the night sky bringing wonder and awe to a backdrop of the Toronto Skyline.
The Details
Snow Magic is a Drive Thru experience geared to parents, children, and people of all ages. It's located at Ontario Place in Toronto is on now and runs to January 16, 2022. The immersive art adventure is a drive thru that is approximately 1.7km long. The experience takes you on an imaginative journey through three mythical regions; Terra Firma, Oceanic, and Celestial; featuring 17 different art installations by 9 acclaimed Canadian artists. Ticket prices range from $45-$65 per vehicle with peak and non-peak pricing. When you arrive at Snow Magic you will be asked to tune into the local radio station 89.9FM in your car adding mesmerizing musical accompaniment by narrative composer Miff Zawadzki to your mythical journey.
The Snow Magic Journey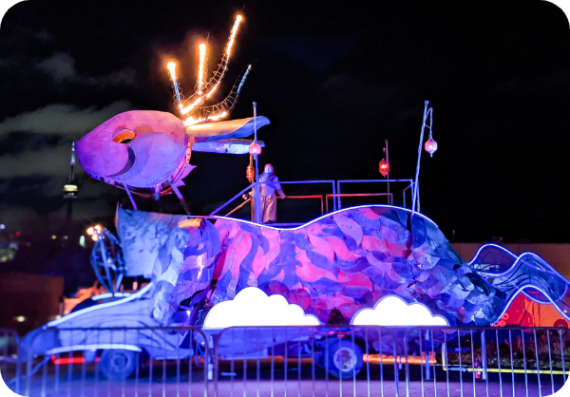 As we started our journey through Snow Magic, we began in the Celestial realm soaring through the night. Next, we moved through Terra Firma, where we met mythical creatures, like a fire-breathing Dragon and a Jackalope made of steel.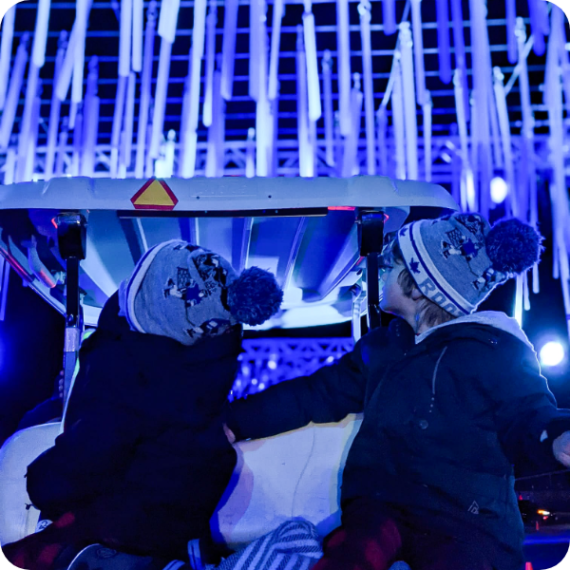 On this portion of the journey, we witnessed the beauty of a castle that beckons us closer with its laser light show. Our oldest was so excited about this and as soon as we saw he shouted, "the northern lights mommy, the northern lights!"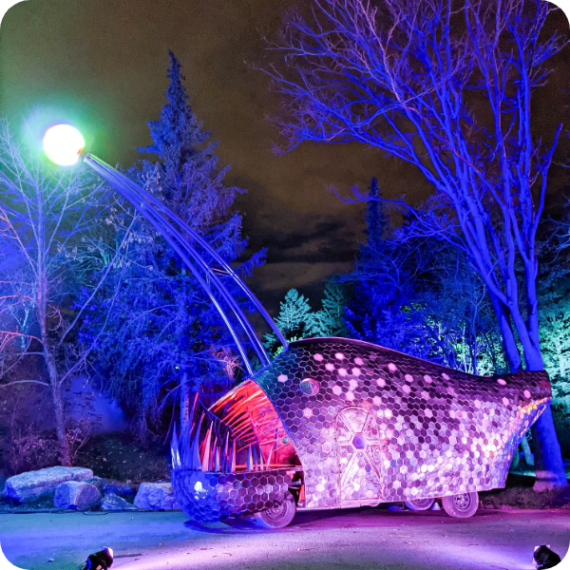 Part way through our journey we found ourselves in the depths of the ocean as we drove through the section called Oceanic. Oceanic was a huge hit with our little ones. Installations like a scaly, sharp toothed Angler Fish, Stingrays and a twisted Sea Tangle captivated them and had them asking us so many questions.
Our drive thru journey ended back in the section called Terra Firma where we watched a Snowy Owl, made of light and shadows, soar through the night sky. The mechanisms of this installation were unveiled as we circled around the back of the diorama, giving us a glimpse into the inner workings of the artist's imaginative process.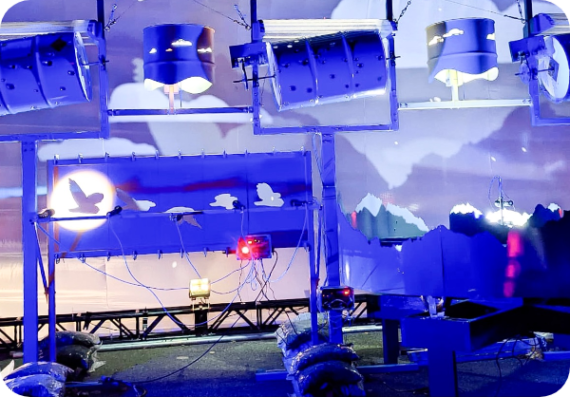 My husband was a big fan of this installation and said, "this one's for us". Your journey ends with the Snow Moon lighting up the sky in a moving geometric pattern.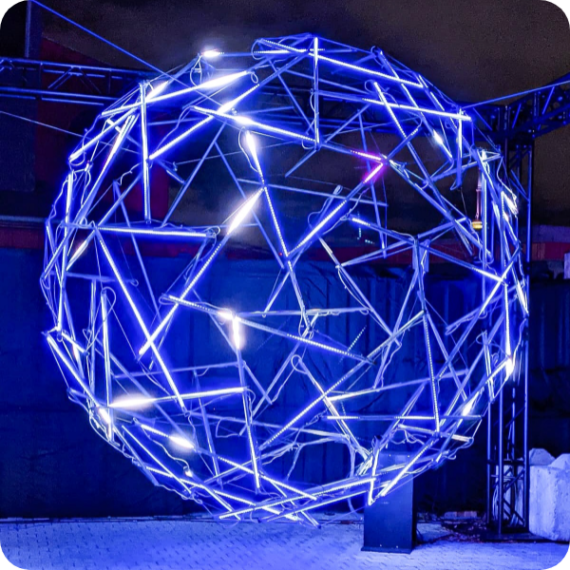 The Snow Magic Game
While moving through the different mythical regions of Snow Magic, you are also invited to take part in a card game, entering to win a number of different prizes. There are five hidden game cards placed throughout the Snow Magic experience. Find the five cards and enter to win one of the prizes listed on the Snow Magic website including a Nintendo Switch OLED, a Gift Certificate for Rouge Kitchen and Bar and a Starry Chart Interactive Chore Chart as a kid's prize.
Tips for Families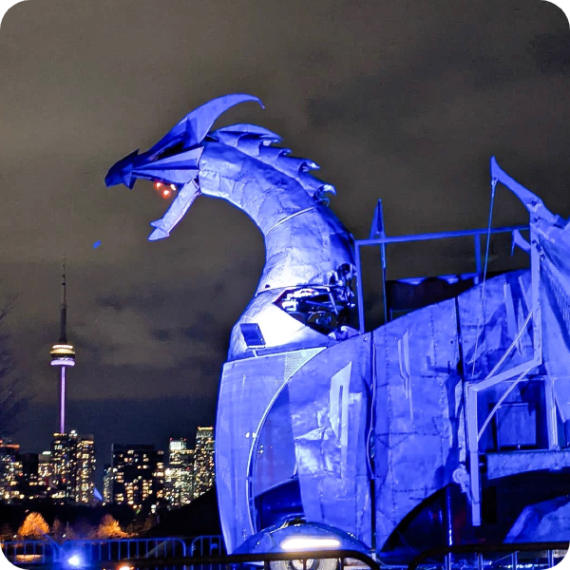 When we planned our Snow Magic trip there were a few things we considered ahead of time. The first one was to either eat dinner ahead of time or bring along a snack for the car ride. The whole experience lasted about 35 minutes with very little wait time as we arrived right at 5:30pm when Snow Magic opened. We also drove over with our little ones in their pyjamas because we anticipated that they would fall asleep in the car on the drive back home. All-in-all the experience was great for little kids, and they are still talking about the "amazing fire-breathing dragon" a week later!
In Support of SickKids Hospital
Snow Magic has partnered with SickKids Hospital Foundation in Toronto – for every ticket sold $1 will be donated to SickKids. In addition to this automatic donation there is also an option for guests to add to this (topping up their donation) when purchasing their tickets.
During this busy time of year, our family loves spending time slowing down and taking a break from the hustle and bustle to enjoy a fun experience together, and Snow Magic was the perfect way to spend an evening out as a family. If you're looking for a fun winter experience, this is such an excellent option in the city!
As a PLN exclusive, SAVE 30% on select dates with code PLNFUN30 (valid for any date November 20 to December 16). You can use the promo code when choosing your ticket dates at https://www.drivethrufunco.com/