It always starts out fine.
On weekends, when I take on the ambitious task of bringing all three kids grocery shopping, I feel like I'm putting on a superhero costume: Mom With Her Act Together. I will be PATIENT. I will EXPLAIN why they can't have everything they try to put in the cart. I will NOT abandon the cart and just bring everyone home without one measly item for my refrigerator. "You can do it!" says my inner Rosie the Riveter.
It's not the kids' fault. They're 7, 3.5, and 17 months. Children genuinely perceive time differently from adults, so of course they hit the limit of their attention span before we can possibly gather up all the week's necessities (forget waiting in line at the self-checkout, and DEFINITELY forget everyone getting a turn to "boop" something on the scanner). I remember being a kid and I have a lot of sympathy. Of course, I also have a lot of shopping to get done.
Fortunately, our local Loblaws has recently installed a Click & Collect station. *Happy dance* Do you know what this means? No? I didn't either. But it sounded like something that would solve all my problems, so I Googled it when I noticed the construction going on. Oh boy is it ever solving my problems.
Click & Collect is just Loblaws, online.
Click & Collect is just Loblaws, online. It lets you order everything you'd normally put in your grocery cart online, and then basically go through a drive-thru to pick it up, whenever it's convenient for you. I've used it three times now, and — listen to me now and believe me later — it has actually made grocery shopping enjoyable and fun. With my last order, I sat on the couch at 11.30pm adding groceries to my online cart at a leisurely pace. I didn't have to scramble. Nobody was crying. Nobody was asking for gum. No well-meaning strangers were making comments like, "My, you've certainly got your hands full!" Heck, there may even have been a glass of wine involved.
Then, like a scientist, I put Click & Collect to the test. "Everyone in the car!" I said, Saturday morning. "We're going to get groceries. We're going to listen to the radio, and we're not going to ask for a different song, or ask for the volume turned up a million times, and whoever co-operates the best gets to say something at the end of my blog review." Loblaws is only a few blocks away, but my 17-month-old just hates the car, so I was pleasantly surprised to find that a trip this short didn't exhaust her patience. We collected a week's worth of food in under ten minutes, and were back home unloading it in no time.
We collected a week's worth of food in under ten minutes, and were back home unloading it in no time.
"But what about my coupons?" you ask. I also asked that. "Just bring them when you pick up," said the Click & Collect FAQ. So I did. And the Loblaws team member was happy to apply them to my order, just like in the self-checkout.
I'm telling you, this is a game changer. Check if there's a Click & Collect near you, and sign up now to start saving your sanity.
Thanks for reading.
Anything left to add, Emily? "Bye!"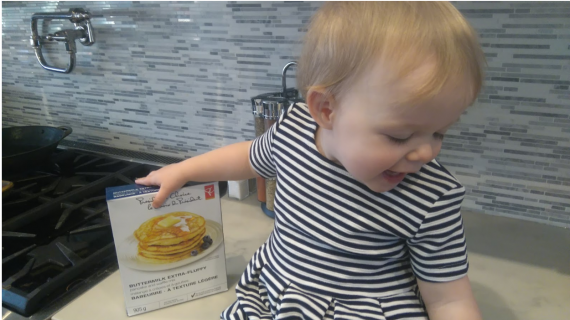 Wait, not so fast! Wondering if your local grocery store has Click & Collect?
Find out if your local Zehrs has a Click & Collect program
Find out if your local Loblaws has a Click & Collect program
Find out if your local Real Canadian Superstore has a Click & Collect program