Meal time is family time, but introducing a tiny human to the concept of sitting at the table can be challenging. Somehow I managed to botch this with my second child, Panda. She literally will not sit (untethered) at a table for more than three minutes. She's happy to eat, but it has to be whilst standing up or wandering around or dancing naked in the living room. So, obviously, I decided she would be a great test subject for reviewing a couple of high chairs. Customer Service Director Kim's 5-month-old son Sam, whom you may remember from the Stola review, took the chairs for a spin too.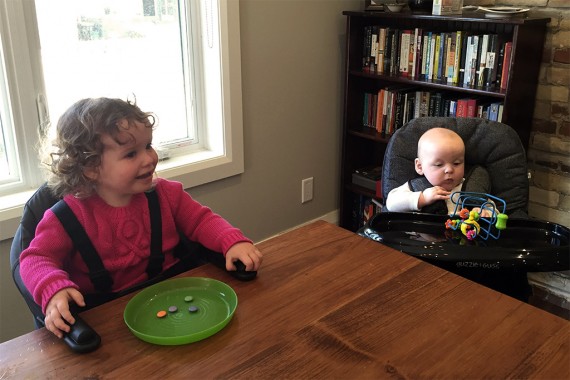 guzzie+Guss is a Canadian company that's relatively new on the scene. They sent us two models of baby seats – the Tiblit and the Perch. Here's what we thought:
The Tiblit takes the form and function of a traditional high chair and condenses it into a slimmed-down, stylish, store-anywhere chair that won't clash with the sophistication of your refined, urban dining room. The Tiblit's modern aluminium frame makes plastic high chairs look bulky and dated. It comes totally assembled, and folds and unfolds super easily:
With a weight limit of 45 lbs, the Tiblit is perfect for a 5-month-old or a 2-year-old. The tray is super easy to take off and clean, and there's a foot rest for the long-legged. Sam liked the comfy harness padding; we liked the stain-resistant microfibre seat. (Plus, did you know that "Tiblit" is an Inuit word meaning "messy face"? How appropriate.) The Tiblit retails for about $199, so you can enjoy the high-end aesthetic without a crazy high-end price tag.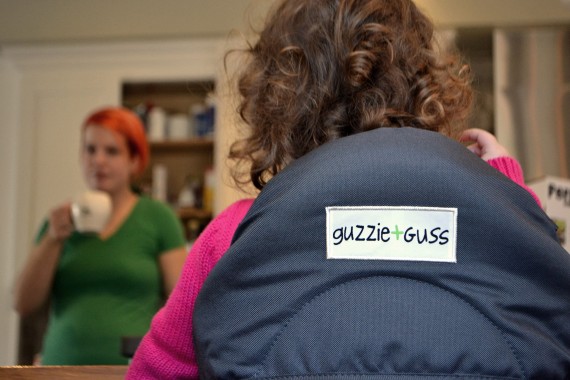 The Perch is a portable seat that can go anywhere with you and baby – it attaches right to the table with a secure clamp system, and holds up to 37 lbs (still plenty strong enough for Panda). The thing I liked about this one is it makes it ridiculously easy to sweep up all the food toddlers drop on the floor – no chair legs to work around! And the whole seat cover can be chucked in the washer (a major plus). I could tell Panda wasn't so sure about "floating," but once she tried it, the high back gave her plenty of support and she loved that she was actually sitting at the big table and not separated by a tray. The clamps are really solid and tighten so the whole chair doesn't even budge – I was impressed. The Perch retails for about $79, which for a hook-on high chair is not a luxury price point, but the wide array of colour and fabric choices will make you feel pretty fancy.
"these chairs have both been designed with the ability to blend in or stand out"
guzzie+Guss definitely have an eye for style, and these chairs have both been designed with the ability to blend in or stand out – it's up to you. And after reading up on the brand, my impression is that they've actually managed to capture the cool,"it"-product sensibility for baby gear and bring it within reach of more parents price-wise. Thumbs up for G+G – check out www.guzzieandguss.com for a retailer near you.
Congratulations to our winners!
Melissa Berge of Moncton, NB has won a Tilbit Highchair

Jordanna Iverson of Calgary, AB has won a Perch Highchair