At A Glance
Choosing a car seat can be overwhelming. You can spend hours drawing up a comparison chart for different brands and models. Or you can do what we did, and ask a group of 30,000 parents.
"Radian goes above and beyond… And it does this without compromising comfort."
When we were looking to choose a car seat for CLB3 we asked our forum, there were lots of great recommendations, but one name came up again and again. Diono. So we chose the RadianRXT and after reviewing it, we can tell you: our members haven't let us down. The RXT gets top marks in all criteria.
In terms of safety, the Radian goes above and beyond conforming to Canadian and US standards. And it does this without compromising comfort: your kid is going to love this seat. So will you — it's easy to install and easy to use, and the narrow profile allows you to fit 3 across in most mid-size vehicles, which is good news if you have a lot of kids (or if it just feels like you do). It's also easy to travel with, washer-and-dryer safe, and fun to accessorize. For typical car seat use, the Radian can see your child from birth to booster; its ten-year lifetime makes it well worth the investment.
The Specs
If you're like me (and most parents), you tend to think a car seat's most important virtue is safety. So let's get all the technical specs out of the way. All car seats in Canada are subjected to the same rigorous safety testing, and Diono passes these tests with flying colours. However, Diono also goes the extra mile (or the extra 1.6 kilometres) and achieves international ratings for side-impact safety. Here are the Radian's specs:
Rear facing range: 5-45 lbs, up to 44″
Forward facing range: 22-65 lbs, up to 57″
Booster weight range: 50-120 lbs, up to 57″
Shell height: 25″
Harness height range: 9″ to 17.5″
Lifetime: 8 years in a 5 points harness and 2 years in a booster for a total of 10 years
3 crotch buckle positions, 12 headrest positions, 5 shoulder harness positions
Push button lower anchor connectors
[huge_it_slider id="2″]
Diono makes a pretty straight forward claim as one of the safest car seats around, and a big part of this is their side-impact protection. I'll quote right from their website here: All Diono car seats provide reinforced side-impact protection… Currently, there is no U.S., Canadian or European regulatory side-impact testing requirements. A manufacturer can claim "side- impact safety" without meeting any standard. Diono's RadianRXT models were side-impact tested to the widely accepted German standard established by ADAC, Europe's largest automobile club.
What the Kids Thought

As my great-aunt Esther used to say, "Kids don't know from safety." But they know whether they're comfortable or not. We had 6 kids test out the seats, the youngest being only a month old and the oldest being almost 6 years. We managed to adjust the Radian to get a perfect fit for each kid – the only complaints we received were from the babies, and we're pretty sure those were just diaper-related.
"The memory foam padding makes for a smooth ride with no unnecessary bulk."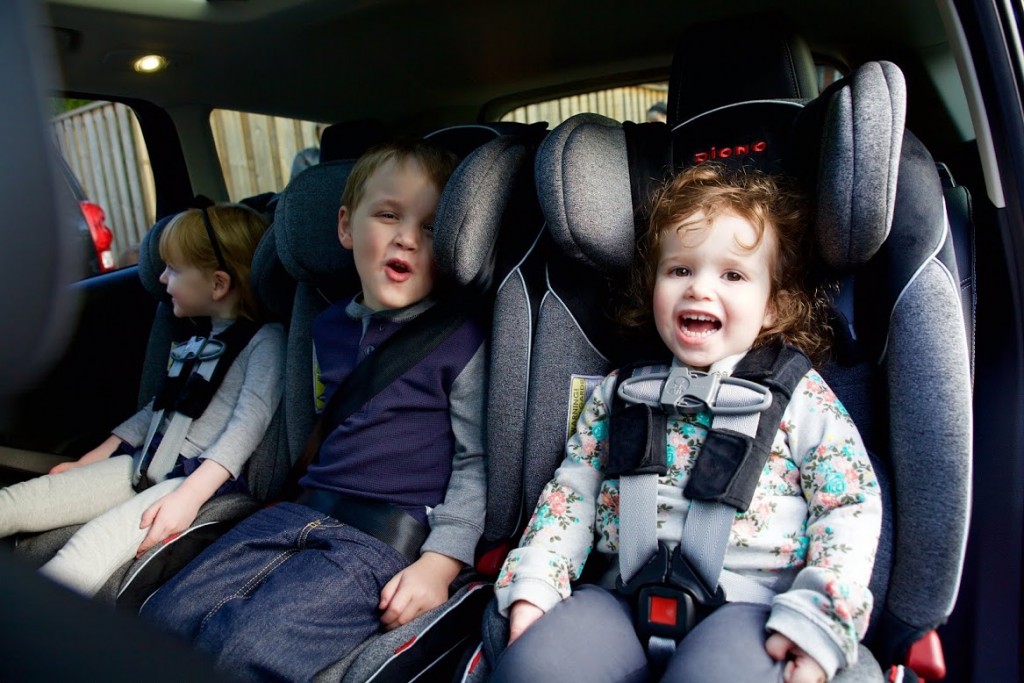 Emily (1 month) was snug and secure, despite being only 8 lbs. Sam (5 months) smiled the whole time he was in the seat, and then fell asleep. Panda (2.5) was able to clip (but not unclip) the chest buckle on her own (handy, for those independent types who insist "MY bucko!"). William (4) thought the long seat bottom was nice and roomy and loved the cup holders. Andrew (5.5) kept asking if we could keep the seat and was too busy mugging for the camera to say much else.
The memory foam padding makes for a smooth ride with no unnecessary bulk ("Comfy!" declared Anna (almost 3), who is on the very tall side – we employed the expandable sides so she could sit cross-legged, a feature that comes in handy for extended rear-facing). The Radian has a unique removable base that is used only when the seat is rear-facing. Removing it lowers the profile when the seat is forward-facing, and allowed our big kids to climb up onto the seat all by themselves with ease.
What the Parents Thought
So what about style and ease of use? Once you've established the safety and comfort aspects, you can actually start to care about fun things like these. The Radian fully won me over by being available in purple (although their marketing folks call it "Plum"). If you prefer something more understated, you'll like the charcoal grey or black (or "Shadow" and "Storm" respectively). You can fit 3 across in the back of many cars, or in the middle row of most vans and SUVs – a great feature for carpooling parents, or people like me with 3 kids (no fighting over who has to sit in the third row!) Another big plus if you have multiple cars and need to shuttle kids back and forth between them is how compact the RXT folds up: you can travel with it a lot more easily than with any other 3-in-1 seat I've seen.
"Installation is straightforward – you know when you've got it properly installed, which is a good thing."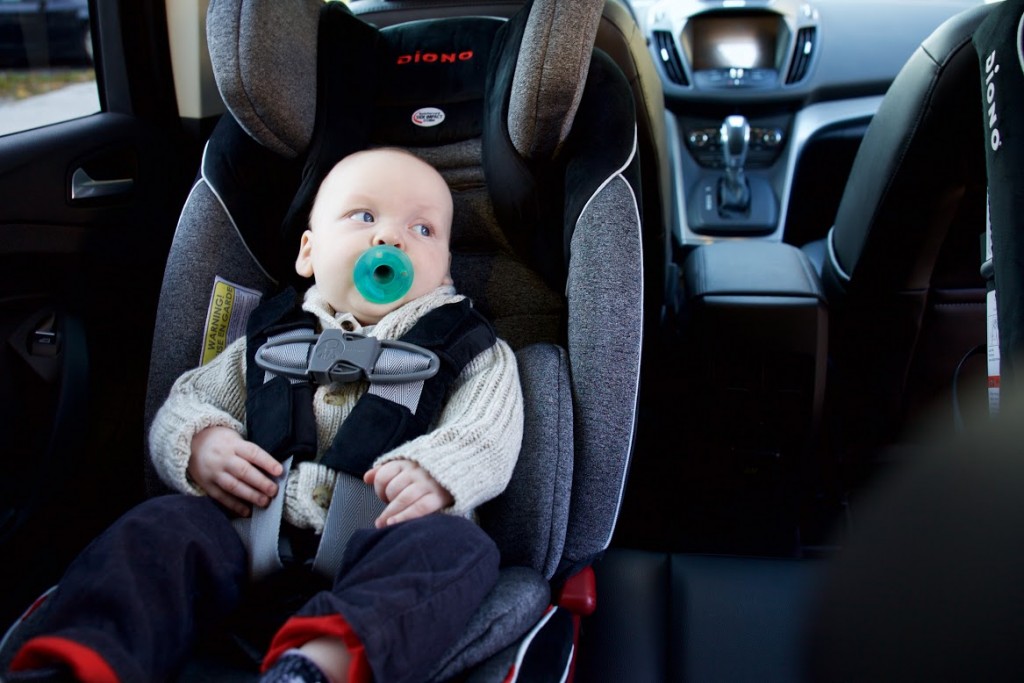 Adjusting the harness is actually pretty easy as car seats go: we did it 11 times in the space of an hour or so, for tiny Emily all the way up to practically-teenage Andrew, and nobody got too frustrated, though my husband did lament his large, manly hands when it came to feeding the harness through Diono's tight strap slots (I was happy to take over – it was easier than re-threading my bucket seat's straps). Installation is straightforward – you know when you've got it properly installed, which is a good thing. The UAS (Universal Anchorage System – what Americans call a "latch" system) is simple, and the tether adds another level of security. I liked that these features made me feel confident installing the seat myself.
You'll notice no fewer than 4 available ports for cup-holders (I like to think this will allow me to cover several food groups on the go … but more likely, they'll all be filled with Goldfish crackers). And what happens when somebody drips grape popsicle all over their seat after T-ball? You chuck the seat covers in the washer and dryer. Yes, really. Be still my heart.
The Accessories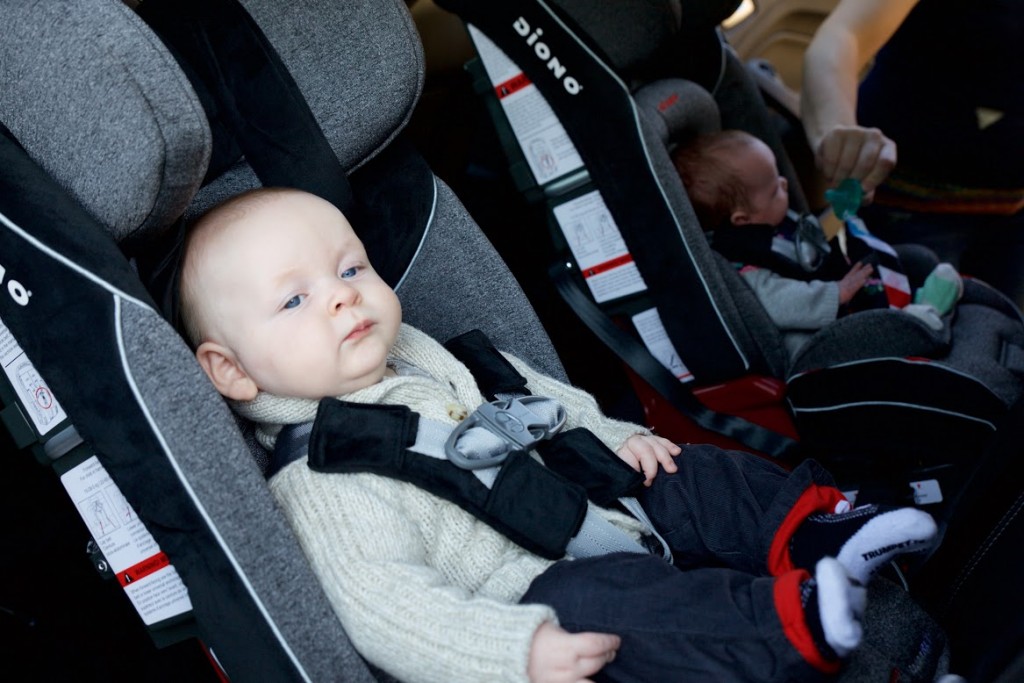 Diono has a line of add-on accessories for their seats to make using them even easier: the waterproof seat protector they provided for the review got snatched up by our kids' godmother, who often drives our little ones around and just got a new car (she needs all the protection she can get). There's also a rear-view mirror that can attach to the back seat and allow for easy viewing of your rear-facing munchkin (that way you'll be able to see when they fall asleep … two minutes before you pull into the driveway). We liked that these accessories are functional and coordinate with the seats themselves; they don't make the car look junked up. Plus there's an available carrying strap for when the seat is folded, that makes taking it from place to place a relative breeze.
Where to Buy
Where do you get a Diono Radian RXT? Everywhere! Your favourite Canadian baby retailers are all proud to carry them. Find a retailer near you.
Congratulations to the winner of the Diono Radian RXT!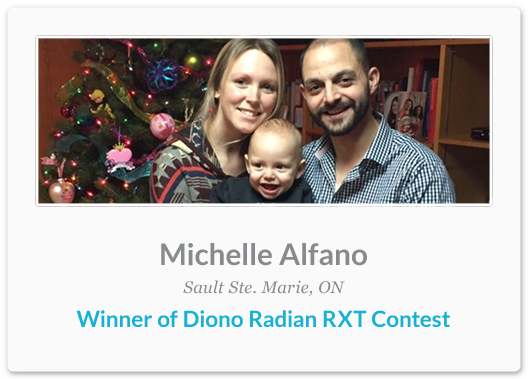 This contest is now closed.
Leave a comment below and tell us which colour Radian RXT suits your vehicle. By entering the contest, you have agreed to the contest rules.
Share this post on your Facebook, Twitter or Pinterest and if these car seats look desirable, follow Diono on Facebook for the latest news and product launches.

Cross your fingers and wait for the draw – All entries must be received by 11:59:59 EDT on November 30, 2015. We'll draw one name at random on December 1, 2015 and notify the lucky winner!