Unisex clothes is increasingly the go-to choice for babies of Millennial moms. Love this trend? Check out below for some insanely adorable picks for your babe.
It's no secret that I'm a fan of gender neutral children's items. Be it toys or clothes, I'm of the opinion there's really no need at all to colour-code our children. It serves no purpose other than to help strangers figure out which pronoun to use when addressing your child. My 18 month old daughter doesn't care what colour her sweater is, and your newborn certainly doesn't either.
But there are practical reasons to go gender-neutral with your children's things too, particularly with clothing. First and foremost, it saves you money. How many times have you heard a parent say, I really hope we have another boy/girl. I don't want to have to buy a whole new wardrobe! With a neutral baby wardrobe, there's no need to get rid of hundreds of dollars worth of perfectly good baby clothes before you're done having children, simply because you happen to have a child of the opposite sex. This also allows you to be more earth-friendly. Rather than create more waste by getting rid of clothes that are barely worn in, you're able to use them for all of your children. Have you ever tried to sell infant clothing to a consignment shop? Most won't even look at them because they get loads of infant clothing that has only been worn a few times.
A gender-neutral wardrobe for baby also means that practically everything matches. It's super easy to put an outfit together on those busy mornings, and to replace soiled pants or tops throughout the day without doing a complete costume change. And finally, let's face it–gender neutral clothing is just cuter. The colours are cuter, the graphics are cuter, and the quotes are clever rather than serving to perpetuate gender stereotypes.
So where can you purchase these gems? Indigo Baby carries a wide range of neutral clothing perfect for anyone on your shopping list. Here are a few of my favourite items:
The "Blame it on the Baby" Onesie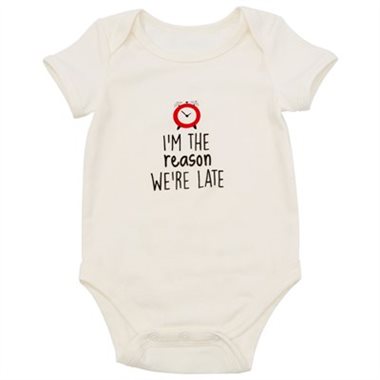 I'm late for everything. All the time. My parents have actually gotten in the habit of telling me that family events begin at least an hour before they really do so that, perhaps, I'll make it on time. With this hilarious shirt,I can just blame it on the baby. And, let's be honest, it really is her fault anyway.
This Line of Baby Winter Gear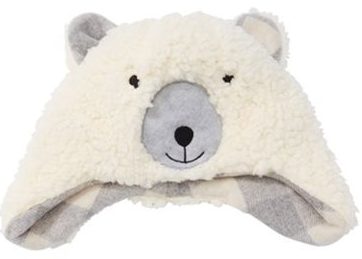 Winter is coming. It'll be here before you know it. Don't make the same mistake that I seem to make year after year–buy your winter gear now before it sells out. The Cabin Cozy line of winter gear is so sweet, you're going to want it all. These mitts and hat in grey look so warm and cozy; they also have a matching blanket to wrap around baby on those cold winter walks. Perfect.
This Nursery Rhyme Sleep Set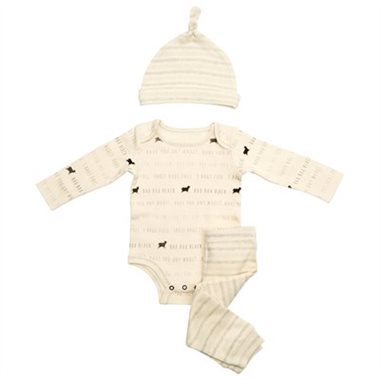 I am so excited that Indigo Baby carries one of my favourite baby brands, Petit Pehr. We own their crib sheets, blankets and storage bins, and I can't wait to pick up some of their clothes for all of the new babies in my life. Check out this sweet outfit with its matching hat in an adorable pattern perfect for boy or girl. This would also be very easy to mix and match with other clothes in your baby's existing wardrobe.
This 3-Piece Shirt Set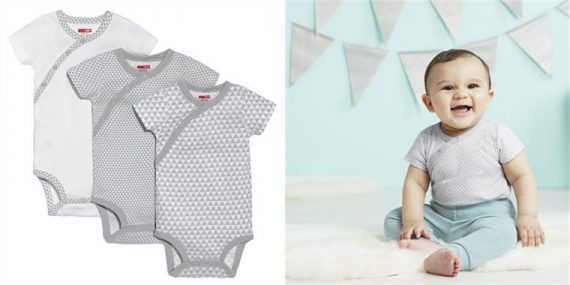 This grey shirt set by Skip Hop comes with three trendy patterns that are cute enough to take centre stage, but subtle enough to be paired with a bright bottom. And three adorable shirts for under $25 is practically a steal!
This Sleep Sack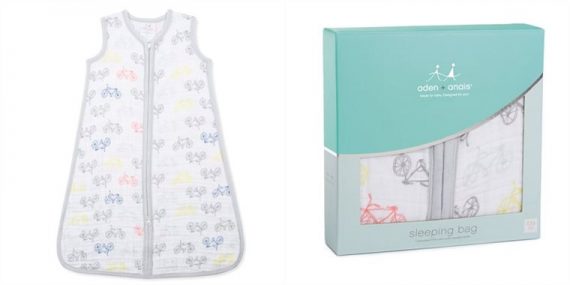 Aden and Anais make the softest blankets and sleep sacks for babies. They are lightweight and breathable, yet still manage to keep baby warm through the night without overheating them. These were always a favourite in our household not only because of how well they function, but also because they come in so many beautiful prints–like this modern bicycle pattern perfect for boy or girl.
This is a small selection of the amazing gender-neutral baby clothes Indigo Baby carries. These are clothes that will last for many years, through all of your children. Then, you can pass them along to friends and family, allowing you to get the most for your hard-earned cash. And you'll have the most stylish kids on the block. Talk about winning.
Enter to Win a $1,200 Prize Bundle from Indigo—Contest Closed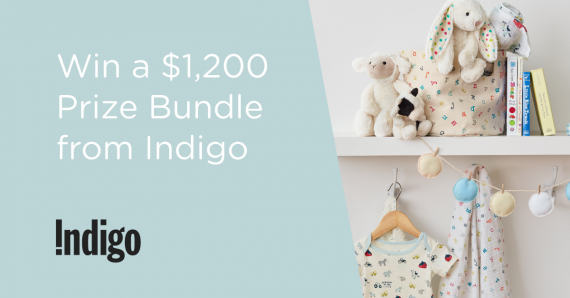 Don't forget—Indigo is giving away a huge prize bundle worth $1,200! Click on the button below and sign up or sign in to enter for a chance to win their lovely products and super useful Indigo gift cards to use for your baby or next baby shower!