As we approach the end of the school year, parents everywhere are scrambling to find the perfect gift. Relax, PLN has done the hard work for you to find the perfect way to show your appreciation and give your child's teacher a gift they will actually want.
While handcrafted and unique gifts are nice to give, in our own experience and in speaking with several teachers, what's really appreciated are the thoughtful gifts. The ones that show them just how much their students care (and their parents, too!)
Make it memorable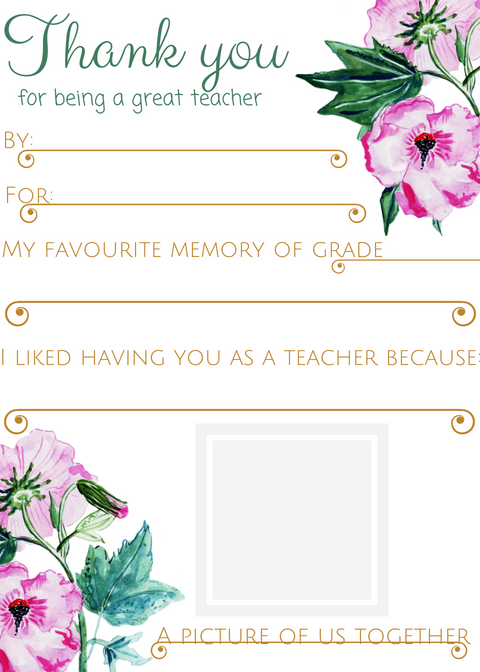 Teachers truly treasure hand-written cards or letters from their students. They love seeing drawings and the kind words expressed by the children they've taught. Why not download our free printable and customize it to make a beautiful keepsake?  All you need is a printer and some kids to create a memorable gift. So, parents grab some crayons or markers and have your child create a special note for their teacher. We cherish these items when given to us on Mother's Day or Father's Day, and I'm sure our teachers will too!
Kids know best
It's a great idea to involve your kids in the decision making. After all, they've just spent 10 months getting to know their teachers.  Let's face it, kids are pretty observant and inquisitive so your child may have a pretty good idea of what would make the perfect token of appreciation.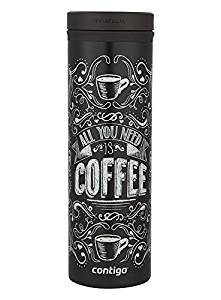 You can learn quite a bit about your child's teachers from your kids, but also from your own observations. Does your son notice that at the end of the day before leaving his teacher sometimes changes into workout clothes? Perhaps she enjoys going to the gym. Why not pick up a great new water bottle as part of her gift?  We love the tropical print on this S'Well bottle.
The school dropoff can also be a good way to get to know your child 's teachers. If you notice a coffee mug always in hand, why not inquire about their favourite brew? This "All You Need is Coffee" travel mug and a Starbucks gift card could make a nice choice. And hey, we all know these educators can use some caffeinated fuel to get them through the school day!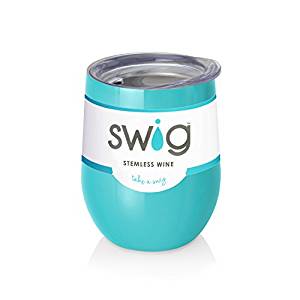 An adult sippy cup
Hands up if you could use a drink after a long day with the kids? Well, so do the teachers. To get them through the evenings after a long day in the classroom, an insulated tumbler can be used for their favourite beverage of choice, whether it's beer, a mixed drink or wine. Pair this adult sippy cup with an LCBO gift card and you might just become teacher's favourite parent!
Throughout the school year, we often hear about how teachers could use some extra supplies for their students and parents will be asked to donate when possible. I've come to learn that our educators frequently buy items needed for their classroom, paying out of their own pocket. This is why our top choice of end-of-year gift to give to my children's teachers is school supplies, and you don't have to break the bank on this.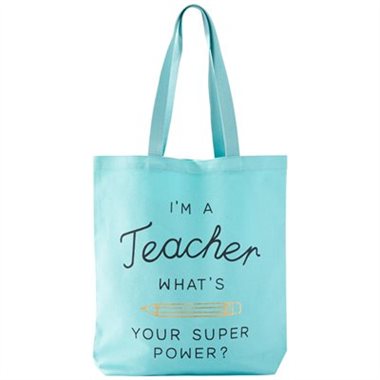 Check out this awesome tote bag (this one is nice too). These would be perfect to fill up with items from the dollar store. You can get markers, crayons, pencil crayons, pens, pencils, sharpeners, erasers, glue, scissors, rulers, sticky notes, highlighters, paper clips, even tissues and hand sanitizer bottles come in handy.
Teachers will appreciate having one less thing to worry about before the new school year starts and gives them a little extra time to enjoy their much-deserved summer break.
So, PLN parents, what will you by gifting your child's teacher? Comment below and share your ideas!