It's the thought that counts right? So let's think about not going broke trying to cross all the names off our gift list this year.
I love the holidays. The lights, the parties, I even love the gift giving. What I am not such a big fan of, however, is the thought of putting myself in the poor house trying to get everyone on my list an expensive gift. It's the season of giving, but this year let's give smart. Smaller, more thoughtful gifts that will make both the recipient and your wallet very happy.
Beauty
When it comes to the holidays, one of my favourite parts is how good everything smells. Fresh baked goods you aren't even going to try to resist. Delicious holiday meals full of calories (yum), warm cider, and hot chocolate with a little whipped cream. The holidays smell amazing, so why not continue a little piece of that into the new year with some yummy smelling DIY treats? These projects are simple but smell and come together easily. The bonus? Cheap and cheerful gifts to knock a few names off of your list.
Sugar scrub
When it comes to making beauty items, it doesn't get any easier (or cheaper) than a good sugar scrub.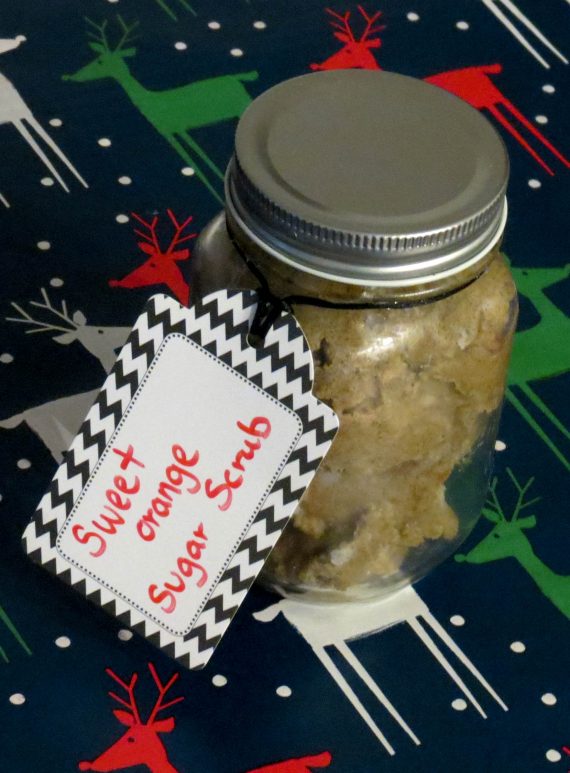 What You Need
Mason jars (250 ml)
½ cup brown sugar
½ cup coconut oil (melted)
½ tablespoon of honey
5-10 drops of essential oil (I use sweet orange)
Steps
Combine equal amounts of melted oil and sugar.
Next, add 5 to 10 drops of the essential oil of your choice.
Add honey and combine.
Wait to harden.
Put the mixture in a cute mason jar and you are ready to give!
Cold Bomb Epsom salt soak
This is a great gift to get your kiddos in on the action. Simply put one cup of Epsom salt in two different bowls. Then add a few drops of food colouring to one bowl as desired. Then add a few drops of peppermint, eucalyptus and lavender essential oil. Next layer the Epsom salts in your mason jar to make a candy cane effect. Dump the contents into a bath at the first sign of sickness and feel those cold symptoms melt away.
Feeling a little more daring? Take a look at these awesome bath bomb and body butter DIYs.
Food
The best part about giving baked goods or other homemade food out at Christmas is that if it turns out a little wild, you can always blame your kids. Did the gingerbread cookies get a little burnt? Don't remake! Just sign your kid's name on the tag. Only a true monster would even think to bring up the crispy nature of your treats. Just hope that your kid doesn't rat you out.
Cookies are the perfect baked present since with most recipes, you can make the dough ahead of time and then bake as needed. Here is a handy article on the best types of cookies to freeze and how to freeze properly. Freezing your dough will allow you to prepare ahead of time and still give fresh baked goodness. Make the most of your time by choosing one recipe and then doubling or tripling the recipe as needed. Hit up the local dollar store for all your Christmas tins. Shop early as they will sell out.
Are you wanting to give the gift of baked goods without actually baking? Take a look at these sweet cookies in a jar. I love this idea! There is a printable tag with baking instructions to give along with your jar.

Check out this recipe from The Happier Homemaker:
Ingredients
1 3/4 cups all-purpose flour
3/4 teaspoon baking soda
3/4 teaspoon salt
1/2 cup granulated sugar
3/4 cup packed brown sugar
1 1/2 cups (9 ounces) semi-sweet chocolate chips
1-quart size mason jar
Grab a box of candy canes and win Christmas this year. Simply glue the candy canes together with a hot glue gun and use a sweet ornament in the centre to give it some strength. It's a great hostess gift!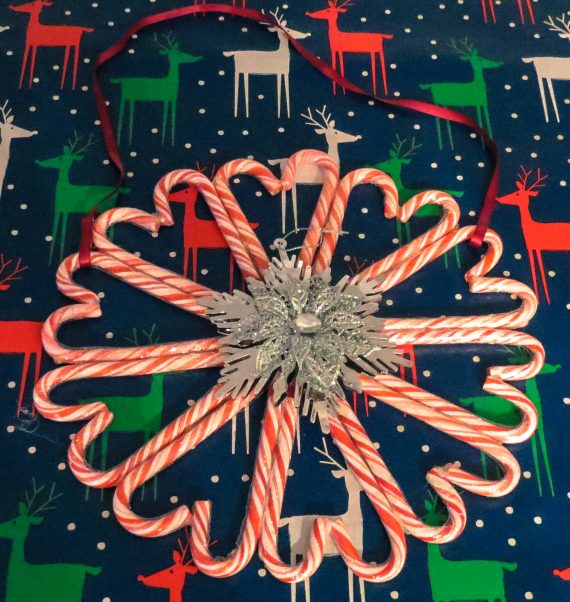 Memories
Do you have a sweet baby at home? Use that precious bundle to your advantage this holiday season! There are so many ways to both celebrate their sweetness in a thoughtful gift. I'm a sucker for doing something once but giving it to everyone. Each year I design a photobook and then give a copy to each set of grandparents. To make it even less expensive, I search sites like Groupon for more savings. Just be aware that you often pay inflated shipping prices and could get hit with duty charges as well. Also get started early to avoid the holiday rush.
Don't have the time or patience for a photo book? No problem! Take a look at this cool recordable picture frame. Inexpensive and yet personal. Add some sweet baby babble or even a "Merry Christmas Grandma!" and I am sure you will get tears from the recipient. You won't get that from buying a sweater!
When it comes to making holiday memories, the most obvious answer is to break out the salt dough and go to town. Simple to make with ingredients you probably already have hanging around in the cupboard, this is my go-to if I want to fluff out a gift or to give a little something along with a Christmas card. Here is a simple recipe. You can break out the cookie cutters and make some simple DIY ornaments or go a little further with handprint Santas and reindeers. Either way, you have some sweet DIY ornaments people will be happy to receive. Don't forget to get your pets in on the action too!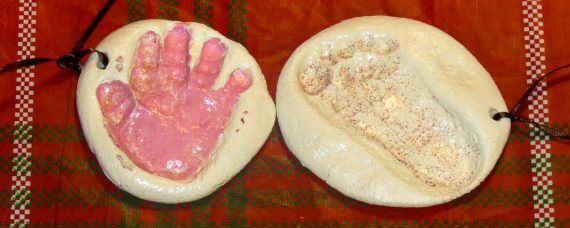 You can splash out and hit your local pottery painting place to make this beautiful first Christmas ornament. Or use your little one's hand to make this super sweet plate for Santa's cookies.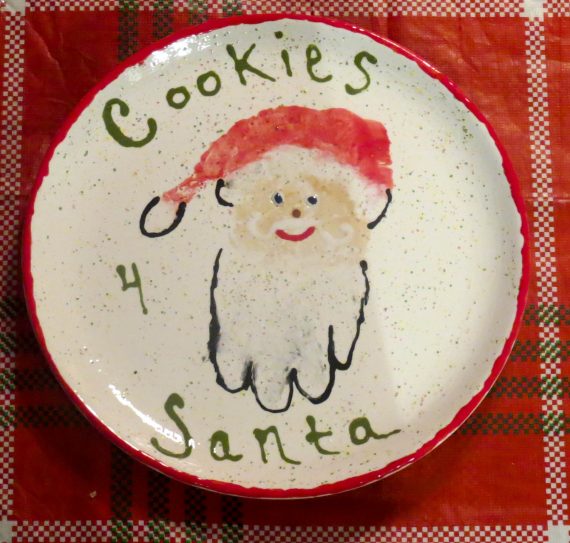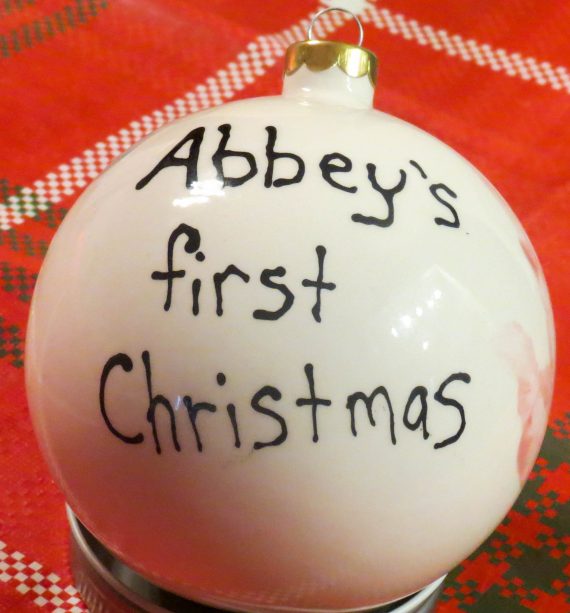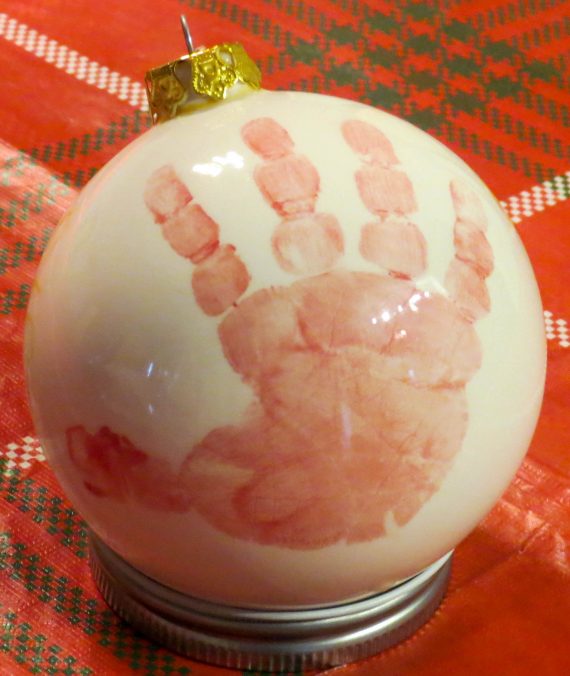 Last but not least, make a sweet card to celebrate the season. It's a great way to get older kids in on the action. Grab some art supplies and let them go to town.
Pets
When it comes to the holiday season, sometimes the best gift you can give is not for the intended recipient, but for their four-legged friends. Instead of giving your uncle yet another box of chocolates or bottle of wine, what about something special for his pup or kitty? As much as I love giving gifts, I am not so keen on receiving, but I do love when my fur babies get spoiled. Instead of giving baked goods for humans, what about some treats for the fur babies?
Bake for those who are often overlooked over the holidays-pets! A simple treat recipe and a cookie cutter are all you need to put a smile on a pet owner (and their pet's) face!

You could also use a simple bandana bib pattern to make a sweet accessory for your favourite pooch or kitty.
So what do you think PLNers? Do you DIY some gifts each year or do you prefer to Amazon it up? Let us know in the comments!