My back to school shopping took an interesting twist, one that I think can benefit many families that are like mine. Our oldest starts JK in September, so we've been checking off the list of must-haves. Backpack: check. Coloured markers: check. Sweet way of commuting to school: check.
This last check I mentioned is what I'm most excited about. We are a single car family and we've recently bought a house within a 10 minute walk of our daughter's soon-to-be school. However, as any parent of a toddler knows, a 10 minute walk with a four year old can take half an hour, or half a day! Our simple solution to this dilly-doddling dilemma was the Croozer Kids Plus for 1.
This one box comes packed with three amazingly versatile options that will be sure to not only keep our timetable in check, but also make for a healthier family. I've recently been reading about how exposing your kids to a commute that is not by car can lead to improved academic performance and socialization, as well as healthier lifestyle as they age. Not only that, it reduces traffic gridlock on our city streets, in turn reducing harmful emissions around our houses and schools. So I hopped online and found that with one purchase I can bike, jog or walk all while my LO sits in safety & comfort.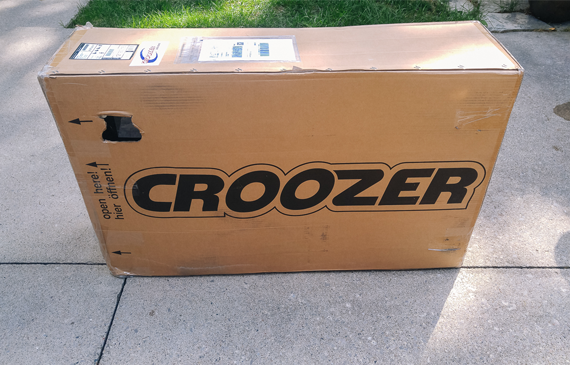 It was extremely easy to assemble, done in a matter of minutes. This included installing the bike hitch to both mine and my SO's bikes so that we can easily interchange. This was big as our last trailer we had only came with one hitch, meaning we had to put out extra money for a second.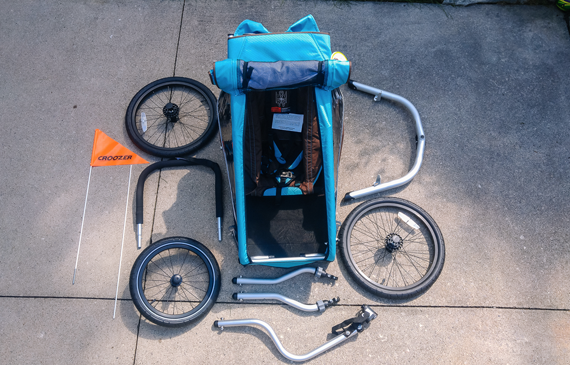 The Croozer Kids Plus for 1 has an amazing "trunk" as my daughter calls it. Perfect for her backpack, lunchbox or for mommy to hit the grocery store on the way home after school. That storage space doesn't impact the legroom whatsoever, as our 4 year old has plenty of room to stretch out her legs. To add to her comfort, the inside is equipped with an awesome bucket seat that provides head support, a 5-point harness, a cup holder as well as storage pouches – perfect for snacks or entertainment (her favourite is water colouring books…which are mess free!). The Croozer Kids Plus for 1 is also equipped with AirPad Suspension that reduces vibration and makes sure her colouring doesn't get messed up.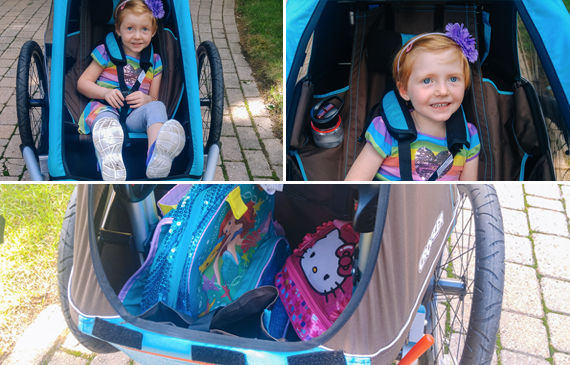 Switching from jogging mode, to stroller to bike trailer couldn't be any easier. The folks at Croozer made it incredibly simple and quick. The jogging wheel pops off it's two lightweight bars that simply swivel down (after removing the safety pin) making it ready to convert to a trailer or stroller.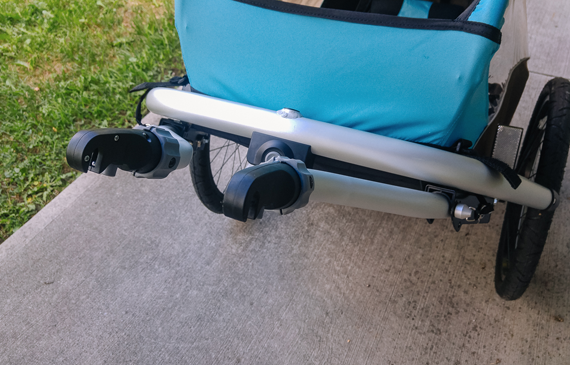 The swivel stroller wheel is conveniently stored in a sleeve in the "trunk" and just clicks into the front. Removing it is easy as well, with a simple push of a button to release. This makes the Croozer turn on a dime and is great for grocery store outings.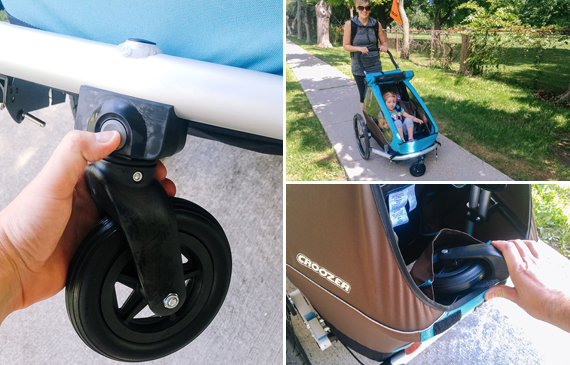 The lightweight bike attachment simply angles into place the exact same way that the jogging bars do. With a simple click onto the bike hitch, and an attachment of the safety hook you're ready to ride! While we're close enough to walk to school, the ability to convert it to a bike trailer will definitely come in handy for longer hauls or trips to the grocery store.
Another favourite feature of mine is the locking system on the bike hitch. With the previous bike trailer I owned I had to carry two locks as I was always concerned someone would steal my trailer. The Croozer Kids Plus 1 comes with a locking system that keeps it secured to your bike, protecting your investment.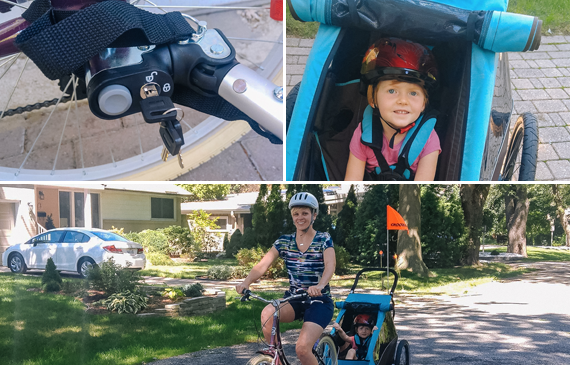 I'm not much of a jogger (maybe next week….we'll see) but I find that the jogging set-up is great for rolling across fields to soccer, to the beach, or over the inevitable snow that makes pushing a stroller nearly impossible.
At the price point the Croozer Kids Plus 1 is offered at, it is an amazing option for single-car families like mine or anyone who is in the market for an incredible versatile jogging stroller and bike trailer.
While there are many things I'm stressing about as my daughter embarks on this next stage in life, our means of commuting is not one of them.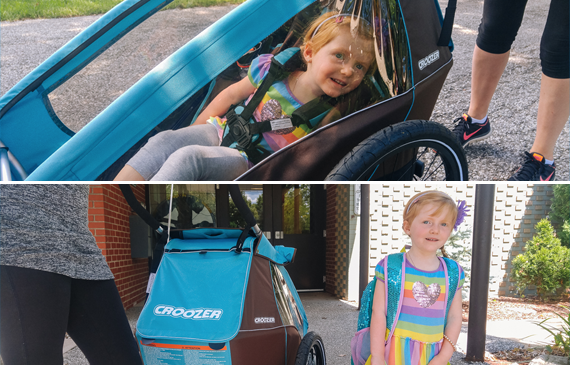 Contest now closed.
Stay tuned for the winner announcement. Thanks to all PLNers for entering!