So you have been hearing about the latest Twitter Party going on but have no idea how to party? Twitter Parties are a perfect way to socialize and chat about topics that interest you, meet new like-minded friends, all while not leaving the comfort of your home. No one will judge you for sitting around in your pyjamas as most will be doing the same.
Let's start here.
What is Twitter? Twitter is a social media platform that allows you to post status updates that are 140-characters-and-under. It is fast-paced and right to the point. Perfect for moms who are always between feedings and diaper changes.
In order to take part in a Twitter Party, you will need a Twitter Account. If you do not already have one you can sign up here.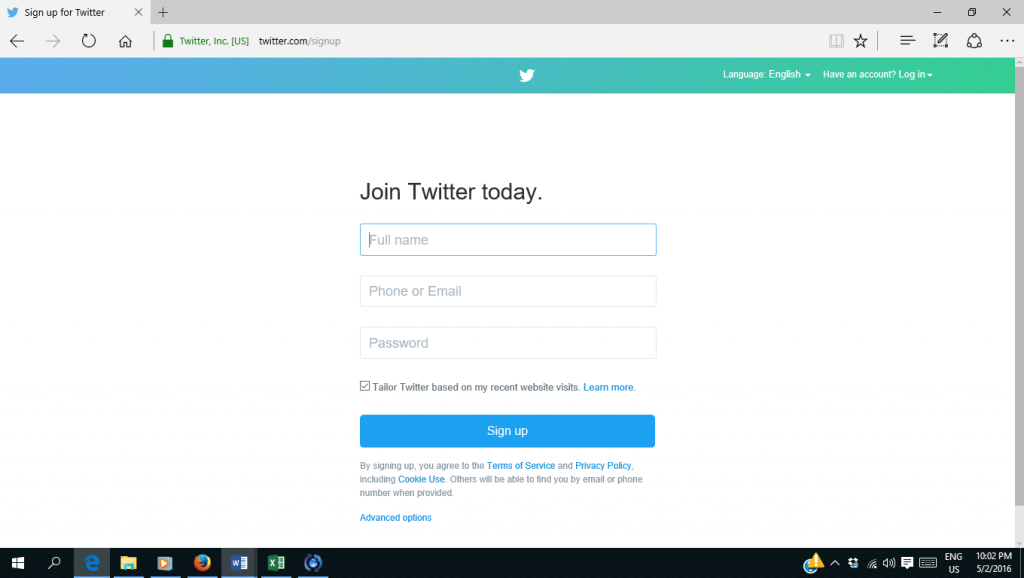 Once you sign up for a Twitter account, follow some other people so that your feed has something to read. I recommend some of your favourite brands, maybe a local newscast and PLN, of course.
You can search for people to follow by using the search bar at the top right corner of the home screen. As you type the list will auto-populate to fill with possible matches. Click on the one you want to follow and then click the 'Follow' button. Congrats, whenever the person you followed sends out a tweet you will see it in your feed. Rinse and repeat.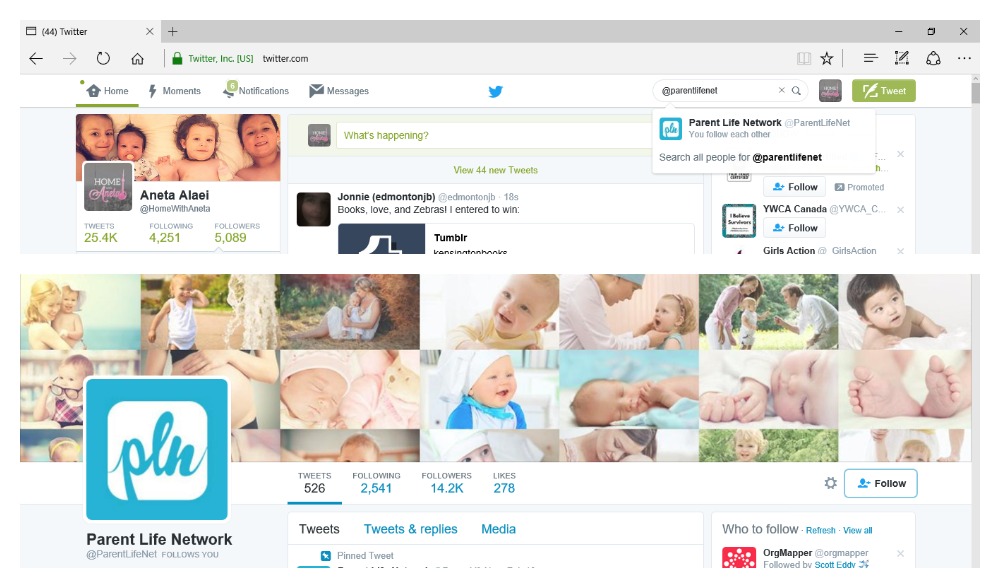 I like to use a program like Tweet Deck when doing Twitter Parties because it gives me some control to the fast-paced style of the party. It takes some setting up to before hand but is worth it when you have everything organized.
First, you will need to go into Twitter and make a list of all the hosts for the party. You can find this option in the gear icon beside the follow button on each profile. Once you click on the gear click on "Add or remove from lists…" This will open a new window called "My Lists," click on "create a list."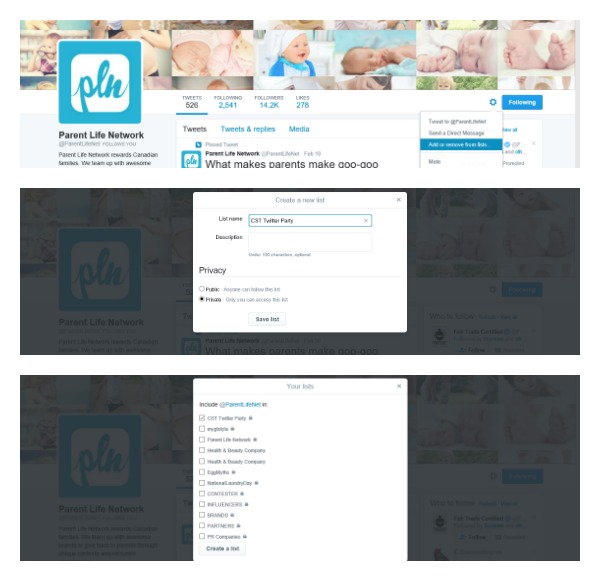 I make a new list for each party and make it private so other's can't see it. Once I put the List Name I press save and I also make sure to click the List Name to add the user to the list. I repeat this step of  pressing "add or remove from lists…" with all the co-host as well and add them all to the same list.
Then I go to my Tweet Deck (uses the same login as Twitter) and when I am at the dashboard I set up 3 columns: Notifications (so I know who is talking to me), the list I made for the party, and another with the specific hashtag that was given to this party. This can easily be done by going to the "Add Column" section in the left menu.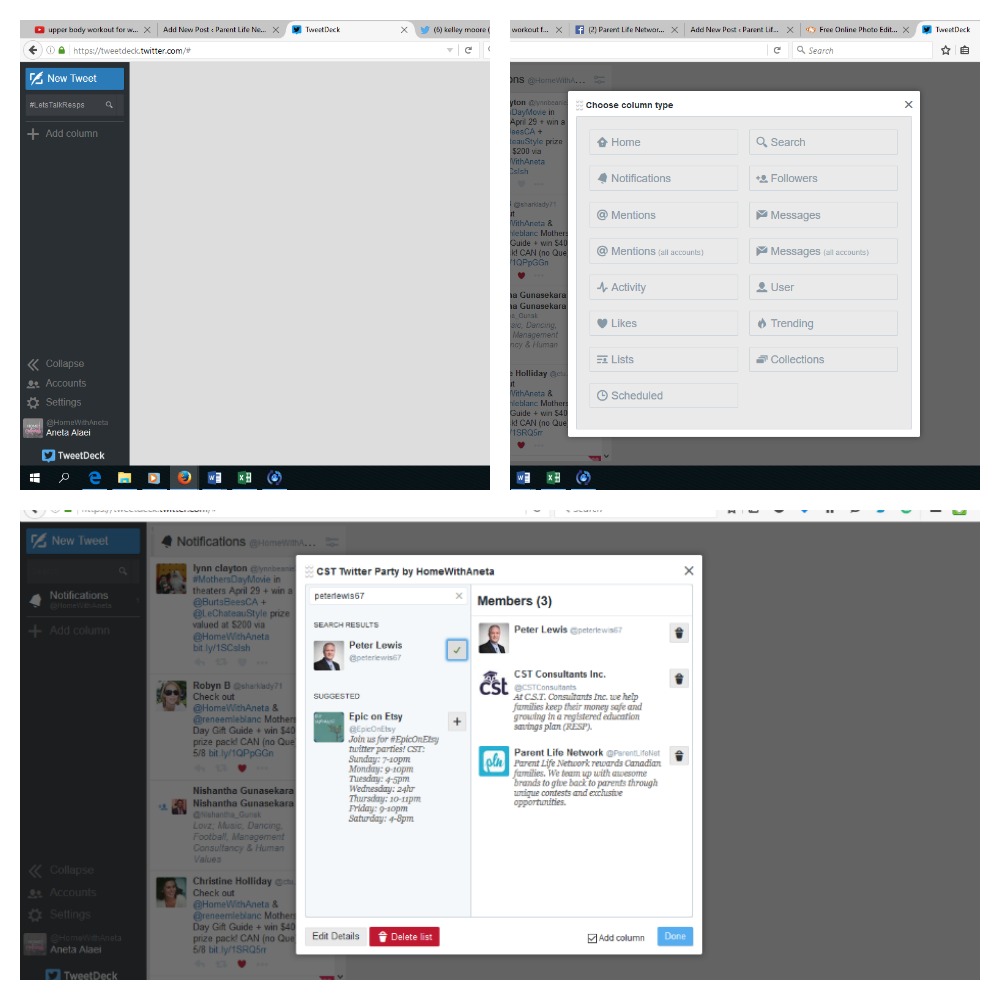 Once I have all three columns set up I am ready to party. For your first time, I would arrive 15 minutes early to make sure you got the hang of things.
The only column you have to watch will be the Twitter Party list you made. This is where the hosts will ask the questions and you will have to reply to each of them. In each Tweet you have the option to click the heart (FB equivalent of a "like"), to Retweet which is the two arrows in a square shape, and to reply which is the arrow pointing left.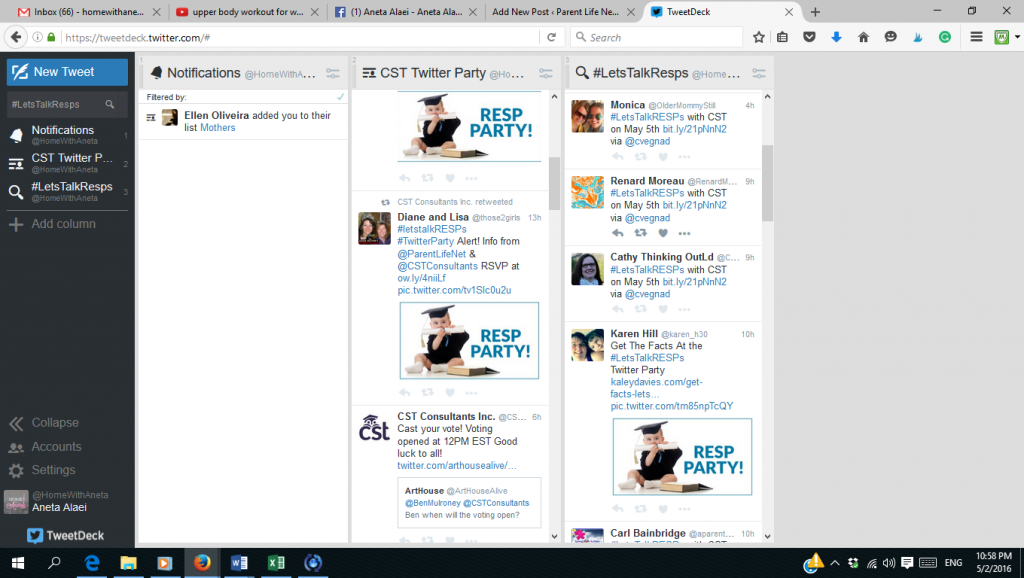 Lets say @ParentLifeNet Tweeted this:
Q1. Have you started a RESP for your children? #LetsTalkRESPs
You would click reply which would automatically bring up @ParentLifeNet because they are the ones who asked the question. You would respond with the A1. (answer 1) and also the hashtag that has been assigned to this particular party (#LetsTalkRESPs)
@ParentLifeNet A1. I have not opened up an RESP yet but plan to now that I have learned more about it #LetsTalkRESPs
By answering the questions and following the rules you are eligible to win some pretty great prizes, as we will be giving away $1,000 in an hour. You can join this week's Twitter Party and get some practice.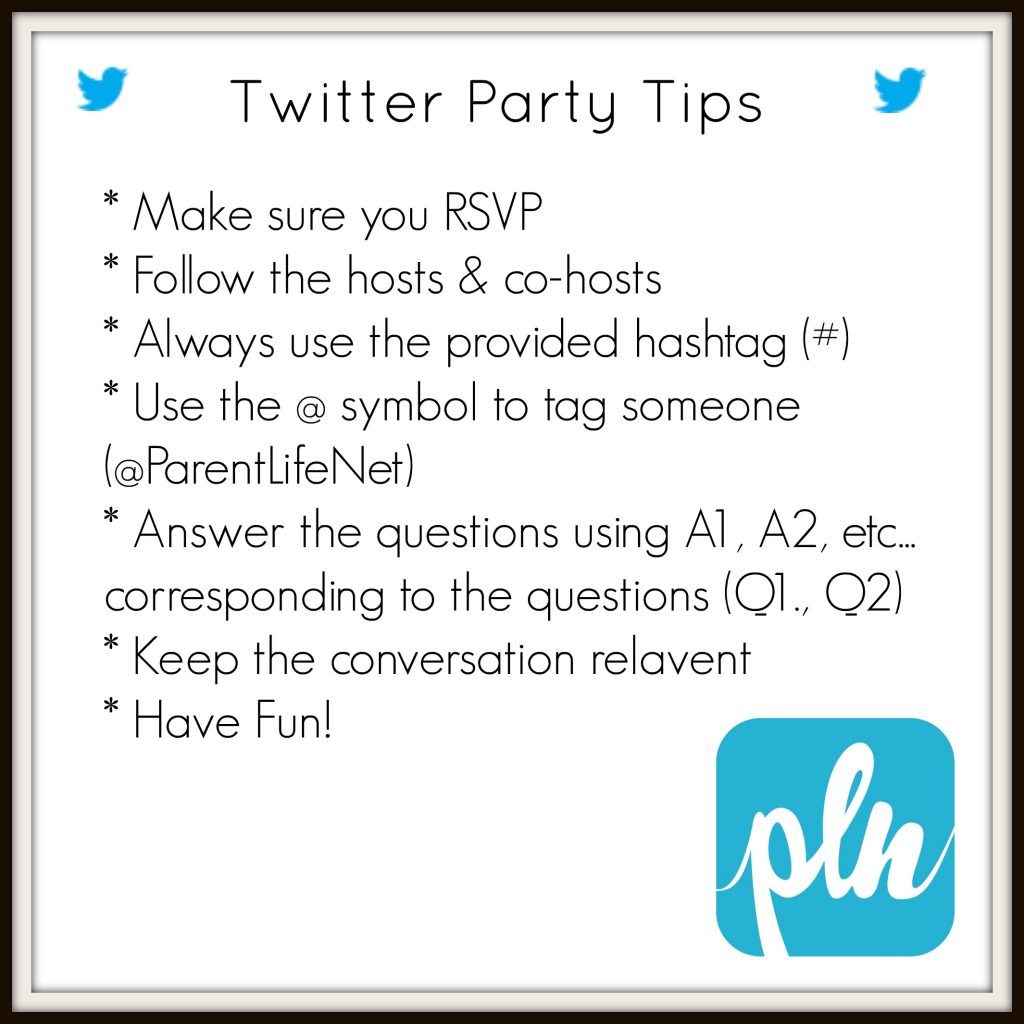 #letstalkRESPs Twitter Party
Parent Life Network and Canada Scholarship Trust (CST) will be hosting a Twitter Party and you're invited! Join us for an hour of fun to get your burning RESP questions answered. We'll be giving away $1,000 in that hour!
Date: Thursday, November 24
Time: 9 p.m. EDT
Hashtag: #letstalkRESPs
Hosts: @ParentLifeNet @CSTConsultants @peterlewis67 (Peter Lewis, CST Vice President – and resident expert)
Eligibility: Canada-wide
Prizing: $1,000 in prizing to be awarded.
For a chance to win a prize during the twitter party you must RSVP by registering below: