Ah, travelling with kids. An activity that was once exhilarating because of your exposure to new places, cultures, and people, now fills parents with the 'will my kid get any sleep' nervous anticipation.
Since we can't base our entire adult lives around naptime we have enlisted the help of our resident sleep expert, Jamie Contarini, to help us settle our littles when we hit the road.
Before you leave:
There are two things you want to make sure you do before you leave on your trip to ensure it is a successful one. First things first, you want to make sure you are leaving with a well-rested child(ren) and second, make sure you lower your expectations for your trip.
There are two things you can do. One, keep them on schedule so you are beginning your the trip with a well-rested child and two, adjust your expectations.
"It just makes so much sense because it is not going to be the trip you took before you had kids," Jamie says.
"They could be up in the night or they could wake up really early because it's a new place. It's new sounds, it's new smells. You are out of routine and they are adjusting to that."
The best time to leave:
Preparing for a flight:
When choosing your flight times, it is best to try and get an early morning flight, so that once you reach your destination, you can put your kids to bed.
You can't always count on kids sleeping on a plane so overnight flights may work out well, or it may result in your child pulling an all-nighter.
"Take things to distract them on the plane because they may not sleep and they will be overtired. A couple new toys or even some soft books," Jamie says. "Sometimes people will download their favourite shows on a tablet to keep them distracted on a plane."
Road trip rules:
When planning a road trip, it's a great idea to plan to depart about 30 minutes before naptime. If you are lucky your child will have their regular nap and you will have a blissful drive, but it may not be the case.
"For the days of travel, don't stress because you will get back on track the next day," Jamie says.
Adjusting to a time change:
The first thing to consider when travelling to a new time zone is whether it is worth it to adjust to the new time. For example, if you are heading to a different province for the weekend, you may consider simply sticking with your regular schedule and doing things a few hours early or late.
If you are going for a longer period of time there a few steps you can take to help your child's internal clock adjust.
Keep the room dark when you want your child to be sleeping.
"If they are awake in the middle of the night and they are not going back to sleep just let them play quietly but keep it dark."
Take your children outside once you want them to 'wake up'.
Once it is the time you want them to wake up open the curtains and take a walk outside in the sun.
"You really want to expose yourself and your child to sunlight because that tells your body to turn off the melatonin and that it is time to wake up. That is going to help their bodies to adjust."
Making naps work away from home
Jamie suggests that when you are on vacation, it is a good idea to embrace to 80/20 rule. So you stick to your sleep schedule 80 percent of the time.
"You're on vacation don't stress over making sure everything the same as at home. You can have fun and be flexible."
Naps in a tent
You can take a few items along to your camping trip to make a tent nap-friendly. If your site has electricity then a fan can be helpful to keep your child cool and provide white noise. Jamie suggests bringing a playpen so you know your baby is in a safe sleep area. You can also use an extra tarp to help make your tent cooler, but make sure to be mindful of air flow.
"We layered an extra dark tarp but then kept the front door and the back window open to let the air flow through," she says.
Even if your baby is not getting the same quality of naps, or even if your baby is not sleeping,  you should have downtime.
"Just have some quiet time," Jamie says. "Even half an hour or an hour of a break from the beach or your activity is going to be restful as well."
Naps at a hotel
When it comes to days away from home, you can embrace flexibility.
"When you are on vacation you may not go back to the room for that nap in the afternoon. You might be out for the entire day sightseeing or at the beach," she says. "When you are off schedule when you are traveling, if you can do an earlier bedtime, that's great. If you can't it's okay, just go and have fun. You can get back on track when you get home."
Do busy days = quiet nights?
While many parents may believe that they should keep their children extra busy away from home so they sleep better at night, but according to Jamie, this could actually backfire.
"If you are trying to exhaust them thinking they are going to sleep better that night you could do the opposite making them even more tired and making it harder for them to fall and stay asleep," she says.
Instead, she suggests taking breaks for downtime during the day so your kids don't become overtired. You can take a break from your outdoor activities for an hour of colouring, books, or sleep. If your child is expelling a lot of energy during the day, they may need to go to bed earlier if possible.
Calming sleep anxiety
A new place may cause your child to have anxiety about going to sleep. The good news is because you are travelling, you can change the rules. Your child may only need you to sit at the edge of the bed or give them some extra cuddles, or you can just put them in your bed.
"That might be the one time that you do share a bed with them and that can be part of the excitement of travelling," she said. "Just let them know that when you get home it's back to your bed and I have to sleep in my bed, this is just part of the vacation. When you get back home stick to it."
Pack a sleep bag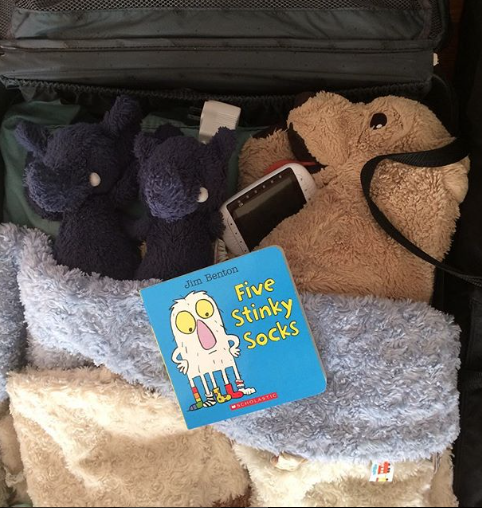 When Jamie travels with her own family she packs a 'sleep bag' which is dedicated to everything her children need in order to sleep better when they are away from home. The bag includes their favourite blankets, pillows, stuffies and her baby monitor. She also often packs a white noise machine that can help drown out the noise to help her kids get to sleep early, especially if they are camping, or can't control the outside noise.
So what do you think PLNers? Does this inspire you to pack up the kids and hit the road? Let us know in the comments!