It's four a.m. and Emily Hammond's heart is racing. She has given up trying to sleep sitting up in a chair next to her not quite two-year-old son and is gripped with anxiety and a feeling of uselessness. While her every instinct wants to grab her baby and hold him in her arms she knows she can't.
Her son is fighting for his life beside her.
Griffin was diagnosed with cancer at 22 months old. It is the second leading cause of death in Canadian children.
Emily's world turned upside down when Griffin got a bump in November 2011. The family was in the middle of moving to a larger home and her parents were helping out with childcare.
It was Emily's father who first noticed the mosquito-like bump on Griffin's eye. Emily assumed it was a typical toddler bump, but fearing something was seriously wrong, her parents continued to monitor the spot as it grew from the size of a pea, quickly increasing in volume.
"We are so lucky that it was on his eye because it was so evident, so quickly. We caught it at stage one, which is rare."
The diagnosis
Griffin's quick diagnosis was the result in Emily taking her child from doctor to doctor and insisting that the bump on her son's eye was more serious than the sty many medical professionals were insisting it was.
"It happens a lot because childhood cancer is thought of as rare and a lot of the symptoms could be other things," she said. "I felt like I had to speak up for Griffin."
Unfortunately, she was right. Her son was diagnosed with Rhabdomyosarcoma, which is a rare and very aggressive type of muscle cancer.
Emily's life changed from preparing to move into a new home to spending her days at the hospital in less than two weeks.
Career-focused before the diagnosis, Emily left her job and the family began living out of various hotel rooms around Hamilton, Ontario in order to be close to the hospital. While social workers tried to negotiate lower rates and many people donated travel points to help the family with the expense, they were often left paying out of pocket.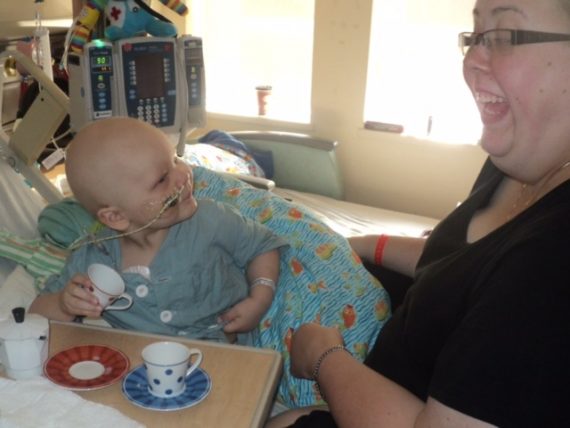 "We were paying for hotels in Hamilton and then we were also paying for our home that we weren't even living in."
Fortunately, the family landscaping business was shut down for the winter with only the occasional snow plowing call forcing the family patriarch, Marty, to rush home for work.
A different holiday season
With Griffin diagnosed in November, the family was able to spend a quiet holiday season at home, but a family case of the Norwalk virus on New Year's Eve not only derailed their celebration but also allowed Griffin's parents to ring in 2012 with a glimpse of the symptoms he was suffering going through chemotherapy.
"It was only 48 hours. I can't imagine going through a year of that and still keeping your spirits up and having a smile on your face," she said.
A special birthday celebration
When Griffin's second birthday came in February he was receiving radiation as well as chemotherapy and was extremely unwell.
"His skin was breaking down, he wasn't getting nutrition, he was just done," says Emily.
The family decided that while they could not have a traditional birthday party, they still wanted to celebrate Griffin. Emily didn't have time to make cookies to celebrate so she put a call out on her Facebook asking for someone to bake a dozen cookies to bring to the hospital for Griffin, who loved Cookie Monster. The response was overwhelming.
"I think we stopped counting at 88 dozen cookies from literally around the world: Australia, England, the Yukon," she says.
"People sent pictures for Griffin of them eating cookies since we couldn't celebrate together. Griffin has a scrapbook now full of those people who are close to us but couldn't be close to us because he was in such poor health."
Emily says it was a great way for people to contribute who weren't sure how they could help. The family was able to make up trays of cookies to share with other patients, nurses and staff at the Ronald McDonald House Charities (RMHC), a place that is still close to their hearts.
A good support system
The RMHC was undergoing renovations during Griffin's initial diagnosis and treatment, but in early Spring was able to provide a much-needed respite from the hospital and hotel rooms.
"The staff is amazing," she says. "They provide a sense of home and a sense of family when you can't be home with your family."
Emily's family was a huge support system during this time, especially her parents.
"They were like generals in the army leading the fight. They were a major support system not only to Griffin but also to my husband and me," she says. "When you think about it, grandparents are not only worried about Griffin, but they are also worried about their own child."
Despite spending his days heavily medicated, Griffin remained calm, cool and collected.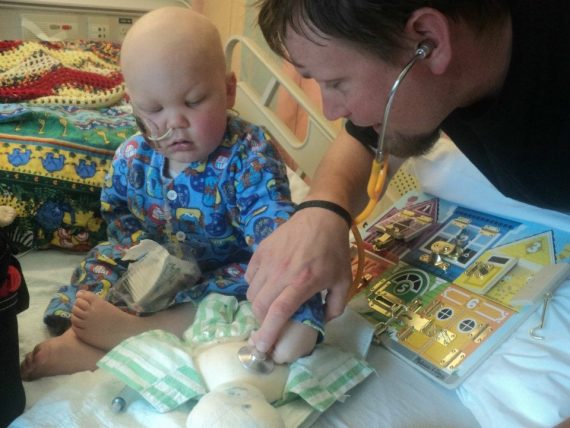 "His whole world was the hospital. He spent more time inside the hospital than he did out of it. He just rolled with the punches," Emily said.
"It was his new reality and we made it very kid-friendly. We played the whole time. We transformed the entire room into a Griffin fun center."
Warrior Mama Syndrome
While Emily spent her days making her son feel at home, she failed to take care of her mental health.
"I call it warrior mama syndrome. You do what you need to do to get through the day and then you cry in the shower at night," she said.
Griffin finished his treatment in October and Emily assumed she would return to work shortly afterward, but instead needed to take six months to heal herself after facing such a hard situation.
"I had severe survivor's guilt," she said. "We watched so many kids pass away in the hospital and I couldn't understand why Griffin survived and so many kids didn't. That's a hard reality to get your head around."
In addition, Emily was also facing the fear of a possible relapse.
"It's a fear that never ever goes away but it does kind of fade," she says. "We are seven years out so it is not the first thing I think about when he has a mosquito bite, but it is definitely the second."
Cancer-free
The long-term effects of cancer are not yet known for Griffin, right now he is dealing with severe cataract because he had radiation directly to his face because his cancer is right behind his eye. He also has mobility issues as a result of getting chemo while he was still growing.
"He can't run and keep up with kids in the soccer game. Or go bike riding with the other kids his same age. It is just not something that his muscles can do right now, but it is something we are working on."
The Hammond family is fortunate to have a group of friends who all bonded while going through cancer treatment. Now they attend each others birthdays, 'no more chemo parties' and community events.
"It is a real focus in all of our lives. We try to support each other's ventures whether it is fundraising, donating time or donating hair, we try to help each other. It has become a way of life."
Looking back, Emily says that although her life has been hard, she wouldn't change it.
"Now that we are on this side of cancer, it has brought it some blessings we wouldn't have gotten any other way. It has made me a better person."
Get involved
Would you like to help support kids with cancer? Our CEO TJ Donnelly is biking to raise money to send kids like Griffin to camp in the Tour for Kids. This year Donnelly hopes to raise $125,000. You can help him raise his goal here.
Take a close look at what Camp Trillium is doing to make a difference in the lives of these incredible families. You can learn more about Emily's story on her blog www.cancermama.ca.