With the weather heating up, it's starting to feel a lot less like spring and a lot more like summer–and that's making everyone here at PLN really excited. We've already written out our summer 'to-do' list and we can't wait to get going on our beach days and museum visits. But if there's one thing we've learned, it's that a little preparation before heading out of the house can make a world of difference to how your day actually turns out.
Here are a few things you could consider having on hand before you leave the house this summer to ensure you're left with amazing memories—not exhaustion and frustration—at the end of the day.
Wipes
Baby wipes are arguably one of the most important things you will need when you are out and about this summer, no matter what age your children are. We love these unscented ones by Pampers, perfect for kids with sensitive skin. Muddy hands and sticky mouths won't hold you back on your fun summer excursions.
A Collapsible Cooler Bag
A cooler bag filled with simple, low-mess snacks is a necessity no matter where you're headed. Snacks will get you through car rides, long lines, and sibling squabbles better than anything else you might have up your sleeve, so you'll want plenty of nutritious options ready to go. Plus, you'll save lots of time and money when you don't have to purchase last-minute snacks to feed your hungry children. Collapsible bags are great because, as the day goes on and the snacks are consumed, you can fold up the cooler and tuck it into the bottom of your stroller or into another bag for easy transport.
Swim Diapers
If you have little ones, you're going to want to have a few Pampers Splashers stored in your bag at all times. That way, they're ready and waiting for any impromptu beach days or trips to the pool. In fact, lots of facilities won't let babies or toddlers into the pool at all without one. Pampers Splashers are designed with dual leak guard barriers to fit snug around baby legs, to help prevent leaks in the water, and they don't swell in water, like regular diapers.
Sunscreen
In the summertime, it's easy to end up outside longer than you anticipated. We recommend purchasing a couple tubes of sunscreen so that you can keep one in your diaper or travel bag. That way, you always have one ready to go for those days when you forget to apply before you leave, as well as for reapplication throughout the day. Choose any with a high Broad-spectrum UVA and UVB protection (SPF 30 and higher). Natural sunscreen can be a little pricey, but if you can swing it, it's a good feeling to know that you're lathering your baby with ingredients that are safe for their sensitive skin.
A Picnic Blanket
This doesn't have to be fancy. An old comforter or throw blanket stuffed in the trunk works fine for beach days or picnics at the park. It's just nice to have something comfortable to throw on the ground before you unpack the snacks. If it's in the budget, a picnic blanket in a fabric that is easy to wipe up (like this one) can be really helpful; plus, these fold up easily and take up minimal storage space.
Having your bag or car packed with these summertime essentials is sure to make your life a whole lot easier. You'll be able to truly enjoy these fleeting summer days and make some awesome memories along the way.
Fun in the Sun Giveaway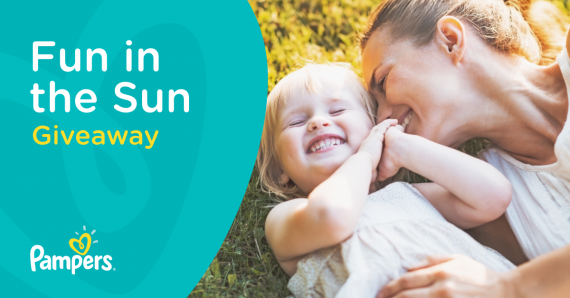 We've partnered with Pampers to give one lucky winner a $250 Amazon gift card for something fun to enjoy with your little ones this summer! Click on the button below, sign up and enter for your chance to win!