As I went to bed last night, I wondered what parenting mistakes clean air can make up for. I'm not sure what the answer to my question is, but I know I feel really good about putting my baby to sleep with his new Dyson Pure Cool air purifier.
I have never used an air purifier before (apologies to my older children). I didn't really expect to notice a difference. I took a stand years ago against purchasing a proper diaper disposal system and despite a constant lingering diaper odour, I cannot seem to back down on this stance. I was surprised when I walked into the baby's room after only running the Dyson for an hour. The air smelled noticeably cleaner in there. The diaper smell has been greatly reduced by this air purifier. I can only imagine what other impurities have been removed from the air.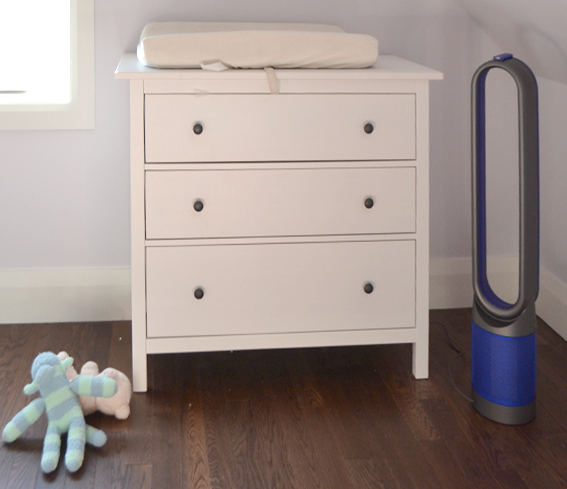 The sound that it makes is a really nice constant hum. It is easy to change the speed (and therefore sound level) of the fan and I love that it does NOT beep when you change the settings. I like to crank the fan when the baby goes to bed and the older kids are still running around like maniacs, and then decrease the sound after everyone is quiet. I'm very glad there were no annoying beeps to wake up the sleeping baby. There is also a timer that can turn it off automatically. I also love that there are no lights on it at all. Just nothing but constant, quiet noise and clean air.
The Pure Cool is operated using a remote control that is magnetized to the machine. This seems like a great idea, but I am awful with keeping track of things. I have no doubt that I will lose the remote. It will eventually turn up in the car or in my jacket pocket or under my computer, and in the interim the button on the machine will still allow me to use most of the machine's functions. The remote also provided some entertainment. My baby's mobile is operated by a remote as well. It took several days for me to realize that the two remotes are on the same frequency. Before I came to this realization, I thought my baby genius had learned how to turn on the mobile by himself! What a smart boy! Turns out that I'm more confused than he is genius, but at least the air is clean.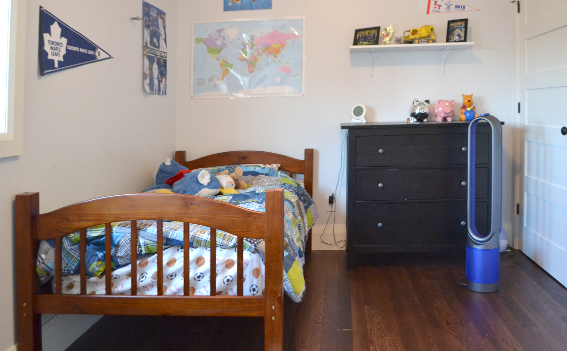 So while the Dyson Pure Cool air purifier does not make my baby a genius, or keep my older kids quiet, or resolve the parental disagreement about dirty diapers, it does seem to do a fantastic job of cleaning the air while maintaining a nice steady sound that lets my baby sleep peacefully.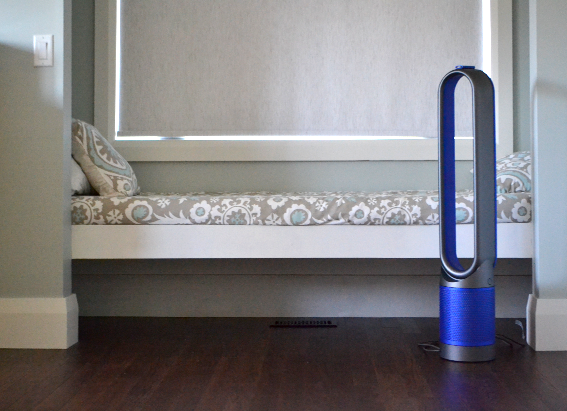 Congratulations to Amanda Rintjema of Smithville, ON! She has won a Dyson Pure Cool air purifier.