There's something about shopping for a new car that gives me a little thrill. Maybe it's the fond memories of climbing in and out of cars in the showroom as a kid, exploring buttons and dials while my parents talked to the salesperson, or just that new car smell that makes me so giddy (it sure beats the lingering scent of old milk that someone spilled in the back seat ages ago…)
I'm so excited that we're giving Canada's Luckiest Baby a 2016 Ford Escape that I decided to take one for a spin. This is the ultimate family-friendly SUV. And it's a pretty hot-looking one. This is not your mom's 1992 Explorer. From the moment I walked into the showroom, I was impressed by the Escape's sleek body. When I got behind the wheel, it became clear that this vehicle was designed with busy drivers in mind (just like us parents!). To make things even better, J.D. Power called it the "highest ranked compact SUV in initial quality," and according to Vincentric, it has the "lowest cost of ownership in its class." We like the sounds of that last thing in particular.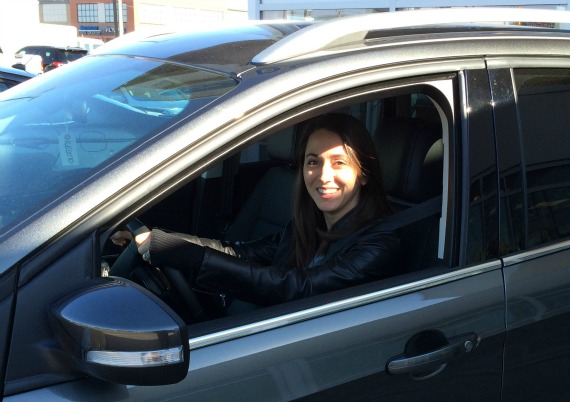 Now back to the specs. The Escape's exterior is incredibly stylish and is packed with features that make driving around town with the kiddies easy on parents.
Let's start with features in the back. An optional hands-free power liftgate makes it easy to load up all your gear even when your hands are full (because, really, when aren't they full?). The trunk space is impressively large—definitely big enough to fit a double stroller, and then some. Did we mention that the Escape is available with four-wheel drive? Because it is. So when you're out driving in the icy Canadian winters, you'll have all the confidence you need to trudge through all that blasted snow.
Speaking of space, the back seat is nice and roomy! It's great for rear-facing car seats, but it still gives those in the front space to stretch their legs. With car seat tether anchors for all three rear seats, it's wide enough to fit three across if you need to. There are also plenty of cup holders and an outlet to plug in portable entertainment devices for your kids. You could also have headrest displays installed if you'd like.
There are also plenty of toys for parents up in the front. The seats are comfy, the controls are intuitive, and it drives like a dream. But here's what I fell in love with (and really wish I could take home): SYNC. SYNC is how Ford connects your phone to your car. And not just a little connected, either; this is a full-on melding of car and phone. And it's voice-activated. Meaning you can keep your hands on the wheel and your eyes on the road while making calls, getting directions, and hearing your text messages. You did not read that wrong. It reads your text messages for you. The best part is that pairing my phone with SYNC was super easy. I'm pretty sure my son could do it… and he's three.
You can even play music from your phone, make and receive calls, read text messages (and send some with Siri's help), and use some of the apps on your phone with either the voice commands or the touch screen. You don't even have to memorize specific voice commands. The system's AI is very intelligent and it learns your usage patterns the more you use it.
The navigation system was a surprising highlight for me. I've been reluctant to get navigation systems in my past vehicles because I was worried about what a hassle updating maps would be. Ford has solved this problem in the 2016 Escape using the magic of WiFi. You guys, this SUV can use your WiFi to update its maps—this is the future we were promised! Well, actually, we were promised flying cars. This doesn't fly or anything, but it comes pretty damn close.
With Ford's voice-activated navigation system, you can search for destinations and input addresses with your voice or the touch screen, and you can get live traffic updates to help you plan your route for minimum whining from the back seat—or for maximum car naps. On your next road trip—you know, when your kids are complaining about how hungry they are—all you need to do is press a button and tell the SUV, "I'm hungry." It will suggest the nearest restaurants for you to choose from. No more pulling over to search on your smartphone. Or clinging to a shallow hope that food will somehow materialize before the next highway exit.
If you're as impressed as I was by the Ford Escape and think you want one (who wouldn't?), make sure you opt into the Ford Escape Prize in Canada's Luckiest Baby 3. The winning baby and their parents will be cruising in the style and family-friendly comfort of a brand-new 2016 Ford Escape.