We've got free passes for an advance screening of the new comedy, Going In Style, in a city near you!
What was the first movie you ever saw in a theatre? Mine was Batman: Forever. Yeah, the super campy one that had Robin and The Riddler.
I loved the WB animated Batman TV show, so when the live-action movie came out, 6-year-old me absolutely lost it. After much pleading, my dad ended up taking me to to the local theatre—a privately owned place, and the only one in our small farm town. I've of course seen a lot of movies since then, but that first one with my dad is still one of my fondest memories.
As I got older, the ol' boy and I have had our share of disagreements, particularly during those painful teenage years, but we can still hang out and watch a good movie together. Especially now that I kind of understand where he was coming from.
I'm guessing your parents probably took you to your first movie, too. And while it'll be exciting to take the newest member of your family to their first movie one day, a little payback might be in order first.
So how about taking your parents along with you to a special, advance screening of the new comedy, Going In Style?
What's Going In Style? When their pension fund becomes a corporate casualty, lifelong buddies Willie, Joe and Al (Morgan Freeman, Michael Caine and Alan Arkin) decide to buck retirement and risk it all by embarking on a daring bid to knock off the very bank that absconded with their money.
We've got passes to see it before anyone else in Toronto, Vancouver, Ottawa, Montreal, Halifax, Winnipeg, Edmonton, Calgary all on April 5th.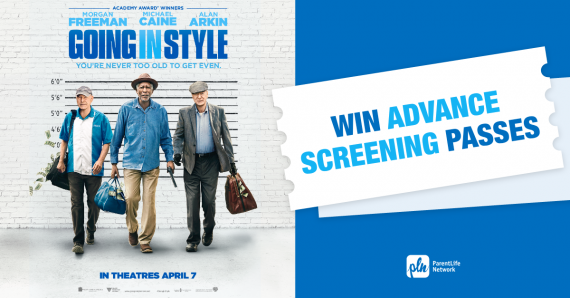 Just opt into our flash contest and select a city for your chance to win!
For a Bonus Entry
Add a comment below and tell us about something you didn't appreciate about your parents until you became a parent yourself (you know, like something you realized you were wrong about during all those arguments in your teenage years), and we'll award you a bonus entry!