Dads want to give their kids everything. Which is tough when you want to protect them from every possible bump, scrape, bruise or minor injury imaginable — let alone something serious.
I'm no stranger to injury. When I was a kid I broke my jaw, my leg, my arm, my ankle and my finger — and those were just the things I went to the hospital for. So when my wife suggested we get our son a trampoline for his birthday, I said, "No. They're dangerous."
That was six years ago. Now we have two trampolines. Wives always win.
But let's rewind the clock to before that first purchase. Trampolines, for me at least, conjured up memories of vicious springs and flying over the edge thanks to that one jerk kid who never quite grasped the rule of "no double-bounces".
I eventually accepted the inevitability of my wife's impending victory and agreed to the trampoline, but I had some stipulations. It needed to be safe. It couldn't have any sharp springs and it needed to have something that prevented my kids from flying through the kitchen window.
These conditions are what led me to Springfree:
"The World's Safest Trampoline" was enough to get my attention. As the name suggests, it didn't have any of the medieval springs that backyard trampolines were known for (it uses these crazy cool, super trick plastic suspension rods) and it had a flexible net, so, kitchen windows were left intact.
Feeling satisfied that I was making the safest purchase possible, I ordered the trampoline. What I didn't expect was how quick the delivery and install would be. Their staff arrived, got the trampoline set up and the kids were jumping within an hour. These guys were NASCAR pit team levels of fast.
So we got the trampoline and the kids loved it. For six years straight, I couldn't get them off of it. The only problem, if any, was that they loved it too much. They would fight for time on it, especially after I added the basketball net.
I began looking into getting another trampoline, and started to learn about Springfree's newest product, tgoma, an addition that lets you use your iPad to basically turn the trampoline into a giant video game machine.
Not that I've ever struggled too much to get my kids off the couch, (I'm lucky) , but finding that balance between the iPad and outdoor play — turning the kids' current screen time into an outdoor, physical activity, was too good of an idea to pass up.
The tgoma has seven interactive games. Currently, the kids favourite is Alien Stomp, which is basically whack-a-mole set in 2048.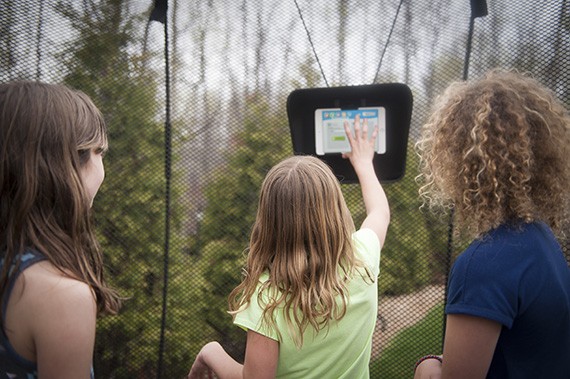 So I bought another trampoline to end the bickering and to add a new level of activity to the bouncing. The tgoma was so easy to setup and use, the kids were playing games immediately, and without even realizing they were getting exercise!  Truth be told, even my wife and I spend time using the tgoma fitness app, when our kids finally let us have a turn!
So that's my story. From trampoline naysayer to insisting on having not one, but two Springfree trampolines.
Excessive? Maybe. Necessary? Probably not. But it's worth it for keeping the kids happy and healthy. And if nothing else, my kids never have to know the frustration of dealing with that double-bounce jerk kid.
That's a dad win.
Congratulations to Chelsea Proskow of Cedar Lake, NS. She has won a Springfree Trampoline for her family!