My wife, Kathryn, is due in less than two months. The countdown is on. It's our first kid, and I'll be honest with you, we're just trying to figure things out as we go.
That's how parenting works, right?
RIGHT?!
Having been an employee at Parent Life Network for the past four years, however, has definitely helped prep me. I've seen every type of rash possible of the PLN Forum. I've been part of our epic Canada's Luckiest Baby giveaways from Castlegar, British Columbia to sleepy Peterborough, Ontario.
And… I get to review the newest and coolest parenting products. The Diono Quantum stroller didn't just excite me, it excited Kathryn even more. And that makes me happy. (See, I'm learning!)
Easy-Peasy: Ease of Use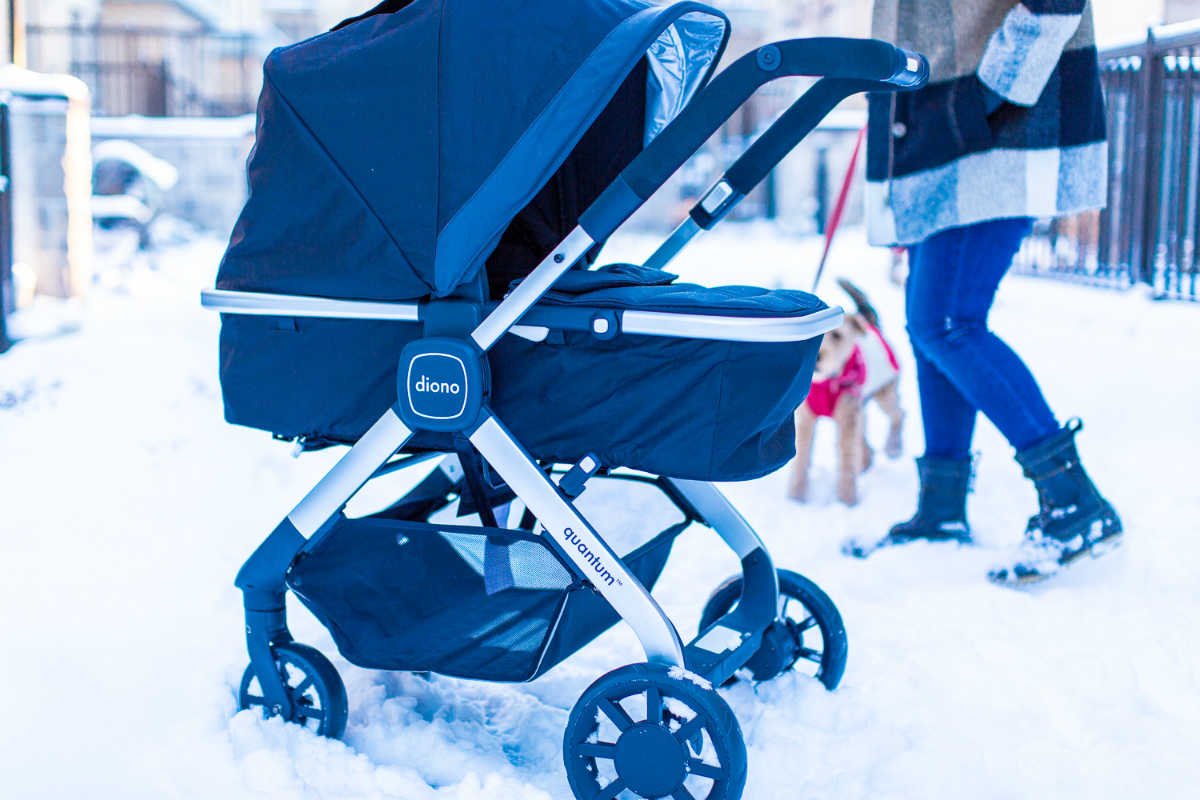 Popular culture tells me parenting is hard. Just something I've heard.
Now wouldn't it be awesome if you had tools to make your new adventure into parenthood easier? The first thing I loved about the Quantum was how easy it was to put together. I literally procrastinated on it for a week. The reason was we had just moved into our new house a month ago and everything needed to be re-assembled. When we finally unboxed the stroller, it took 15 minutes to put together.
WINNER. GAGNANT.
Everything about this stroller is based on comfort and ease. You can extend the handle for tall people. You can adjust, fold and recline the stroller by pressing one button. It literally folds in half for easy carrying in 5 seconds. (We have a lot of stairs in our new townhouse, so this was a huge relief). You can remove the full carriage by just pressing a button as well. Easy-peasy. And the carriage itself can be adjusted from parent-facing to world-facing in a snap.
The coolest part is that with Diono's technology (the 3-in-1 Smart Seat), the carriage can quickly convert over to a toddler seat. The stroller literally changes with our child's growth. No extra purchases here!
Then there's the large storage basket at the bottom. Perfect for purses, mittens, diaper bags or small animals (jk). Oh, and the cup holder. How could I forget about the cup holder? We're into luxury territory now.
Real Talk: Safety, Safety, Safety

Obviously, safety is every parent's No. 1 demand. Diono doesn't disappoint. The full build on the Quantum is an alloy base. It's solid, but still manages to be fairly light to carry. It handles the snow with ease; just cuts right through the snow, slush, salt, whatever you throw at it.
The canopy feature is cool. There are three different positions for the canopy depending on your scenario. And there's even a UV protector flap on sunny days to protect your LO. Once the canopy is fully set, there's a peek-a-boo screen with a magnetic flap to check-in. To lock the stroller in place for a quick chat with a fellow parent, you simply step on the "brake" and you're set. We tried this on ice, too, with no problems. And lastly, there's a five-point harness in the carriage to keep our future little guy all snug and safe.
We're Ready (I Think)
Well, we're ready in the sense that we have a stroller, car seat, soon-to-be-finished nursery, and a healthy baby on the way. Seriously, though, just having this stroller in our living room—yeah, we keep it there as an ever-present reminder—gives us peace of mind. The Diono Quantum stroller does it all, aside from raising your baby.
The countdown continues.