Do you have bucket seat envy? I've been there. I have three kids now, and I've lugged many a bulky plastic eyesore in the crook of my arm. I just figured I would never be one of those people who has a lovely, chic, contoured, high-end car seat that makes life with a baby look beautiful and effortless.
Until the folks at Nuna sent me their PIPA infant seat to review. It's lovely. It's chic. It's contoured, bulk-free, and ultra-lightweight (only 7.7 lbs — those plastic behemoths I was toting are basically the same). And with side-impact protection and the True Lock install system, it's a seriously safe piece of baby equipment.
Now, when they say you can install this car seat in five seconds, they're telling the truth. But they're not counting the twenty minutes you then spend marveling out loud to whoever will listen, "That was so easy … Why aren't all car seats like this?" There are simply no straps to tug and tighten, only a rigid latch that clamps the base to the metal rings in your seat. Seriously, this is not a rhetorical question – why aren't all car seats like this?

Nuna Canada English PIPA 5 second install video from Nuna on Vimeo.
Here are my favourite things about the PIPA:
Quick and easy install – and the green indicator lets you know when the rigid UAS (lower attachments) are securely attached (I really need things to be easy, these days).
Machine-washable fabrics (4 month olds pretty much require that)
Built in "dream drape" pulls out of the canopy to shield your baby from the elements (and help them achieve their dreams of being comfy). I actually didn't even realise the dream drape was there at first, because it's tucked away all cute in a secret compartment. I like a car seat with secrets.
It's so pretty! It comes in colours everyone will love, and it has the modern, luxurious feeling I've always wanted.
Emily is almost 5 months old and clearly loves the PIPA.
I've popped the PIPA in and out of the car lots, but also used it on my Baby Jogger City Select (and in this weather, I bundled Emily in with a BundleMe, which is cosy and comes off easily when it's time to get in the car); I can't tell you how excited I was when I found that it was compatible with the stroller adapter I already had for my Graco seat (you can check your stroller company's website for compatibility with the PIPA). Bucket seats are one of the more stressful baby accessories, I find; there's just a lot of futzing and adjusting. But the PIPA makes me happy, and we all need a little more of that. Here it is on the stroller all loaded up with groceries.
Off we go!
Congratulations to Esther DeBoer of Burlington, ON! She has won a Nuna PIPA Infant Car Seat.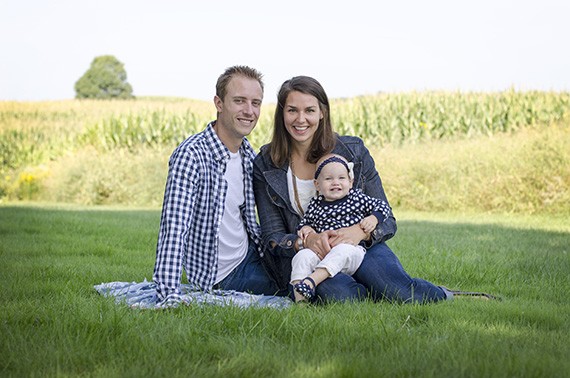 Are you super excited and can't wait to get a Nuna PIPA of your very own? Find your local retailer here!