New year; new prizes.
Canada's Luckiest Baby 4 has officially launched, and we're starting off big with over $30,000 of prizing in a bundle that will just keep growing (just like our little ones)!
To start, we're setting the winning baby up with a $20,000 RESP. Next, we're giving their family $5,000 to treat themselves to anything their hearts desire. To sweeten the deal, we're giving the winner $5,000 to spend at Home Hardware to spruce up their home for that lucky baby. As always, we have a few surprises (and maybe a baby sock or two) up our sleeves and we'll be adding more prizes to this bundle of joy throughout the contest so remember to keep coming back and participate as it grows!
We're just a few months away from changing the lives of another lucky family (and it could be yours)! We've updated the look and feel of the contest for CLB4 to make it even easier for you to enter to win. If you're a returning PLNer (hi!), you might notice some changes. Don't worry, we are still the same CLB you know and love, we've just made some improvements to make your experience even better. So follow this easy-peasy guide to CLB4 and read on to find out how to increase your chances of winning.
Enter The Contest
You can't win it if you're not in it! Head over to Canada's Luckiest Baby to sign up for the contest. If you've entered the contest in the past, you can use your PLN login from last time (and if you need some help due to mommy brain, we have a "reset my password" button). If you're new (welcome!), go ahead and create an account.
Next you'll arrive on your profile page where we ask you to either fill out or update your information with stuff like your full name, postal code, and your baby's due date or birth date.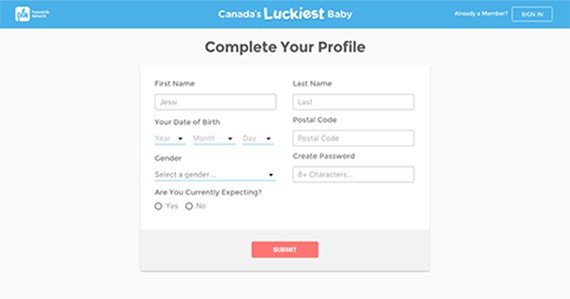 Enter All of the Prizes
You can win it ALL but only if you've entered! You'll want to keep checking your feed throughout the contest. The prize package keeps growing as we add more prizes so make sure you've enter to win them all. If your name is drawn, you can only win the prizes you've entered. Don't miss out!
New prizes will show up in your Feed when they are added to the contest. Keep checking back to make sure you don't miss our on great prizes and opportunities!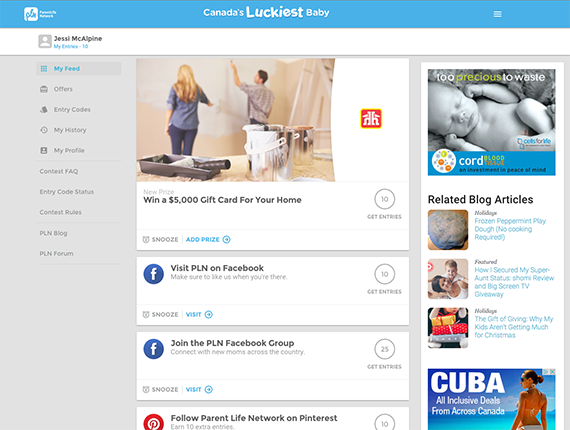 Collect Extra Entries (Like your kid collects Lego for you to step on)
We know some of you take entries very seriously. So do we, but we can't forget the fun factor! Your Feed will show you all the ways to earn extra entries into CLB4. Each entry you collect is another ballot with your name on it in the virtual CLB4 ballot box. So collect as many as you can and stuff the ballot box to increase your odds of winning that grand prize!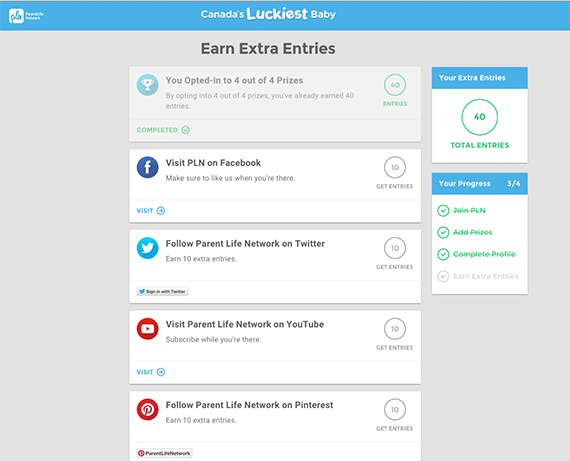 How do you do this, you ask?
First, make sure you enter to win every prize. Each prize you enter gives you 10 entries in CLB4.
Pump up your odds (and your entry count) by finding the codes that we'll be hiding in emails, social media posts, blog posts, and Baby of the Day posts (Yay, it's back! Have you missed those cute faces?). We used to call these codes "vouchers". For those who have played CLB before, these are the same thing you remember, we've just changed the name as part of our effort to make things easier for everyone. These codes will have varying numbers of entries attached to them. In order to claim them, head to your Entry Codes page and enter the codes as you find them. If you've missed a few codes here and there, I'm sure you can find some generous parents willing to help you out in the PLN Facebook group.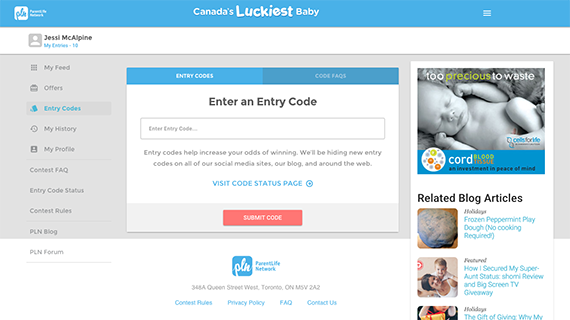 There will also be opportunities to gain extra entries by completing small challenges like following the Parent Life Network on Instagram or Twitter as well as some higher entry value challenges like taking the RESP Survey.
So go sign up and start playing. The sooner you do, the sooner you'll start getting emails that have codes—don't miss any!
New for CLB4: you will have a PLN staff member assigned to you as your account manager to help guide you through the contest. Feel free to reply to your account manager's emails and add them on Facebook. They're real people and they are there to answer your questions.
Wait… did you say Baby of the Day is back?
We sure did! We're bringing back the wildly popular Baby of the Day codes. We missed the daily dose of cute when the last contest closed. We hope you did too. If you want to see your baby as PLN Baby of the Day, submit a photo of your baby by tagging it with #PLNLuckyBaby on Instagram, Twitter, or Pinterest and make sure you tell us your baby's name or nickname in the post (we can't make a code without a name). You can also email Baby of the Day photo submissions to babyoftheday@parentlifenetwork.com.