Is anyone else sick of extreme cold weather alerts, snow, and fighting with tiny hats, mitts, boots and snow suits? I know I am and it's only mid January — ugh. It's that time of year that most Canadians, trapped in the unrelenting grip of the polar vortex, start longing to getaway to a tropical isle to thaw out and enjoy a break from stuffing our kids into snowsuits.
Finding the right vacation spot can be a challenge when you're traveling with kids. You're probably looking at spending quite a bit of money on your winter escape and you want to make sure everyone will be able to enjoy your family vacation. The Caribbean and Mexico are popular destinations for Canadian travellers but with so many resorts to choose from, it can be hard to figure out which one is best for your family.
To help you out, we've asked our Canada's Luckiest Baby 2 partners at Travel Nation Canada about their favourite family resorts. And because we know everyone has a different travel budget, there are options here from moderate ($$$) to pricey ($$$$$).
---
Holguin, Cuba ($$$)
 
This family-run kids-friendly hotel has been a favourite for years. It has many loyal repeat clientele and is known as one of the best resorts  in Cuba for family fun.
Why it's awesome for families:
Cuba has amazing beaches for your little ones who love the sand
There are 3 kids clubs that will take babies as young as one month so that mom and dad get a bit of vacation too
Great kids pool
Playground on site for kids who love the park
Babysitting available so mom and dad can have a date night
Rooms that can accommodate  families of 5 or more
Best for: Families with kids of all ages as its kids club starts at age 1 month
---
Punta Cana, Dominican Republic ($$$)

Punta Cana is a popular destination for Canadian families. This resort, on gorgeous Bavaro Beach it's appealing to families of older children who can take full advantage of the waterpark on the property.
Why it's awesome for families:
It has a waterpark (what kid doesn't love a waterpark?) with slides and a wave pool
11 restaurants so you have enough variety to suit even the pickiest of eaters
Kids pool
Kids clubs and activities for ages 2-17
Rooms that can accommodate families of 5 or more
Best for: Families with kids  6+ to enjoy all the waterpark has to offer
---
St Lucia ($$$$)

If you're looking to heard to the Caribbean's more southern islands, you'll  tend to pay a bit more for your vacation. Coconut Bay Splash is a great choice as its price point doesn't break the bank and it has lots to offer.
Why it's awesome for families:
It has a waterpark with a water playground, large activity pool and a lazy river
This resort has 2 bedroom units that can take 2 adults and 4 kids
The Cocoland Kidz Club has certified childcare staff supervising programs for kids 3 and under, 4-7 and 8-12
There's petting zoo!
Best for: Families with kids of all ages.
---
Mayan Riviera, Mexico ($$$$)

This is 2 separate hotels both run by the Gourmet All Inclusive chain Karisma resorts. Azul is more a boutique hotel that caters to the toddlers. The Sensatori caters more to the 7+ age group.
Why they're awesome for families:
Both hotels have fantastic rooms options with swim ups, beachfronts and rooms that can accommodate up to 5 people available
Only a 20 minute ride from the airport
Gourmet dining so mom and dad enjoy the food and baby food available so you don't need to worry about finding something your little one can eat.
Great attention to detail and the under 6 set are treated like royalty. They even have kid size bathrobes!
The resort provides baby gear and toys to for you to use during your stay which means you get to pack more lightly!
A kids club with daily programming for ages 4-12 and a kids playhouse for parents or a paid caregiver to enjoy with younger children
Azul sensatori also has a teens club for ages 13-17
Best for: Families with kids 6 and under (Azul Beach). Families with kids 7+ (Azul Sensatori).
---
Ixtapa, Mexico ($$$$)

This hotel is Club Med's top rated family hotel. It's geared towards more "active" parents who want to do more than just lie on the beach. Activities range from Trapezing to tennis and all sorts of other things…
Why it's awesome for families:
Childcare and age specific programming from 4 months-17 years
Bottle warmers provided in your room upon request
24 hour access to a baby feeding room with everything you need to prepare a meal for your baby
Baby and child restaurants
A playground
Evening babysitting available
Family suite rooms available
Best for: families with kids of all ages.
---
Turks and Caicos ($$$$$)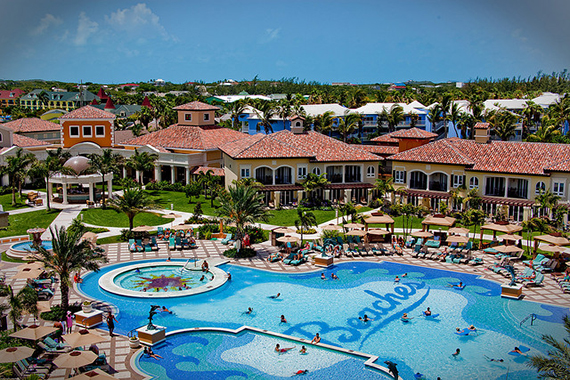 This resort is voted top family hotel year after year. Beachfront location on a powdery white sand beach and endless things to do for the little ones from baking cooking with Cookie Monster to reading a bedtime story with Elmo.
Why it's awesome for families:
A waterpark with slides and lazy river for the older kids and a spray pad play area for the little ones
Sesame street characters everywhere you turn
A choo choo train you can ride around the resort
Xbox Play Lounge
You'll love the Beaches Kids Camp program with included age appropriate child care and programming for newborns up to teenagers
Best for: Families with kids of all ages.
---
You can book any of these vacations through Travel Nation Canada's website or over the phone with one of their agents. They say that they will beat any price you can find, so you can't lose with them!
Even if none of these resorts seem like the perfect fit for your family, our friends at Travel Nation Canada would be happy to help you find one of the many other family-friendly resorts out there.
So go! Escape the snow and create some treasured family memories. Happy Vacationing!
Thanks to Travel Nation Canada Senior Sales Agent, Natasha Abramowitz, for helping us put together this list. If you'd like her help to guide your family to your perfect vacation destination you can get in touch with her by email natasha@travelnationcanada.com or phone (toll free) 1.844.5.NATION x1225 .