I thought I had won a car seat and then this happened…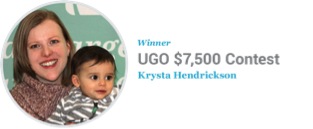 A funny thing happened on my way to a family visit.
While riding in the back of the car with my infant son, I received an email from a staff member at the Parent Life Network stating that I had been chosen to be a participant for a Diono car seat focus group. For my participation, I would receive a free car seat! All I would have to do is join PLN at West Edmonton Mall at the Carter's store in the morning before the mall opened and participate in an interview. A child restraint technician would install my new carseat and I would be given a gift card to Carter's and invited to shop while waiting.
My first instinct was one of disbelief.
I live by the motto, "If it sounds too good to be true, then it probably is." Imagine my delight when I contacted PLN directly and discovered that this was a legitimate event! Still, I was hesitant to get too excited… there had to be a catch.
Back in Edmonton on Tuesday night, my husband was concerned. The roads weren't in the best of shape from our first snowstorm. I would miss my weekly moms group. And still there was the big question: was this truly as good as it sounded? Maybe I should stay home? But no, I had already committed and couldn't back out now. My mommy friends would understand. So, early the next morning my son and I set out on the icy, backed up, frigid Edmonton roads and made our way to WEM. My husband did make two requests: to pick up barbecue pork from his favourite store while I was there, and to text him to let him know what was happening.
The first thing I saw as I drove up to the entrance was a small group of people huddled together and someone holding a video camera. I knew they would be filming us, but I wasn't expecting this. I was directed by one of the PLN staffers to the Carter's store where the other participants were waiting. I started to chat with one of the mom's named Holly. I asked her when she had found out about the event and it turned out she, too, was invited last minute. Neither of us knew what to expect from this "focus group" or what we would have to do to get our car seats. She told me that husband had joked that maybe it was a time share presentation. We also talked about the winner of Canada's Luckiest Baby, and how disappointed we were that the winner wasn't in the west.
'A Whirlwind of Excitement'
Then everything started. My morning became a whirlwind of excitement. We were welcomed by the PLN members and informed that the tech was already installing our car seats. Each family was going to have a short little interview and photo op, and once our seats were in, we were free to go. While waiting, we were welcome to shop Carter's with our $100 gift card! But wait…what about the focus group? I wondered. It must just be part the interview, I guess.
Imagine the following: you are in one of your favourite stores and it is closed to the public. All the clothing is meticulously folded and all the racks are pristine. There are no line ups. You have an amazing gift card and know you need to buy items for when your child starts daycare. The result, I can tell you, is pure bliss!
Finally, after a very successful shopping adventure, it was my turn for the interview and photo op. For those who have never done a video interview before, it takes a lot of effort to construct a response that sounds half decent while trying to appear "normal" and avoiding looking right into the camera. I honestly can't recall exactly what they asked or said, but I remember thinking it went well overall. I also realized immediately afterwards that they didn't ask me about the car seat. This was not what I had expected from a focus group, but if they were going to give me a free car seat and a generous shopping spree, then I'd  take it. I was elated. I felt like a bit of a celebrity standing in front of the PLN sign with all the cameras going.
"Could You Hold This, Please?"
Then, there was a pause. "Could I hold something up for the camera that I had purchased that day?" I was asked. As I went to my stroller to select an outfit, one of the PLN staffers, Peter, stopped me. "I think I have something else that you might like instead," he said. I was so confused. Did they have a sign or something they wanted me to hold? It felt like time slowed down as he returned, holding a giant cheque. I had to do a double take, I just couldn't believe it! My name was on that cheque and it was for $7,500 from UGO! This was incredible.
It was the only contest I had ever won other than a jelly bean contest in elementary school.
I was stunned. All words escaped me. Who knew downloading such a great app would have led to this? All I could do was thank PLN for such an amazing prize. It was a pretty sneaky reveal; I'm thankful I took the time to do my hair!
I can't express my gratitude for such an amazing prize and the timing could not have been better. Being at the end of my maternity leave and balancing day care costs and holiday shopping on a tight budget was a little worrisome. I look forward to sharing this story with my son when he is older (still riding in his Diono but in the booster seat mode) about the time we went to West Edmonton Mall for his car seat and returned with so much more.
And the best part? Well, it was right at the end when I got to watch PLN pull off a surprise reveal for Holly, the winner of CLB3!
Oh, and sending my husband this…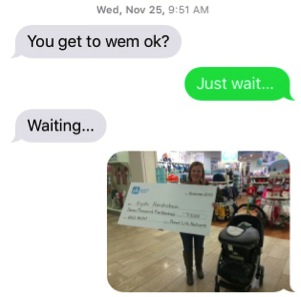 He has forgiven me for forgetting to pick up his barbecue pork.