With my kids, less is more — especially when it comes to Christmas. With my first baby, as a new parent, I was itching to spoil my sweet baby at Christmas time. I scoured the stores for the perfect gifts and outfits. Yet despite my best efforts, she slept through the whole thing.
As my kids grew from babies to preschoolers, their Christmases grew too. The stack of presents seemed to grow bigger every year until last year I had a moment of clarity. It was a rare glimpse of reality amongst the pre-Christmas candy-induced-madness that is the week before Santa arrives.
The more I give the kids, the less they appreciate.
So after a record toy haul and a trip to Disney World, I put my foot down this year.
In years past I would walk past the toy aisle and if something was on sale, or there was a toy or book that the kids were really into, we would buy it and 'put it away for Christmas'. The problem with this, of course, was by the time December rolled around we had a small mountain of toys to wrap. Much more than my kids needed. In fact, in past years my kids would lose interest in opening presents and the day would end with them overwhelmed, often in tears. Not this year.
This year, I spent the summer getting ready and donated three garbage bags of toys and clothes to streamline our lives. As Thanksgiving drew to a close, I began sewing and shopping to prepare three shoeboxes to be sent overseas as part of Operation Christmas Child. This is a practice we have done many times before, but this year I tried to get the girls more involved as they watched me sew dresses and dolls to be sent to other girls who would likely get little else this holiday season.
It wasn't easy. My oldest threw a shit-fit in the dollar store when she realized the visit did not include a treat for her. I decided it would be a great opportunity to teach her the importance of giving and explained to her that she would not be getting any treats until Christmas day, but she would have plenty of opportunities to give.
A few days later, once she and I had recovered from her very public meltdown, I showed her a video on YouTube of children opening their shoeboxes in an attempt to help her realize exactly what we were doing. This got the kids on board with the notion they were not going to receive anything until Christmas, that this was time to give. In addition to our typical crafting and baking projects, they each got to go on special outings to the dollar store. To keep it special, they picked out one present for each sibling and then help me wrap it and put it under the tree. Although it was super tempting to help them choose, I let the final decision be theirs, even when it meant my five year old will be receiving a bright yellow analogue watch.
As fun as it was to make, buy and wrap presents, we worried the message we are trying to teach our kids would be lost if there was a sea of gifts on Christmas morning. So this year my husband and I have implemented the three-present rule:
One present from mom
One present from dad
One present from Santa
This has been one of the best decisions we have made. Not only has it steered us away from getting wrapped up in the commercialism that can accompany the holidays, it has also saved us lots of money that can and will be better spent elsewhere.
So what are my girls getting? (Shhh… don't tell)
From Mom:
I knew I wanted to make my gifts for the kids this year so my daughters and I looked at patterns together and then I whipped them up some dolls with magnetic soothers. These are right up my oldest's and youngest's alley.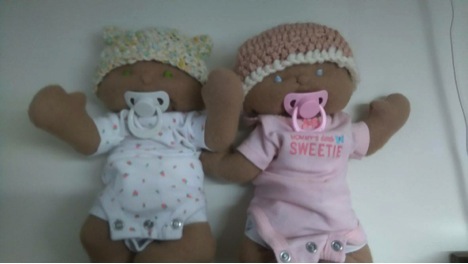 For my middle daughter I scored a wooden castle from the craft store and then I painted and decorated it to look like a Frozen castle.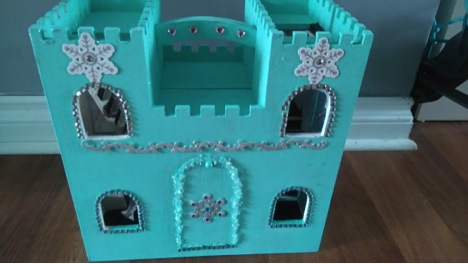 From Dad:
My husband's gifts for the kids were more traditional except for his gift to my oldest daughter. For her, he filled an MP3 player with her favourite songs.
From Santa:
My kids are still really young and their Santa requests were fairly minimal, so it was easy to stick to the one gift limit.
Even with this new tradition, my kids will still be spoiled on the big day. No matter how much we scale back in our house, we have a large extended family that love to spoil the girls.
If I could ask for one thing this year, it would be that I could teach my daughters the joy of giving, not just at Christmas, but all year round. And I will keep at it as long as it takes; one trip to the dollar store at a time.