"Birthdays are highly overrated," says no one under 21 and everyone over 25. It seems once we get to a certain age we become obsessed with ignoring our progressive aging and instead want to focus on our child's. After all, it's so much more fun to shop for a Cinderella cake topper, rather than tell the world we are rapidly approaching the big 4-0.
Of course I am completely guilty of this. The first birthday party went from a backyard bash (first kid) to a rented hall and hot lunch (second kid) to a themed costume party complete with entertainment and photo booth (third kid).
I justified these soirées with the promise that only the first birthday party would be big. Subsequent parties would be small and quiet at home with just the family. I stayed true to my word at first. A small family party was then followed by a party at the local pool. The stakes were raised with a borrowed jumpy castle for the third party and then again when my eldest daughter entered school.
My daughter turned four in the last week of September. I planned a small Rapunzel party with a few friends. I pictured a throwback to my bashes of the late eighties with corny games and boiled hotdogs. Five girls sitting on my living room playing pass the parcel and then eating my handmade cake with melted vanilla ice cream. Instead the party blew up. I blame the theme. Giving a party a theme is asking for trouble. Now you have to get the 'special' napkins, plates, party favours.
Next thing you know you are shaping a million purple cupcakes into Rapunzel's dress and wondering where the hell your 'little' party went.
But this year is different.
My husband and I have decided, after a Christmas filled with a million presents, and a well intentioned but totally over the top trip to Disney World, enough is enough.  We are doing without all of the 'stuff'.
The first slim down was Easter. Where we took away the gifts (insane) and settled into a tame plastic egg hunt and a pair of new rain boots. We made homemade play dough and sidewalk chalk for the bunny to hide along with a bunch of chocolate eggs and skittles.  The results were clear. The less my kids get, the more my kids appreciate.
So when it came to my youngest daughter's second birthday the temptation to throw her a huge party was gone. A small family gathering seemed a logical choice.  I admit it, I am tired. Parties are a huge undertaking, no matter how small. The food, the cleaning, the invitations; I just don't have the energy. I felt like inviting her cousins and grandparents would be more than enough people loving on her.
Although my mind was made up, I still had to face the pressure to throw her a party. About six weeks before her party her second cousin turned two and with that came the Facebook backlash of a million cute pictures of a smiling now two year old surrounded by friends at a mini gymnastics kid heaven. Insert a couple of days of mom guilt here and a flutter of indecision I recalled her Frozen costumed bash the year before. As fun as it was, the reality is E slept through it. The majority of pictures of her at the event are various relatives holding her while she slept through the cake and presents.
That party wasn't really for her, it was for me.
The thing I had to remind myself, over and over again, as I responded to friends inquiries about when E's party would be and who would be attending (not them!) was that birthdays are extremely overwhelming no matter how small. The noise, the sugar, the pressure to open presents and be delighted over and over again by the next set of clothes requested by mom is a little too much; especially for a two year old.
This year we decided to take E to a local play place for a two hour run around with her sisters and two cousins we are watching while their parents are away. We then had a pizza lunch with close family and let her spend the afternoon blowing bubbles and swinging on her backyard swing.
She loved it, I loved it, and yes, I posted a million pictures on Facebook.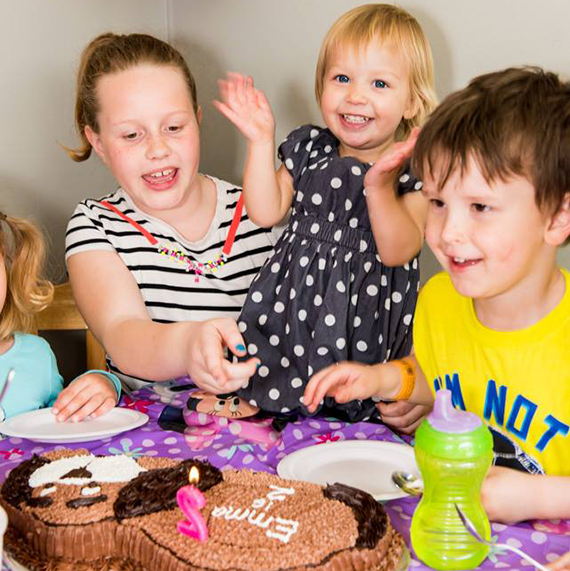 Do you throw big parties for you kids? Why or why not? Let us know in the comments!